Transatlantic Cake Fest
This page is from 2015 and has been archived.
Please be aware that the information may be out of date.

We're building a giant edible map of Liverpool and New York – be part of it and recreate your favourite landmark out of cake!
As part of the Eat the Atlantic food festival, on 4 and 5 July we are calling on all bakers young and old, experienced and absolute beginners, to help create a giant edible map of Liverpool and Manhattan. Choose your favourite landmark building or place and recreate it in cake! The map and skylines will be assembled throughout Saturday 4 July and completed for everyone to marvel at from 3pm on Sunday 5 July. We'd love you to be involved, please read the FAQ's which will give you all the information you need to know.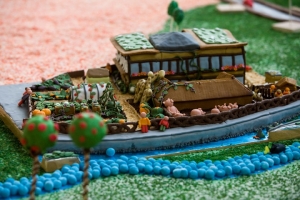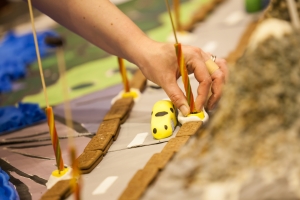 If you would like to sign up to Transatlantic Cake Fest, take a look at the map below, click on the individual discs to see which plots have already been claimed. Then just complete your details on the form below and click submit.
You will need to scroll in or scroll out on the map to see  all of the buildings already taken in Liverpool and New York.
The following 30 plots are already claimed and under construction – The Victoria Gallery and Museum, Metropolitan Cathedral, The Cavern, Liverpool Central Library, Superlambanana, Statue of Liberty (NY), Anglican Cathedral, Queensway Entrance Mersey Tunnel, Madison Square Gardens (NY), East Village (NY), East Village RopeWalks, Museum of Liverpool, The Queen Mary 2, Radio City Tower, Central Park (NY), Empire State Building (NY), the old Irish Centre, Lime Street Station, Mersey Ferry, Albert Dock, St. Luke's Church Gardens (AKA The bombed out church), Picton Clock, Sandhills Station (with a train on the tracks), Eleanor Rigby Statue, Chrysler Building (NY), Anfield, Mann Island, the Chinese Pagoda and Liverpool Town Hall.
Fancy making  Radio City Music Hall,  Crosby Beach and Antony Gormley's 'Another Place' statues, Everton Stadium, the Everyman Theatre,  a Staten Island Ferry  or your own favourite landmark? Then get in touch.