Young women launch FREE art exhibition this Friday in old Tyrers Building ahead of Liverpool City Region tour
A group of young women from St Helens will open a brand new art exhibition on 10 December in the old Tyrers Building (and second space for MD Creatives for use by community groups and multi-agency collaborations) exploring young people's experiences.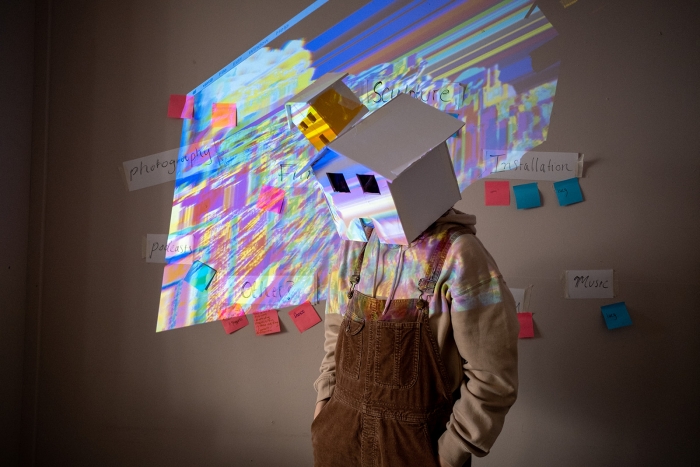 Produced by St Helens art organisation Heart of Glass, the exhibition entitled I AM ME will be a chance for audiences to see new artworks including film, photography, poetry and sculpture made by the young women alongside other artworks they have curated. In the new year, the show will tour schools/colleges and other venues across  the city region.
The group, aged 15-25, have been working with professional artist  Sophie Mahon over the last year. Together with Sophie, they have been developing their experience in different art forms including film,  photography, poetry, sculpture and installation, exploring issues that are important to them and supporting one another to develop their  creativity and skills as well as learn more about co-curating an exhibition.
Alongside their own sculptures, drawings and poems, the group have also selected a number of artworks created by artists and young people in St Helens that resonated with them and the themes explored in the exhibition:
Artworks on display include:
Running on Fumes
A film by Caroline Smith in collaboration with ten young people exploring their experiences of St Helens High Street, the impact of Covid-19, and their hopes for the future. Commissioned by Historic England as part of Future of the High Street; a series of ten new short films organised by a range of UK arts organisations and created by contemporary filmmakers in collaboration with young creatives. (https://www.heartofglass.org.uk/projects-and-events/projects/running-on-fumes)
Queer Treatment
A animated short film by Amy Pennington exploring connection, identity, representation and celebrating queer icons past and present. (https://www.heartofglass.org.uk/project-and-events/events/queer-treatment-a-new-animated-film-by-artist-amy-pennington)
PARRTY
A new Zine* for young women, by young women celebrating their voices, views and interests. PARRTY is a project by Kate Hodgson in collaboration with girls and young women living in and around Parr St Helens. (*DIY – Do It Yourself / Self published magazine) (https://www.heartofglass.org.uk/projects-and-events/projects/parrty)
Level the Playing Field
A new sculptural work created by Sophie Mahon exploring and incorporating the responses of 6000 school children in St Helens collected as part of #DearStHelens, which asked the children of our town 'what does a child-friendly borough look like and feel like to live in? The sculpture represents children and young people's collective concerns and hopes for the future, with imagery and text taken directly from their responses.
FREE Drop In Sessions
– Sat 11th Dec – MD Creatives will be performing a pop up dance routine  in the space at 11am & 3pm
– Sun 12th Dec – Kate Hodgson will be hosting a free drop in 'Make your own zine' workshop between 12pm – 4pm  (all materials will be provided)
The exhibition will run from 10 – 15 December, at the old Tyrers Building, Bridge Street, St Helens, 10am – 4pm, entry is FREE.  
The project is part of the local arts organisation Heart of Glass's Young Hearts programme which is about creating a safe and welcoming space  for young women to learn together, share their stories, and to develop their creativity.
In addition to the creation and curation of artworks, the young women have had the opportunity to visit art galleries and exhibitions in Leeds and  London including The Tetley, Tate Modern and Wellcome Collection where they have learned more about the process of making, curating and  developing art.
This project has been commissioned by the local arts organisation Heart of Glass with support by Paul Hamlyn Foundation and is part of the  Young Hearts Programme exploring young women's voices and experiences living and growing up in St Helens.
Heart of Glass Producer Kate Houlton said:
"In a world still dominated by male artists, it's been so exciting to see this amazing group of young women come together, support one other  and launch this amazing exhibition in an incredible town centre space. At Heart of Glass we believe that arts belongs everywhere, to everyone  and we are so excited that this project will go on to tour to schools, colleges and venues across the Liverpool City Region so that we can shine  a light on the experiences of this group of young women and open up a dialogue about the issues and themes they've explored."
Artist Sophie Mahon said:
"It has been a genuine pleasure to work with such an inspiring group of women to explore issues that affect us all and to provide a platform for  young people's voices to be heard. This exhibition showcases some of the ideas, concerns and hopes that have come through conversations  and creations with the young women's group and from young people across St Helens."
Participant, Sandy-Rose, age 23, said:
"Ive been able to explore skills I never knew I had and unlocked a lot of creativity. I've really enjoyed being part of a group that totally understand and support each other."