Young campaigners create Liverpool wildlife mural to highlight climate emergency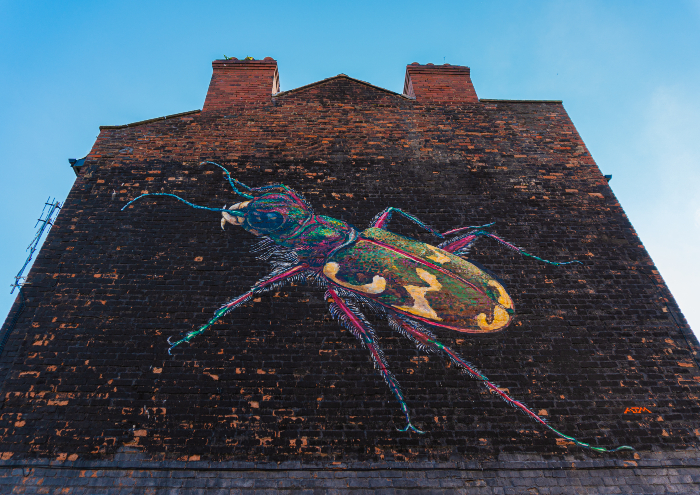 Youth environmental group UK Youth for Nature (UKY4N) has created the first in a nationwide series of murals in Liverpool to highlight the impacts of climate change on nature. This marks the launch of the group's Wild Walls: Natural Kingdom campaign; a public art odyssey that will engage audiences in the importance of nature and wildlife and paint a concrete vision of a more biodiverse future.
This mural was painted by internationally-renowned street artist ATM on Liverpool's Grafton Street between 5-8 July and was created in partnership with the Good Business Festival (postponed until later this year), Liverpool City Council and local arts organisation dot-art. It features a vital, declining species for Liverpool and the Sefton Coast: the Northern Dune Tiger Beetle, unique to north-west England.
41% of the UK's species are declining, with 13% of these at risk of extinction in the UK. Climate change is one of the main drivers of the loss of wildlife across the countryside. The group is also highlighting that restoring nature could help to lock up 123 million tonnes of greenhouse gases by 2030 in natural habitats.
As well as Liverpool, other murals are planned for cities including Manchester, Belfast, Cardiff, Aberystwyth, Nottingham, and London. 2021 is the year of the UN'S biodiversity and climate conferences, that UK Youth for Nature say will set the course for the environment for the next decade.
UKY4N will go on to amplify their message at the Good Business Festival Youth Summit alongside Liverpool World Centre, the British Antarctic Survey and the Metal Arts Collective, with reorganised dates soon to be announced! The wall and accompanying activities will be part of The Climate Coalition's Great Big Green Week. Members of the public can scan a QR code on the wall and will be able to head to youthfornature.uk/natural-kingdom_wild-walls/ to find out more.
Please contact [email protected] to find out more about our big community and political engagement plans.
Natural Kingdom: Wild Walls has received support and endorsement from organisations, individuals and communities throughout the nations of the UK, including from the Grantham Institute for Climate Change Research, Colpac Ltd., Colpac Ltd., Royal Society for the Protection of Birds (RSPB) England, Wales and Northern Ireland, and The Climate Coalition.
---
Aura Goldman, Creative Director of the project said:
---
"There has never been a better or more urgent moment to tackle the nature and climate crises together. In bringing together local artists, organisations, businesses and residents, the Wild Walls in Liverpoolwill spark renewed conversations in the city about its local wildlife, and its importance to all of us in this crucial year for environmental action.

"We want the UK's leadership in 2021 to extend into the next decade as we make new commitments on biodiversity and climate. Engaging people's imaginations, these murals will provide a point of reference from which to address the Government's progress towards effective policy and action on nature. The longevity of these murals will sustain public engagement with the importance of robust ecosystems for years."
---
Claire McColgan, Director of Culture Liverpool, said:
---
"The Good Business Festival is committed to empowering young people to effect positive change on businesses and their impact on climate and the environment. I hope people will enjoy this amazing and apt mural of a very different Liverpool "beetle" and be inspired to find out more about the vital campaign which inspired it."
---
The CEO of the RSPB, Beccy Speight, said:
---
"Climate change is one of the greatest threats to nature, but restoring natural ecosystems is also one of the best ways to tackle the climate crisis and to restore ailing species. Young people have been some of the most ardent and persistent campaigners for action on nature and climate. Natural Kingdom: Wild Walls is an amazing celebration of the UK's wildlife and its young people. It will also be an important signal to politicians and world leaders gathering in Glasgow in November, and to people on the ground in our cities and towns, to take these issues seriously, and to both imagine and ensure a more biodiverse future."
---
Fiona Dear, Head of Campaigns at The Climate Coalition, said:
---
"The climate and nature crises must be faced together, and this year we have a vital opportunity to tackle both. UKY4N's 'Wild Walls' campaign, linked to The Climate Coalition's Great Big Green Week, highlights some of the UK species we risk losing if we don't act now to restore the natural world. The UK Government must prioritise tackling the nature and climate crises at home, and lead the world to doing so at the COP26 climate summit this year."
---