WoW presents 6-week training programme for underrepresented writers in the North West
The free course will explore working in education.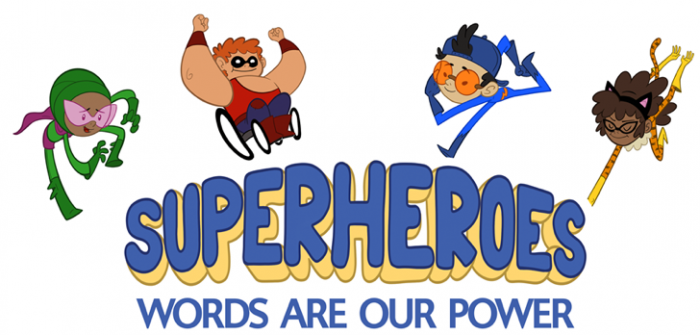 Writing on the Wall's (WoW) schools project Superheroes: Words are our Power presents a six-week training programme for writers who would like to develop their delivery skills in an educational setting, exploring leading workshops and developing residencies in primary schools. You can find out more about Superheroes: Words are our Power at www.writingonthewall.org.uk/schools.
At WoW we support the essential need for diversity and representation in educational settings across Merseyside, and we are looking to diversify our writers' team.  The course will provide first step support for writers to help them build a career within schools and we are actively seeking underrepresented writers to take part in this training programme with the aim to help them gain paid employment through the Super Heroes project and the wider arts and culture community.
WoW Programme Manager Emma Hulme says;
"We understand the power of having diverse artists in schools and we want to diversify our writers' team for the Superheroes project. The whole purpose of this project is using Super Heroes as a focus for children to write and find the Super Hero in themselves. It's important for us an as an organisation to work with writers that have experience working in primary schools."
---
Training programme
This is a six-week, training course for writers wishing to explore the possibilities of working in education through workshops and writing residencies. Participants will explore good practice and study creative models for working in educational settings. On the course, writers will build a unique 'toolkit' of resources, workshop-ideas and creative activities suitable for the classroom. Whilst exploring the practicality of working in primary schools, with teachers and the curriculum.
The programme has been created in consultation with Mandy Coe and will be led by Writing on the Wall's Project Manager for Children and Young People Alice Bunker-Whitney with guest artists and teachers.
---
This course is for:
 Experienced writers of any discipline (you do not need to write for children.)
Writers based in the North West (with priority going to writers in the Liverpool City Region.)
People who have no or limited experience of working with children in an education setting.
Writers from diverse, underrepresented backgrounds; Black, Asian, LGBTQI+, working class, disabled writers, and Women.
---
What to expect from the course:
Introduction to school life, the Key Stages and your role in the classroom.  Build knowledge of creative education and the role of English within the curriculum.
Explore games, activities, and resources to use in an educational setting.
How to create your own educational resources.
Explore the power of diversity and representation in the classroom.
Learn how to take your practice into an educational setting and impart your passion.
Build confidence in yourself and your practise
Build a network of professionals to advance your career
---
Dates
23, 30 July
6, 13, 20, 27 August
---
Please note that spaces are limited and if you are successful you must be available to begin on the 23 of July and commit to all sessions.
The course will run on Zoom 2pm-4pm starting on Thursday 23rd July 2020 and run until Thursday 27 August 2020.
Please apply by filling out an application, click here to download your copy. Then send to [email protected].
The deadline for applications 3 July, 12pm.