View PRESENCE during Light Night 2018
PRESENCE: A Window Into Chinese Contemporary Art at St George's Hall will be part of the Light Night 2018 programme and sees an evening of tours and performances
LightNight returns on Friday 18 May 2018, unlocking the doors of Liverpool's best-loved arts, culture and heritage venues late into the night. A culture crawl like no other, visitors of all ages are invited to follow an unforgettable trail of events in celebration of the city's year-round world-class cultural offer.
This year's programme explores 'Transformation' and will look at changes that are happening around us; turbulent and political, personal and emotional, visible or invisible, as well as the transformation of our city over the last ten years.
As part of the LightNight 2018 programme, PRESENCE: A Window into Chinese Contemporary Art at St George's Hall, Liverpool will be open to the general public with some added extras to enhance visitor experience.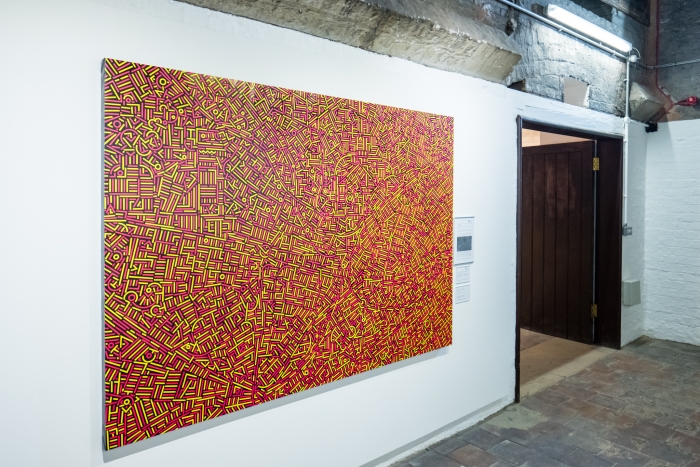 Part of the evening will see Highlights tours run by volunteer invigilators for the exhibition. These volunteers are passionate about the exhibition and will present one piece, explaining their personal reaction to the work and what they like about it.
In addition to the Highlights tours, there will be a musical performance of 'Jasmine Flower' by Ciara and Eno. This is a Chinese folk song which is sung in Chinese by Ciara, a native English speaker, with lyrics and pronunciations taught by Eno, a native Mandarin speaker who will provide the melody on a piano.
An exciting element of the evening will also be the addition of an interactive Liverpool version of City DNA, a piece by Lu Xinjian which features a creative map of Manchester and Salford. LightNighters will be invited to trace a giant map of Liverpool in multi-coloured felt tip pens to mark parts of a Liverpool map in the style of iconic work, Lu Xinjuan's, City DNA.
This event is part of the ninth annual LightNight Liverpool, the free one-night arts festival, which is taking place on Friday 18 May 2018.
LightNight showcases the creative lifeblood of Liverpool, presenting new and ambitious artistic commissions amidst a vibrant programme of more than 100 events including everything from concerts, exhibitions, hands-on workshops and dance to street performance, theatre and talks.
This LightNight will question and reflect upon the transformative nature of the self and the world around us. Understood as a significant change in people or place, transformation' is happening all around us: visible or invisible, turbulent and political, personal and emotional.
LightNight Liverpool is produced by local social enterprise Open Culture. Festival guides can be purchased from selected venues across the city centre 1-18 May or ordered online at lightnightliverpool.co.uk.