The Likeness Of Things: Baum – Cockrill – Henri – Walsh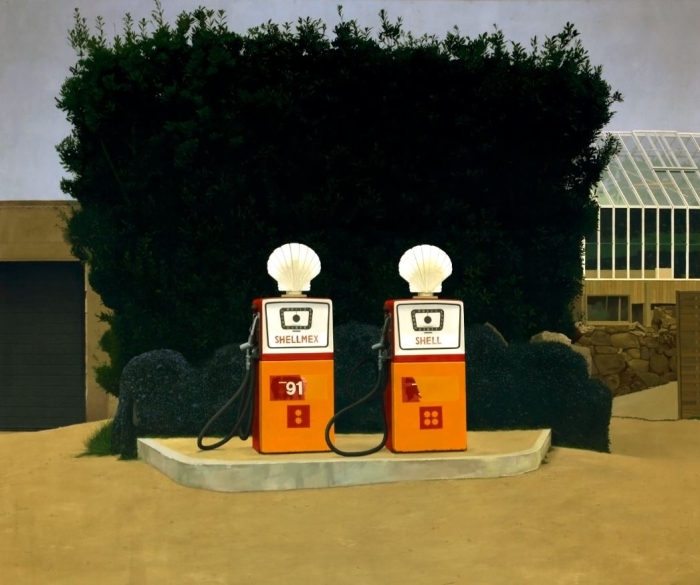 From Tuesday 10 May – Saturday 16 July 2022, Kirkby Gallery celebrates the work of four major artists who lived and worked in Liverpool from the 1960s and whose legacy lives on today.
These four influential figures of the Merseyside art scene are John Baum (b. 1942), Maurice Cockrill (1936 -2013), Adrian Henri (1932 -2000), and Sam Walsh (1934 – 1989). The exhibition celebrates the work and friendship of the group, who helped to put Merseyside on the cultural map and continue to inspire artists today. It is the first exhibition of its kind to tell the story of these four artists and their practice during the 1970s.
Highlights include Baum's Five Girls on the Steps of the Art College (1973), Cockrill's large scale, 3 x 3 metre Scillonian Pumps (1974), Henri's prizewinning diptych Painting I (1972) and Walsh's Portrait of Ivon Hitchens (1974) as well as a selection of works that haven't been on public display for more than 40 years.
The exhibition presents work from artists' estates and private collections but, significantly, will also display work from regional public art galleries and collections including the Walker Art Gallery in Liverpool, the Williamson Art Gallery & Museum on the Wirral, The Atkinson in Southport, Liverpool John Moores University and Liverpool University's Victoria Gallery & Museum.
Cllr Shelley Powell, Knowsley's Cabinet Member for Communities and Neighbourhoods said:
"Merseyside's contribution to arts and culture can never be underestimated and it's fantastic that we have this unique exhibition coming to Knowsley during our year as Liverpool City Region Borough of Culture. It's an ambitious display that celebrates a significant moment in our region's history and I'm sure people from far and wide will make the trip to Kirkby Gallery to immerse themselves in this fascinating and beautiful show."
All four artists started teaching at Liverpool Art College in the 1960s, though they had come to the city from different places — Baum had studied at the Slade School of Art in London, Cockrill at Reading, Henri at Durham University and Walsh at Dublin College of Art.
They were friends, and part of the same art scene. As early as 1962, Henri sang his poems with Walsh on guitar in the basement of the Everyman Theatre (then Hope Hall), and they wrote an art manifesto for their joint exhibition at the Portal Gallery in London. In the late 1960s, Cockrill performed poetry alongside Adrian Henri and Brian Patten, and a few years later, Baum painted Cockrill's portrait in An Afternoon at Windermere House, the house where poet Roger McGough lived.
Although each artist had developed different approaches and styles in the 1960s, through the 1970s, Baum, Cockrill, Henri and Walsh were often exhibited together under the banner of "realism" in the UK and abroad. During that decade, they concentrated on what John Baum called "the likeness of things", depicting people, objects and places in a clear crisp manner sometimes described as photo-realist, in reference to the movement then evolving in the US.
This exhibition revisits that work of the 1970s when, with apparent emotional detachment, Baum, Cockrill, Henri and Walsh reappropriated traditional genres like portrait, landscape or still-life painting, and gave them a resolutely contemporary twist.
The exhibition is curated by Catherine Marcangeli, Estate of Adrian Henri, and Senior Lecturer in Art History, Paris-Cité University.

For further information please contact [email protected]