The Good Business Festival talks being black in business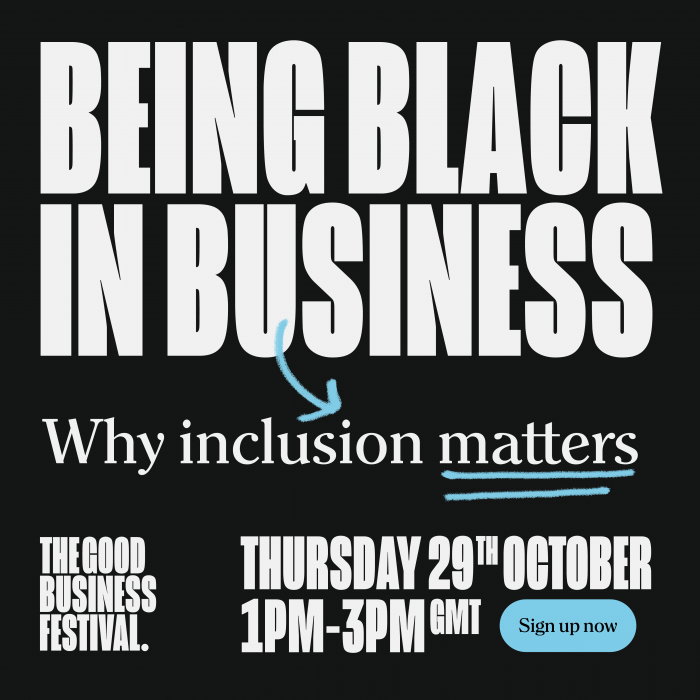 The Good Business Festival launches newest discussion content, 'Being Black in Business – Why Inclusion Matters'
After kicking off with a hugely successful 'Act 1' earlier this month, The Good Business Festival is back on Thursday 29th October with 'Being Black in business – Why Inclusion Matters.' This is the first in a series of new content discussions to be released by The Good Business Festival, following Act 1.
Live on thegoodbusinessfestival.com from 1pm – 3pm, 'Being Black in Business' will explore Black business leadership, strong female role models and offer tangible, positive steps forward for how to support young Black entrepreneurs as we all work towards a more equal and inclusive world of work. Covid-19 has revealed the great inequalities still dominating our society globally, and catalysed critical conversations on addressing these. Racism, and the need to be anti-racist, must be a crucial component of these debates.
Contributors include June Sarpong OBE – TV presenter and Director for Creative Diversity at the BBC, Lady Mariéme Jamme – founder of iamtheCODE, Demi Ariyo – founder of Lendoe and Professor Geoff Thompson MBE – founder and chair of the Youth Charter.
Sessions will include:
Reinventing Business Through Inclusion
5% of Business leaders are Black
'I have been Black my whole life' – pre recorded film
This comes in the same week as Liverpool City Region launches the LCR Race Equality Programme, a new pan-city region programme will bring together leaders from the Combined Authority, local government, community organisations, business and the public sector to tackle systemic injustice and inequality and drive forward positive change for the city region's Black, Asian and Minority Ethnic (BAME) residents and the Combined Authority's BAME employees.
Garth Dallas, head of collaborations at The Good Business Festival, said:
'The black lives matter movement has shone a spotlight on some of the institutional challenges that Black people face in progressing within business. But the reality is that this is not a new phenomenon – it has been a part of so many Black people's lives for generations. With The Good Business Festival, we want to start building the ideas and networks to tackle this across all sectors. The event this week kicks that conversation off, but it is something that will be at the heart of The Good Business Festival as we continue to grow over the coming months.'
Steve Rotheram, Metro Mayor of Liverpool City Region and commissioner of The Good Business Festival said:
'I am committed to using The Good Business Festival as a way of raising the profile of Black business leaders and creating some practical advice for businesses across both the Liverpool City Region and the UK as a whole. I think a lot of businesses inadvertently create obstacles for young Black people to get in the door of a business in the first place, and I am keen that we use The Good Business Festival over the coming months and years to help equip everyone involved with the tools they might need to make positive change'.
The Good Business Festival, Being Black in Business – Why Inclusion Matters  is free to watch online from 1pm – 3pm on 29th October and then will be available to catch up from 09.00 on 2nd November.
Stay tuned for more fresh content from The Good Business Festival.