Tennis Centre is backdrop for Lord Mayor's first 'service'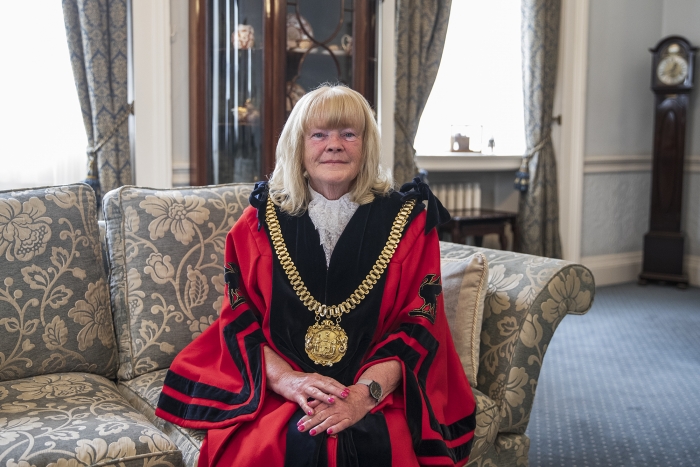 Liverpool's new Lord Mayor's first 'service' will be at Liverpool Tennis Centre.
Councillor Mary Rasmussen is being sworn in at the city's Annual General Meeting (AGM), which is taking place at the centre in Wavertree on Wednesday 26 May.
The venue is being used for all full council meetings at the moment because the Town Hall chamber does not have enough space to meet social distancing requirements.
Councillor Rasmussen, who represents Speke-Garston and was first elected as a councillor in 2007, was raised in Garston as the third of 10 children. Her parents Thomas and Theresa were originally from County Mayo in Ireland, and made the city their home after first trying Glasgow and London, later describing it as the best decision they ever made. Mary was educated at St Francis of Assisi Primary School and then attended Blessed John Almond School. Later in life, Mary completed an access university course, but an opportunity to work with people who were long-term unemployed meant that higher education was put on the back burner.
Cllr Rasmussen has held numerous positions on the council, was Chair of the Labour Group and also the first woman in Liverpool to occupy the role of Chief Whip. Mary's son Michael will be her Consort and her daughter Janine will be Lady Mayoress for her term of office.
Councillor Rasmussen will be sponsoring three main charities during her year as Lord Mayor. They are:
The Whitechapel Centre, which works with the council to support the homeless
Tom Harrison House, which supports UK veterans recover from addiction
Speke Training and Education Centre, which helps the long term unemployed into work.
If you think you can help raise money for The Lord Mayor's Charities please contact Liverpool Town Hall on 0151 233 4651 or email [email protected] or by visiting www.liverpooltownhall.co.uk/lmca to donate.
About the Lord Mayor
The Lord Mayor of Liverpool is known as the first citizen and is the chosen representative of the city, acting as a focal point for the community as well as promoting the city and forging national and international links.
The Lord Mayor of Liverpool is always a serving councillor, elected by the full city council at its Annual General Meeting in May.
Lord Mayor elect, Councillor Mary Rasmussen, said:
"It is such an honour to be asked to serve as the Lord Mayor in my home city of Liverpool, whose people are quite simply the best.

"It is, without doubt, the highest accolade which can be given, and my family are both delighted and proud.

"My mother and father would be so proud and my daughter Lian, who sadly passed away last year, would have been shouting the news from the rooftops.

"I have received so many messages of support from across the country and beyond. I hope that I can make everybody proud as I promote the greatest city and its wonderful people. I am hoping to raise a lot of money for my charities this year to shine a spotlight on the excellent work they do."