Shiverpool Returns with New Tours and Special Edition Experiences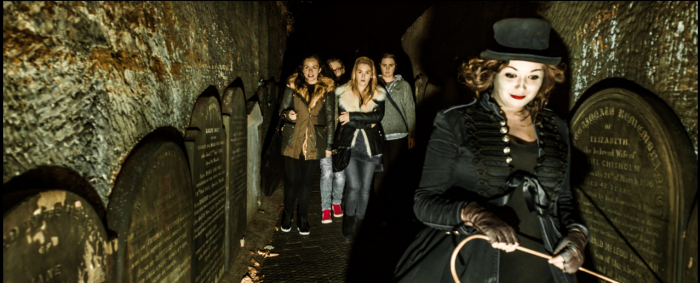 Shiverpool is getting ready to reclaim the night through our Twisted Tales & Afterdark Antics…
Spend Quality Time with Loved ones, Embrace the open air and enjoy our Curious Coastal Chronicles, Treat yourself to an AwardWinning Adventure, Discover the Hidden Gems that only we can unlock…
What we have Coming Up…
Our Signature Dish will be running on a Special schedule from April 15th- End of August 2021 including an optional FREE EXTRA Odyssey into the deep dark heart of St James' Cemetery at the end for those brave enough to do so for more stories and fables…
You Get to Go Inside! Our famous Seven Original Street Show will be returning with audiences invited to discover and explore beneath the city streets into the City's "Dead House" as Herman Melville described it…
Shiverpool, it's all about the Story!
Shiverpool are the pioneers of street theatre and theatrical themed walking tours in England, and we like to think we set the tone for innovative and fun ways of entertaining our audiences. We always think outside the coffin, and we really do scare because we care!
15 Years ago, we stepped out to reclaim the night!
Shiverpool invite you to stretch your legs, take a deep breath of our River City's salty sea air, and join us for a spooky stomp through time and place…
We dare you to journey through Liverpool's most haunted heritage and share with us our sea-soaked stories…
On our journey your Spirit Guide will bring the pounding paves to life and invite you to take a step back in time and through that prism look upon those who's footsteps we follow.
We will recount the most famous folklore tale in Liverpool and reveal the secrets of the city's most infamous ghost, the Victorian Merchant Will McKenzie whose apparition and eerie pyramid tomb set a somber tone on Northern England's most haunted thoroughfare Rodney Street.
Let us take you through the bloodied memories of Body snatchers and their gruesome trade.
Behold the flamboyant and indulgence of the shadowy structure of the Wellington Rooms and encounter the weeping wailing woman whose presence lingers too long for some, when finally ending our journey in one of most haunted locations in England.
Secrets from the hidden Necropolis; St James' Cemetery and gardens, will lure you into the darkness of this sacred place. Your guide will expertly weave the hidden histories and secret stories of this great chasm into an experience of storytelling wonder you likely won't forget…
TOUR DETAILS
The Hope Street Shivers
Beginning outside the world-famous Philharmonic Pub on Hope St, this tour takes in both Cathedrals, pays a visit to the city's most famous un-dead resident, Mr William McKenzie and his pyramidal lair on Rodney St. Audiences who are brave enough complete their misadventure beneath the Gothic majesty of Liverpool's Anglican cathedral, trapped within the tunnel leading down into St James Cemetery, the Necropolis… City of the Dead. Resting place for nearly 58,000 souls.
When? Throughout The Year. Check out the website for full details. www.shiverpool.co.uk/book-now
How to book? Visit www.shiverpool.co.uk or call 0151-709-2030
Kids? From 7 to 700 all are welcome but you know your own little monsters best. It's normally the adults shaking in their boots.
Ending. St James' Cemetery (final resting place.
This tour is wheelchair friendly.
Nearest station: Liverpool central (10 mins from end location)
The Auld City and Dead House
When? Starting from June 26th and then Throughout The Year. Check out the website for full details. www.shiverpool.co.uk/book-now
How to book? Visit www.shiverpool.co.uk or call 0151-709-2030
Kids? From 7 to 700 all are welcome but you know your own little monsters best. It's normally the adults shaking in their boots.
Ending: Dead House, St Nic's Churchyard, Chapel Street
This tour is NOT wheelchair friendly.
Nearest station: Liverpool James Street & Moorfields