Shanghai artists take over Liverpool waterfront
Ten acclaimed Chinese artists, living and working in Liverpool's twin city Shanghai, will showcase their work in a brand new free exhibition taking over the waterfront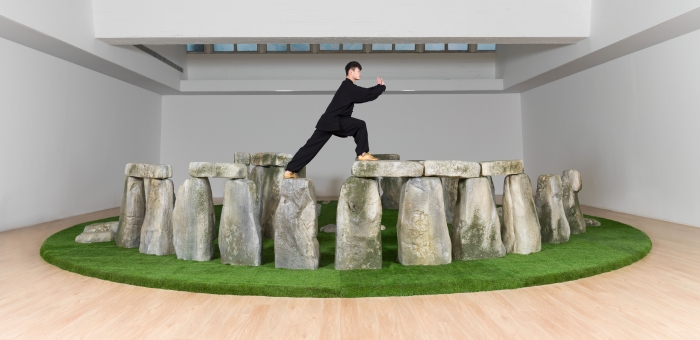 This is Shanghai will bring together the work of ten leading contemporary artists from China, reinforcing a creative link between the two cities which are often compared due to their recognisable waterfronts and their shared architectural and emotional characteristics.
The exhibition has been produced by Culture Liverpool, in partnership with Open Eye Gallery, and is open to the public from Saturday 14 July to Friday 7 September. The work will be displayed in the basement of Cunard Building, in Mann Island, the Museum of Liverpool, Tate Exchange and the Pier Head. Some exhibits include:
Optimising by Xu Zhen – Two World Heritage sites will collide as a miniature Stonehenge comes to Liverpool's very own UNESCO waterfront. It will be located in Mann Island's atrium, outside Open Eye Gallery. Martial arts experts will perform on top of the stones, bringing together two traditions of ritual separated by thousands of miles.
Sharing the Losing by Yu Ji – Hire a special bike from the This is Shanghai gallery in Cunard's basement, pop on the headphones provided, hit play on an MP3, cycle along Liverpool's World Heritage waterfront and hear the sounds of the Bund (Shanghai's waterfront). The soundscape will be accompanied by a story, in English, about Yu Ji's home city and how it compares to Liverpool.
Liverpool 2018 by Liang Yue – A series of beautifully shot photographs highlight the similarities between Liverpool's waterfront and the Bund and how the River Mersey and the Huangpu River make Chinese visitors feel like Liverpool is a home from home. This piece has been commissioned by the city council in partnership with University of Salford and Open Eye Gallery.
Time Differences by Yuan Gong – A tower of beautifully decorated biscuit tins will be crushed every hour, representing the tune, East is Red, which is played from the clock tower on the Bund's Custom House.
The Only Access by Zhang Peili – Visitors to the Cunard Building will enter a symbolic gateway allowing them to feel as though they are leaving Liverpool behind and stepping into Shanghai.
The Same Warmth and Cold Throughout the Globe by Zhou Xiaohu – Toy birds, plastic flowers, branches and tools will all hang from a ceiling and the shadow they cast will form Chinese calligraphy, recreating poems and famous Chinese sayings.
In addition to the work on display, 2,018 lucky residents are going to be chosen at random and will receive a limited edition piece of art by Lu Pingyuan. To Wilson will see vintage-looking envelopes hand delivered, containing a letter and vintage photographs of two buildings which look incredibly similar – the Port of Liverpool building and the HSBC Building on the Bund. Each will be delivered by a postman dressed in 1930s uniform.
All the work has been curated by Jiang Jiehong – one of the leading figures in the UK for Contemporary Chinese Art and is Birmingham City University's Research Professor and Director of the Centre for Chinese Visual Arts. He is also Lead Curator of the first Thailand Biennial (2018-19).
Jiang said:
"This feels like a really personal exhibition.
"I first left my hometown of Shanghai for Britain 20 years ago and his had changed dramatically since I left – numerous skyscrapers have risen, narrow alleyways have vanished, eight-lane highways have appeared and elevated roads have created a new version of urban sky.

"Despite my regular visits back, it is no longer mine. Liverpool arouses my memories and experiences of Shanghai, especially its waterfront. The shared characteristics between the two is reassuring.

"This is a contemporary exhibition which uses both Shanghai and Liverpool as inspiration, and some amazing pieces of art have been produced in response to these iconic locations."
This exhibition is part of the city's China Dream season which is a key element of the 2018 programme. It is a nine month-long season of exhibitions, performances and events which aim to shine a light on modern Chinese culture and explore the relationship between China and the UK. The season has been made possible thanks to support from University of Liverpool. Stagecoach, the Mayoral 100 Club and Radison Blu (a partner for This is Shanghai).
Chapter One ran from February to June and included PRESENCE: A Window into Chinese Contemporary Art, an exhibition at St George's Hall which featured work from 19 of the most exciting emerging and established artists from mainland China, Taiwan, Hong Kong and the diaspora. It attracted 12,000 visitors to the Hall.
Other highlights included Chinese New Year celebrations, the opening of China's First Emperor and the Terracotta Warriors at World Museum, Eroica at Royal Liverpool Philharmonic Orchestra, which saw a performance by world famous cellist Jian Wang and FACT's, NOW film nights, a presentation of Moving Image by Chinese Contemporary Female Artists which took place in March.
Deputy Mayor and cabinet member for culture, tourism and events, Councillor Wendy Simon, said:
"The resemblance between the bund and our waterfront is uncanny and you can be forgiven for mistaking the two.

"But it's not just about a physical similarity. We have the oldest Chinese community in Europe and we value our twinned status and close relationship with the Far East.

"The success of the PRESENCE exhibition at St George's Hall earlier this year shows there is a real appetite for contemporary Chinese art and it's an honour to have some of the hottest Chinese talent showcasing their thought-provoking work in the city.

"There is such a wide variety of work on offer from a mini iconic English monument, alternative bike rides and even works of art through your own letterbox that we hope to introduce a whole new audience to Chinese art and showcase just how impressive and relevant it is."
All the artists contributing to This is Shanghai are:
Liang Yue, Lu Pingyuan, Shi Yong, Xu Zhen, Yang Fudong, Yang Zhenzhong, Yu Ji, Yuan Gong, Zhang Peili and Zhou Xiaohu.
This is Shanghai was developed with Open Eye Gallery and is a partner exhibition to Liverpool Biennial 2018, the UK biennial of contemporary art taking place in spaces across the city from 14 July – 28 October.
For more details about China Dream, visit www.chinadreamliverpool.com