Schoolchildren launch "The Book of St Helens" a must-read new guidebook for the borough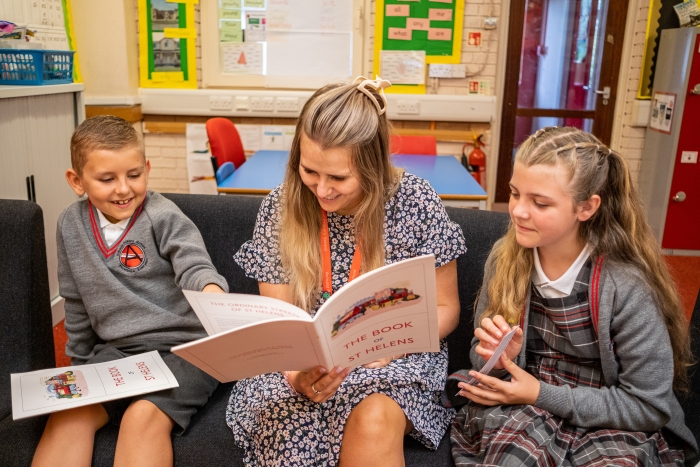 From fun facts and the sights to see, to sharing hopes and dreams for the future, The Book of St Helens is a must-read new guidebook created by 146 primary school pupils in St Helens and artists Andy Field and Beckie Darlington, and commissioned and produced by Heart of Glass.
Designed to be read by adults, the 32-page playful publication showcases what life in St Helens is like from the perspective of its children, celebrating the people, places and passions that make the borough great.
Led by artists Andy Field and Beckie Darlington, the Arts Council England and Community Foundation for Merseyside #iwill2019 funded project, saw 146 pupils from Ashurst Primary School, Broad Oak Community Primary School and Rainford C.E. Primary School completed a series of games, questions, and activities about their hometown with their teachers.
Along with designing a new flag, crest, and catchy St Helens Town Anthem, together they wrote about what they love, what they wish could be better and what changes they would make if they were in charge.
A small group of editors from the group then worked directly with Andy and Beckie to bring their hundreds of ideas together. Illustrator Rhi Moxon turned the children's original sketches and ideas into a series of captivating maps and drawings, while New York based designer Will Brady put all the words and pictures together to create the final book.
Two hundred copies of The Book of St Helens have been printed and shared with the children and people living and working locally, while a digital edition is available to download now from the Heart of Glass website: heartofglass.org.uk/tbosh
In response to the final book being shared:
The Mayor of St Helens, Councillor Sue E. Murphy recorded a very special response from the Council Chambers to the children who wrote the book. You can see her video to the children here: [INSERT LINK TO VIDEO] The children are encouraging other grown-ups to follow suit and record their responses.
St Helens Libraries selected The Book of St Helens to be added to their BorrowBox Library (https://sthlibrarieswp.koha-ptfs.co.uk/borrowbox-faq/), where you can get free access to e-books and audiobooks on your mobile phone or devices.
Scarlett, a St Helens school pupil who was involved says:
"I like it because I get to see other people's point of views on St Helens and I get to interpret all my things that I love about St Helens or that I like about St Helens so I get my perspective in there.[…] It's changed my perspective a bit because lots of people have said different things about St Helens. And that's made me think more about the things in St Helens. And if that is good or if it is bad."
Artist Andy Field says:
"Making the Book of St Helens was a fascinating insight into the way young people experience the world around them. Guided by them we were able to experience a psychogeography of forgotten cottages and secret gaps in fences, of scary places and friendly places. They showed us what it is like to live in St Helens today and we are delighted that some of this is captured in the book; a portrait of a special town at a very particular moment in its long life. We hope people enjoy the experience of reading it as much as we enjoyed making it."
Kate Houlton, Children's and Young People's Producer at Heart of Glass continued:
"The Book of St Helens is a fantastic example of what can happen when artists and children (supported by a wonderful group of teachers) come together to collaborate and create artworks that reflect and explore their experiences of the world and ideas for the future. This new guidebook is an invitation to the adults of our town to consider and see St Helens from the imagination and perspective of its young people and we hope this playful, thoughtful and inspiring publication will provide space for reflection and contribute to conversations about the future of the town that these children call home."

In May 2022, Andy Field and Beckie Darlington will bring Lookout to St Helens. Lookout is a one to one performance developed collaboratively with and performed by primary school children. Through this project Andy and Beckie will build on their work in St Helens so far and collaborate with the children to imagine the town's future.