Rise Up!
This summer Bluecoat, Liverpool's centre for the contemporary arts, invites children and young people to occupy its first floor gallery and explore activism through art.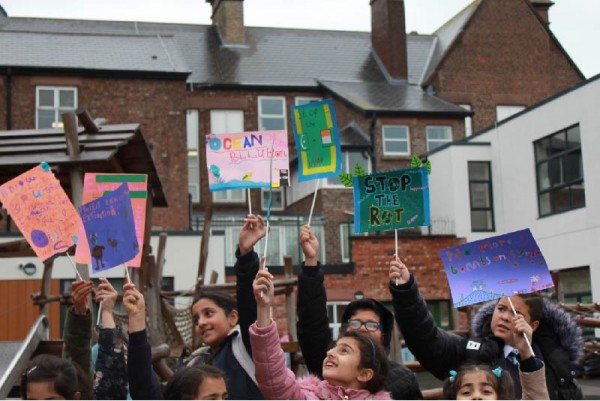 Young people across the world are taking action to protect their futures and the environment they inhabit. Bluecoat's new exhibition Rise Up! is encouraging ages 7+ to stand up for what they believe in and explore art as a response to what is happening to our planet.
Visitors will be able to create and exhibit their own work in the space, creating an ever changing exhibition.
Within this free, evolving exhibition are a variety of arts resources available for families to drop in and use at any time during the gallery's opening hours.
Accompanying the exhibition will be a series of free artist-led workshops throughout August and September. Artists Chris Alton and Kiara Mohammed will lead individual free workshops on selected dates, giving children and young people a dedicated day to create work for display within the exhibition.
The exhibition will run from 6 July – 29 September 2019.
Rise Up! workshops will take place on the following dates;
Friday 2nd August,  1 – 4pm, free, drop in. 
Chris Alton's city-scape family workshop: Using collages, drawings, images and 3D elements, participants will work together to create freestanding 'city-scapes' which incorporate places to live, work, learn and play. Artist Chris Alton, who exhibited at Bluecoat earlier this year in the exhibition Survey, will encourage visitors to think about how cities create energy, dispose of waste and tackle climate change.
Saturday 31st August,  1 – 4pm, free, drop in. 
Kiara Mohammad: Artist led workshops for children ages 5+. Follow Bluecoat on Facebook for full information nearer the time.
Bluecoat Summer School 
Monday 12th August to Thursday 15th August, 10 – 4pm: This summer, children aged 7 -11 can attend Bluecoat's Summer school for a variety of creative activities inspired by Rise Up! 
For four full days, children will be able to explore Bluecoat's galleries and research artists and artworks. They'll also be able to create their own artwork to be showcased in a mini-exhibition at the end of the four days.
Children will also have the opportunity to work towards a Discover Arts Award, a nationally recognised qualification that encourages children to grow and develop as artists.
Tickets are £80 for the full four days.
Rise Up! forms part of a summer season of exhibitions at Bluecoat examining society, migration and the environment, accompanying Shezad Dawood's Leviathan and Grace Ndiritu's The Ark which are both on display until Sunday 13th October.