Re-introducing culture to the lives of city's most vulnerable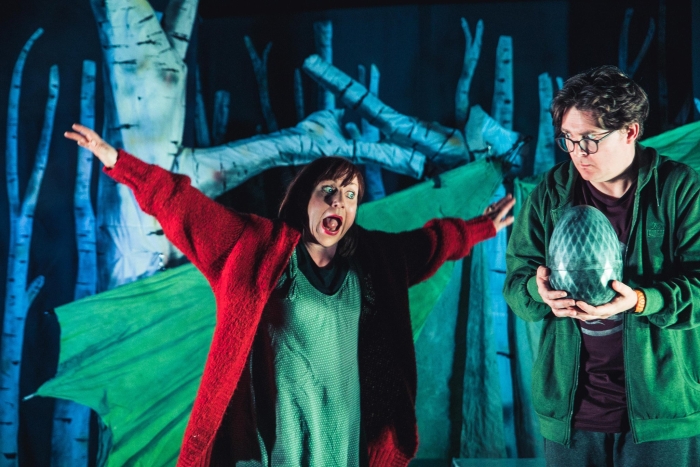 Liverpool is launching a unique events programme designed to enrich the lives of those hardest hit by the pandemic.
A brand new community programme will slowly re-introduce culture into the lives of clinically extremely vulnerable (CEV) individuals and those who have been shielding during the pandemic, and those who have experienced mental health challenges, bereavements or even financial hardship.
The city council-funded initiative aims to reduce social isolation and loneliness, promote improved well-being and empower residents who have been adversely impacted by Covid-19.
The activities on offer range from performances on the grounds of care homes, cinema screenings for those who have been shielding, aerial productions that explore mental health and creative workshops which will give young cancer patients the chance to mix with others after periods of isolation.
The events will be delivered by arts organisations across the city and highlights include:
Cinema Nation CIC will be working with local partners in the County District, North Liverpool, to create a series of community screenings both online and in-person for residents who have been in isolation throughout the pandemic. It will offer a safe environment for those taking their first steps back into society.
Theatre company Nwoko Arts will produce a 30-minute show consisting of dance, music and mime. The multi-sensory show will be aimed at care home residents and will take place inside the home or on its grounds. As part of the creative process, the memories and hopes of the care home residents will be recorded and used in the final performances.
Me Vs Me will see aerial experts Wired Aerial Theatre will touring the city's secondary schools and exploring the subject of mental health and celebrating the resilience of the human spirit.
A series of high-quality music activities and events from the Liverpool Philharmonic will give CEV residents free access to concerts, in-person and online, and the funding will also allow for the creation of drop-in music sessions Music Mondays which will allow residents to connect with others and boost wellbeing through music. Sessions run from February 2022 to July 2022.
Altered Scale Theatre will create a fun, magical show that investigates different ways of expressing and dealing with personal anger and anxiety. The show entitled When Another Dragon Roars is aimed at young people shielding in Key Stages 1 and 2.
Merseyside Dance Initiative will encourage people with Down syndrome to take part in accessible dance classes.
National Museums Liverpool

is offering community groups the opportunity to come together and process the events of the last two years through free creative workshops, producing their own 'museum in a box'.

The award-winning LIMF Academy introduced Changing the Narrative to support musicians on their mental health and wellbeing journey. Aimed at 18-30 year-olds, the free programme builds confidence and explores how they can move forward with a fresh focus and renewed energy in their careers and personal life.
dot-art has created online art classes for adults, children and families to enjoy.
Workshops facilitated by the Bluecoat Display Centre team will see them join forces with the Clatterbridge Cancer Centre's dedicated Teenage and Young Adult (TYA) unit, to create a series of tailored craft workshops at TYA led by professional local artists/makers to benefit the young cancer patients. It will provide a supportive environment to develop, share and create and act as a relaxing distraction from treatment that allows young people to feel like themselves again.
DaDaFest will bring together disabled people in Liverpool to share their experiences of shielding. Working with artists their stories will be transformed into poetry which will then be discovered via QR codes across the city.
The programme will be delivered throughout the year and the latest details can be found on the Culture Liverpool website. This site will be updated as each project progresses.
This announcement comes weeks after the launch of the Culture Collective campaign which sees Liverpool's arts organisations come together to show off the city's impressive cultural credentials. To find out more and to watch the official music video soundtrack head tohttps://www.visitliverpool.com/culturesclub
Liverpool City Council's Cabinet Member for Culture and Visitor Economy, Councillor Harry Doyle:
"Now restrictions are lifted, many of us take for granted the ease in which we are returning to 'normal' life, but for so many, this is an incredibly daunting time and the thought of mixing with other people, going to the theatre or enjoying the artwork in a gallery is unfathomable.

"This is a beautiful, and moving, programme which will reconnect some of our most vulnerable residents with culture, build their confidence and essentially bring some much-needed joy into their lives. Once again, our creative sector has excelled itself in stepping up to the challenge and providing a series of events which will be transformative for so many."    
Liverpool City Council's Cabinet Member for Social Care and Health, Councillor Frazer Lake:
"Liverpool has a very high proportion of people at risk and throughout the pandemic, it was devastating to see our high rates of infection and death. We still have around 46,000 people who are classed as high-risk, so it's no surprise there is some trepidation now that Covid-19 regulations have been lifted.

"Considering what Liverpool has experienced over the past two years, this is a hugely important community engagement programme. The benefits of integrating culture into people's lives are well documented – it improves mental health, boosts morale and the benefits of that feel-good factor should never be underestimated. I'd like to thank all those involved and I look forward to hearing more about the projects throughout the year."
Michael Pierce and Monika Rodriguez, Cinema Nation CIC.
"Our projects have two strands: Returning to Community Cinema and Shield Circles, the first focused on making it easier for people with vulnerabilities in County ward to attend events, whilst the second will see artists and cultural workers who have experienced shielding – coming together to work on an art piece. The Culture Liverpool funding has allowed this project to become a reality for those of us who have been affected by shielding the most."
Karen Podesta, Head of Programme for Merseyside Dance Initiative:
"We're delighted to have the support of Culture Liverpool at a time when our Dance, Health & Digital focus is growing to reach, and boost the mental and physical wellbeing of communities across the city.  We're looking forward to introducing our Connect & Move libraries project and classes for those living with Down syndrome to our programme over the coming months."