New Poetry Festival Announced at the Everyman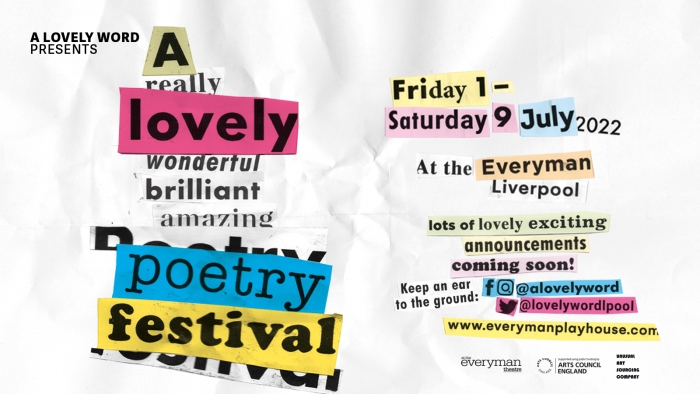 This summer, A Lovely Word in association with Liverpool Everyman & Playhouse bring a brand new poetry festival to the city for everyone!
A Lovely Poetry Festival features some of the UK's top talent, from Liverpool and around the country. At the Everyman from 1st to 9th July, it will celebrate writing, different voices and showcase the wonderful creative community of Liverpool.
Liverpool is a poetry city. A Lovely Poetry Festival celebrates this, uniting, inspiring and galvanising the spoken word scene and creativity of the city through a week of headline poetry events, industry talks, a poetry slam, radio poetry competitions and a poetry factory.
The first headline act to be announced is Hollie McNish and Michael Pedersen on Tuesday 5 July at 7.30pm. Hollie McNish is a Ted Hughes Award winning poet whose live readings are not to be missed. Expect strong language and adult content ribbon wrapped in carefully and caringly sculpted poetry as Hollie reads from and chats about her new collection: Slug: And Other Things I've Been Told To Hate. She will be joined by fellow poet Michael Pedersen reading from Boy Friends, his poetic memoir about friendship, which Stephen Fry has declared "enchanting…astonishingly compelling…rare and to be treasured".
The festival will also include working with local poets such as Lyndsay Price, Gerry Clarkson and Olive Yoxall, as well as A Lovely Word artist-in-residence Amina Atiq. Together with nationally recognised "Poet Factory" Beth Calverley, the festival will gather and build a body of poetry on the ground floor of the Everyman, as local residents and visitors are encouraged to simply walk up and write a poem.
Alex Ferguson, Host and Director of A Lovely Word said:
"Anyone can do poetry. You don't need any materials more than a pen and paper, and sometimes you don't even need that. As we still feel the aftershocks and trauma of the pandemic, it is important to find multiple ways for people to use poetry to reflect and find joy in creativity and coming together. Also it's a fab way introduce and reintroduce communities to the iconic cultural venue which is the Everyman".
Speaking on behalf of the theatres, New Works Associate Francesca Pechier said:
"It's been a joy to see how A Lovely Word has grown over the years at the Everyman. From its early days with Paddy Hughes at the helm and now with Alex as host, it's really gone from strength to strength. With nationally recognised headline acts and open mic sessions, so many new voices have been discovered. Taking this into a week of events and activities as A Lovely Poetry Festival will be a real embodiment of the community and audience that continues to grow around spoken word in this city."
Tickets for Hollie NcNish and Michael Pederson are on sale from midday on Wednesday 6 April from www.everymanplayhouse.com with more details to follow about further headline events, the poetry slam and a radio poetry competition with BBC Radio Merseyside.