Mysterious new details revealed: The Secret Winter Garden
The Lantern Company brings a brand new winter lights event at Croxteth Hall & Country Park this December!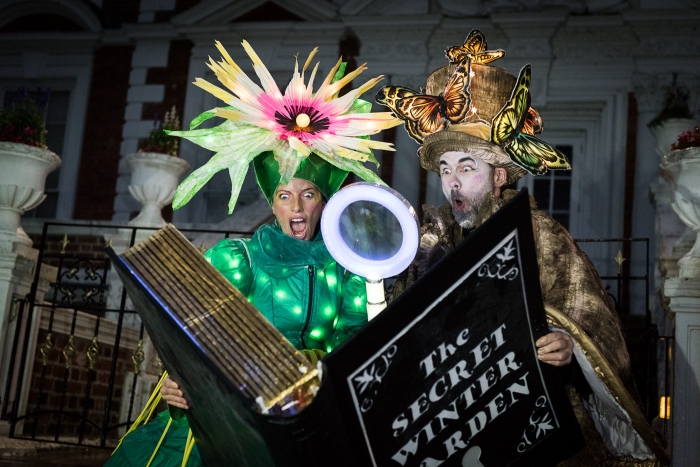 It is time to grab your hats and scarves and take a step into the glowing Secret Winter Garden – a unique, one-of-a-kind, festive adventure for families and fun lovers of all ages, set in the beautiful surroundings of Croxteth Hall's stunning park and gardens.
For 10 nights only (December 13-22), guests are invited to take a wander on the wild side into a land inspired by botany, bee-keepers and beetle spotters, gardeners and giants, poets and plants, imagineers, artists and engineers… It's an incredible, illuminated, wintery wonderland filled with fabulous characters that must be seen to be believed!
Meet time-travelling giant botanist characters, rascally ravens and flying flamingo puppets. Discover a tiny twinkling lantern town, alchemical eggs and dreams growing in the trees. Walk through the garden of stars, see colour-changing plants, magic beans and giant toads. Spot gleaming insects and light-emitting flowers. Listen to the four-legged singing gramophones. Pass through the glowing berry light tunnel and stop in your tracks to see the incredible giant mechanical tower, alive with a luminous host of butterflies! And maybe, just maybe, you can even make it snow!
Jo Pocock, artistic director, said:
"If you want to do something truly different and exciting, this is the Christmas outing for you! We've travelled the four corners of the world collecting dreams and inspiration and can now finally fling open the gates to welcome our guests of all ages to the magical and mysterious, extraordinary and enchanting, one-off and wonderful Secret Winter Garden. It is the most magical thing you will experience this Christmas!"
Lantern Company's world-famous team create amazing illuminated events, all made in Liverpool. The team delight in the thrill of its audiences of all ages experiencing mystery, beauty and the absurd, often all at the same time!
The Secret Winter Garden will also feature a twilight artisan market curated by Open Culture, and will be stocked up with festive, seasonal crafts and tasty treats handmade by local artisans and craftspeople plus delicious, hot food and drink stands.
Guests can also purchase a ready-made lantern to take home with them, or a place on one of the fun, craft workshops to make a mini lantern and tree decoration.
The Secret Winter Garden at Croxteth Hall and Country Park runs from December 13-22, each night from 4.30pm-9pm, with last entries at 7.30pm. Tickets to this out-of-this-world evening packed with luminous loveliness, along with FAQs, can be purchased at www.lanterncompany.co.uk. Prices are from £11-£15.40, including booking fees. Limited car parking spaces are available at £5.
For more information about Lantern Company join us on social media:
#SecretWinterGarden2018
Facebook: @lanterncompany
Twitter: @LanternCompany
Instagram: @thelanterncompany
The Secret Winter Garden is also supported by Myerscough College and Arriva North West and Wales.