Multi-Award Winning Comedian, Rob Newman, Brings Genius Comedy Show to Liverpool's Longest Running Literary Festival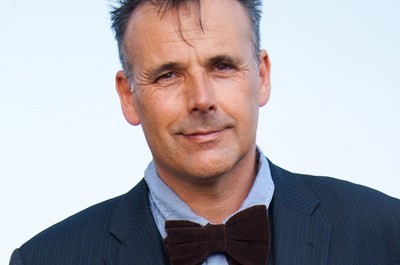 WoW are delighted to host multi-award winning Rob Newman's Philosophy Show at Liverpool Philharmonic Music Room as part of Writing on the Wall Festival '22. Rob Newman's Philosophy Show sees the multi award-winning comedian weave together Nietzsche's sunglasses, Showaddywaddy, Julius Caesar's low traffic neighbourhoods, electric spiders and singing Neanderthals into a hilarious tour-de-force that offers hope for a changing world.
This new live show is a companion to Radio 4's Half Full Philosophy Hour. Previous Radio 4 series, the Entirely Accurate Encyclopaedia of Evolution and Total Eclipse of Descartes won the BBC Audio Drama Awards for Best Comedy.
'Hugely entertaining, gleefully jaunty and refreshingly intelligent… I loved it.' The Guardian
'He is one amazing comedian' Time Out
'Intellectually charged and adorably ambitious…a delightfully digestible dose of brain food' The Times
Rob has been writing and performing comedy for radio, television and stage since the late eighties.  He has also written four novels and two non-fiction books. His late 2000's one-man show, A History of Oil has never been more relevant and is WELL worth a watch. Seventeen years ago, he coined the phrase No Planet B, which has since entered the language.
WoWFEST22 Future Imperfect:
WoWFEST offers FUTURE IMPERFECT as a space to explore world changing ideas, and to offer hope through creativity and community. It's time to challenge the current failing political and social models, to go beyond enduring, to living full and meaningful lives. It's time to press the reset button!
What happens to dreams are they when buried under the rubble of Ukraine, Yemen and Syria, smouldering in the burning forests of California or drowning in floods that eat away at islands across the Caribbean. For many, whether living in a war zone, displaced from their homes, battling with global warming, choosing between heating or eating, or facing entrenched discrimination, the present is already a nightmare. What does the future hold for us all? Can we find a new utopia amidst the global dystopian scenes that pour daily from our screens? For those of us who still can, this is the time to dream, to imagine an equitable and sustainable world for ourselves and the next generation. This is not an indulgence but a life-or-death necessity.
Featuring: Gary Younge, Hannah Lowe, Dead Good Poets Society, Clare Coombes, Ashleigh Nugent, Danielle Owen-Jones, Kay Flavell, Bryan Biggs, Tony Schumacher, A love Letter to Odessa & more…
Paul Newman's Philosophy Show comes to WoWFest22 on Saturday 21st May, 8pm at Philharmonic Music Room, Philharmonic Hall, Hope St, Liverpool, L1 9BP
For more info go to: https://writingonthewall.org.uk/wowfest/
Sign up to our newsletter for more updates.