New interactive map experience uncovers Trails & Tales in Calderstones Park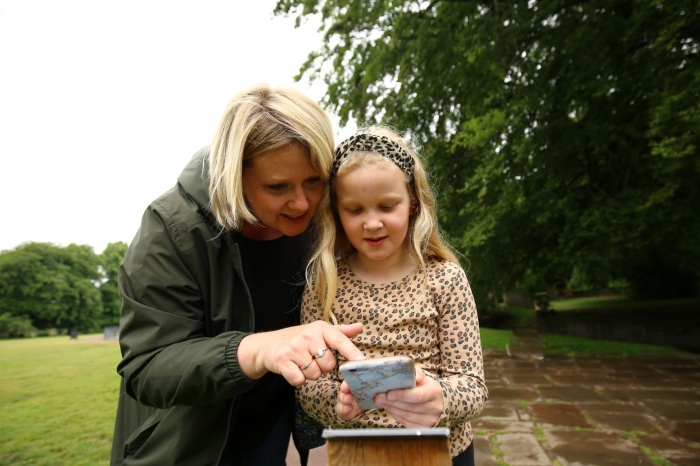 From Wednesday 14 July, visitors to Calderstones Park can embark on a journey of discovery and literary delight thanks to a new digital park map curated by charity, The Reader.
The Trails & Tales experience is part of The Reader's ongoing programme of activities and events at Calderstones, and offers a new and surprising way for visitors of all ages to connect with their surroundings as they explore the park.
The map can be accessed by using a smartphone or tablet to scan QR codes on several wooden posts installed around the park, as well as some bigger general information boards. As visitors explore each stop, the Trails & Tales map acts as a guide in hand and provides information about the points of historical interest in the park, using audio recordings and photographs.
Visitors can choose to follow either the Literature or Heritage Trail, or create their own adventure by combining the two.
The Heritage Trail has been developed using stories and memories from the local community and materials from The Reader's archive. On this trail, visitors can learn about what life used to be like in Calderstones Park from people who lived in the Mansion House, as well as enjoying fascinating titbits and tales from volunteers and staff, all intertwined with carefully selected pieces of literature from authors including Jane Austen, Anton Chekov, Matsuo Bashō and George Orwell.
The Literature Trail features familiar voices from some of The Reader's patrons and supporters, including actors Maxine Peake and Claire Skinner, and writers Robert MacFarlane and Roger Robinson, as they read poems and extracts from plays at poignant positions in the park.
The Heritage Trail takes around two hours to complete and the shorter Literature Trail takes around 50 minutes to complete. Both trails are completely free to use and have been designed to appeal to audiences of all ages.
Trails & Tales has been developed by The Reader as a response to the need for people to access self-directed, outdoor activity during and after the Covid-19 pandemic. The map not only exists to help people learn more about the history of Calderstones Park, the Calder Stones and the Mansion House, but also as a way for people to access and enjoy great literature in the great outdoors.
Anna Farrell, Head of Programmes at The Reader said:
'At a time when a simple walk outside has become such a crucial part of our day to day lives and wellbeing, we wanted to create a way for people to discover literature and heritage while they explore the great outdoors.

'Trails and Tales has literature at its heart and you'll be able to listen to poems and excerpts from plays that have been specifically chosen to encourage you to stop and reflect on your own, and others', experiences in the world. Shared Reading is what we do at The Reader, and we hope lots more people will be inspired by what they hear and read, to see if literature can help improve their wellbeing.'
The development of the trail has been funded through the Steve Morgan Foundation and DCMS Community Match Challenge – part of government's £750m support package for charities. We'd like to say a huge thank you for their continued support, as well as to everyone who's given up their time to help with this project and put the map together.