Liverpool: a landing stage for the world's best art, culture, music and entertainment.
Bev Ayre, Creative Producer for River Festival talks through her process of event creation and delivery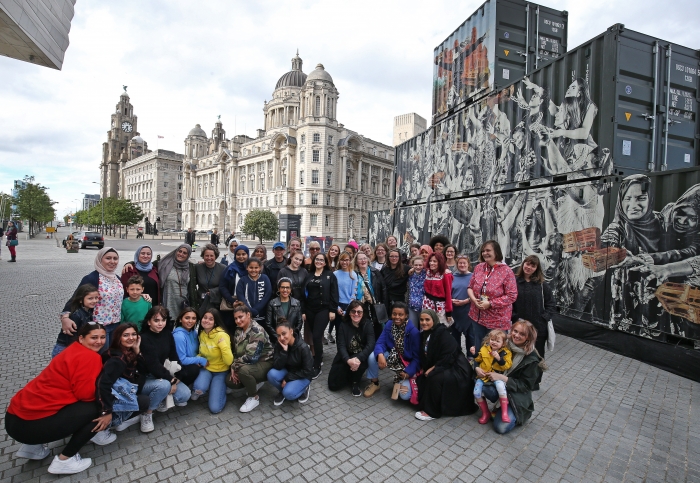 Do you ever catch yourself mid-sentence and realise you sound completely insane? This happened a last month at a meeting as I was describing this year's river festival highlights. "We're hanging the earth in the cathedral …The sperm whale will be in Canning dock… No it's not real… There will also be some hand crocheted massive Sea Urchins… Yes, we are building a tower of Babel out of shipping containers… And, we'd like to put it on your land… Oh, the gold Indian robot on the mobility scooter? Don't worry about him."
The theme of our creative programme for the River Festival this year was to celebrate Liverpool as a landing stage and departure point for the world's best art, culture, music and entertainment.
Having programmed The Museum of the Moon for the Tall Ships last year, I was keen to work with Luke Jerram again to bring the awe inspiring Gaia to Liverpool Cathedral ahead of the festival weekend. 60,000 people enjoyed the artwork last year and I was hopeful that the earth would prove popular. Nothing prepared me for how much. Gaia really caught Liverpool's creative imagination, and over 250,000 people flocked to see it.  Local artists also responded to the piece, including; the Liverpool String Quartet, Belvedere Academy Chamber Choir, the Mersey Poets, Yoga sessions, trumpet playing and storytelling. Gaia has inspired new writing, music and performance.
The installation highlighted the fragility of the earth and the beauty of our small blue planet as seen from space. As one of the only people in the world to have seen this view, it was fitting to invite Helen Sharman, Britain's first astronaut, to share her experience of being a star sailor. A really lovely woman, I tried not to ask her too many stupid questions, like if the earth is spinning so fast why don't we fall off? (I admit, a couple slipped out)! Did you know that in the time it takes for the earth to rotate once you could get from Gambia Terrace to the Liver Building?!
Our programme aimed to engage the city in ground breaking, visually stunning new and re-commissioned art works which alter the familiar landscape. Tens of thousands braved the wind and rain to watch The Whale – breaching 15 meters and plunging into the murky waters of Canning Dock. Faith Bebbington's Runner skipped effortlessly across Mann Island basin, and 80 local women from a variety of backgrounds worked with Jola Kudela to Reclaim Babel and celebrate our city's diversity and solidarity in a monumental piece of street art.
Another highlight was commissioning House of Suarez and Fabrication Studios to create a Hollywood musical performance featuring 4 glamourous sailors seduced by Oceana, a sea siren who had walked straight off the MGM stage and onto our River Festival dance floor.
One of the other joys of programming is choosing the live music. This year, with the help of local arts organisations, Milap, Africa Oye and Liverpool Irish Festival, we turned three tall ships stages over to into India, Africa and Ireland, along with a New York inspired main stage and the Kazimier's barge, La Vie en Rose, produced to entertain those basking in the Bordeaux Wine Festival.
Primarily, the River Festival is a celebration of our maritime heritage. The team brought six wonderful tall ships to port and 8 beautiful Nobby Boats graced the Albert Dock. We also brought the annual Mersey River Swim into the festival where 100 adventurous swimmers in 20 small boats were waved off by the Lord Mayor before diving into the Mersey at the Cockle Hole and swimming across to Monks Ferry.
And then came the Parade! Once Liverpool Football Club were though to the semi-finals we developed River Festival 'Plan B' in which our programme would miraculously move back 4 hours on the Sunday to accommodate the Parade. This involved asking over 200 performers to arrive on site before 8.30am, where they would be trapped until 9pm that night. And that's when you really start doubting your sanity. But thanks to their patience and co-operation, Culture Liverpool multi-tasked brilliantly on a grand scale.
River Festival 2019 programme ran from 25th May to 23rd June 2019. It employed 651 artists and arts professionals, commissioned 34 new pieces of work and was enjoyed by live audiences of over 330,000. Thanks to the team who put it all together Sam Mc, Pip, Alissa, Eliza, Sam M, Diarmid, Roisin, Sarah V and L, Sharon, Keith and Kate and the rest of the Culture Liverpool  team, artists and performers, site team and all our venue and funding partners.