Little Amal makes a giant impact on Liverpool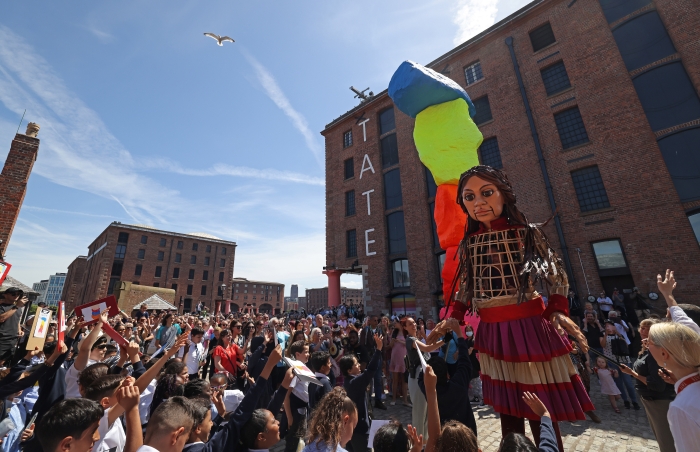 Little Amal was welcomed to Liverpool waterfront with open arms as she visited the city for the first time today. As part of her 'New Steps, New Friends' tour through England for World Refugee Week, which commenced this week, Amal learnt about the city's rich history of migration alongside Tate Liverpool, National Museums Liverpool and Liverpool Everyman & Playhouse theatres.
Amal enjoyed a kick around with LFC's Foundation Inclusion team outside the Martin Luther King Jr Building, putting them through their paces before hugging the team goodbye in front of a cheering crowd. Afterwards, Amal joined children from Smithdown Primary School to get creative outside Tate Liverpool, and posing for a photo next to the florescent Liverpool Mountain. Following this, Little Amal became an honorary member of the Museum of Liverpool's community archaeology team at Piermaster's Green, helping to uncover the lives of those who lived and worked on the dock many moons ago.
Before visitors waved goodbye to Little Amal, Asylum Link performed on the Museum of Liverpool's steps, providing rhythmic musical melodies for Amal to dance alongside her newly made friends in Liverpool. Afterwards, Amal visited a local primary school with Liverpool Everyman and Playhouse Theatres to play games and get creative with the youngsters, ending a reflective and joyful day in the city.
Image copyright: Gareth Jones