LIMF: Much more than the Main Stage
Head of UNESCO City of Music, Kev McManus' guide to festival festivities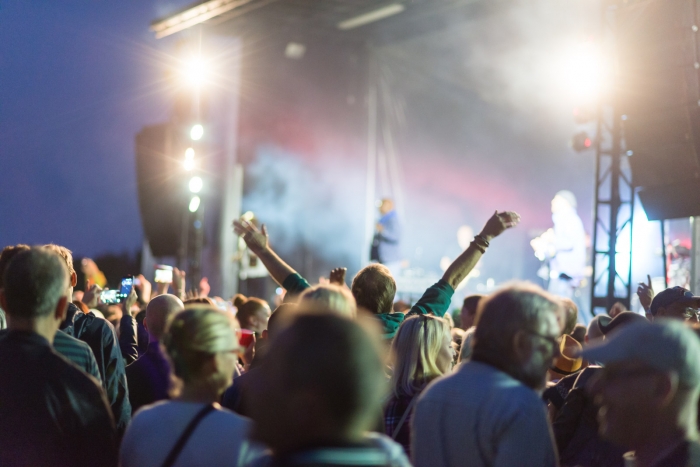 We're sure you are looking forward to watching and listening to some brilliant music in beautiful Sefton Park this weekend.
In my mind there's all sorts of festival goers. Those people whose focus on what they are going to wear as much as what they are going to see. The more relaxed types who aren't really sure what is on but know they will have a good time because the music will be good and the park is lovely.  There's those who just go dance in the dance tents, and then there are 'the festival goers with a plan'. Each to their own and all that but I'm a little bit suspicious of people who have a written note of who-is-on-when, on-what-stage, or those who keep checking their scheduling app on their phone. If you really want to get in the festival mood – just relax and go with the flow. See someone you have never heard of, go into a dance tent and have a dance to whatever is playing, or just spend a bit of time just sitting off having a chat. That isn't wasted time, that's serious hanging out quality time.
The main stage at LIMF does have an amazing line up this year but please don't think that's all LIMF is. It is definitely worth checking out different parts of the site. Other stages are often where some of the most interesting stuff takes place and  it also means you can get away from the hurly burly of the  big crowds.
Just one example at random.  Look at the staggering line up in the True School Club House on the Saturday, with Bobbitto Garcia, followed by the legend that is Norman Jay, Maseo (from De La Soul) and finishing off with Jazzie B. You'd have to be dead not to enjoy that.
My focus will be on the Music City stage, where we have some of the best local artists and up and coming bands from the area.  Everyone playing this stage is definitely worth a look. Early Saturday you have got the likes of Niki Kand, Shards and Yammerer – who all deserve a listen, as well as the quietly wonderful Bill Nixon. My favourite band of the moment Eyesore and the Jinx are on at 7:50pm and to be honest if you aren't there to watch them then I'm not sure there is any hope left for you.
The Sunday on the Music City stage is just as good; and it features some LIMF Academy graduates in the shape of the brilliant Pizzagirl and Sub Blue. I saw SSJ at the recent Levi's event at Sound City and he is definitely worth checking out too. This stage is also featuring the first UNESCO City of Music collaboration at LIMF. It is only fitting that the collaboration is with Hannover, as over the last few years we have done a lot of work with them. Hannover is another UNESCO City of Music and a city that has been incredibly welcoming to a number of Liverpool musicians. I can't wait to hear the   special one-off performance at 5pm featuring Luca, Tori Cross, Lu, and Niklas. That's real international collaboration for you.
Going back to Saturday for a moment, the Music City stage closes with a very special tribute to the late Tony Butler. Tony ran the Zanzibar club for over 25 years until he sadly passed away last year. As someone who spent far too much time in his club I became good friends with Tony and miss our little chats.  He would ring me up every so often and we'd meet at the club. He would make us a cup of tea and then we would sit in his tiny office and discuss whatever was on his mind.
Tony could be contrary, grumpy but this was far outweighed by the fact that he had a really good heart and went above and beyond in his promotion of local music. He gave young bands gigs when nobody else would, he pushed them when they needed pushing, and he told them off when they acted like idiots. If he liked a band he would champion and support them as much as he possibly could.
He was incredibly self-effacing. He didn't want any fuss made about the club's 25th anniversary and definitely didn't want an award when it was suggested that he would be a fitting recipient of one. He just wanted to carry on running the club, promoting local bands and outside of the hours he spent in the club spend his time with his family.
I've got loads of great memories of the Zanzi. The Bandwagon nights are now legendary because of the great bands that emerged from that scene. But if you were there they were simply just brilliant nights. The obvious ones were gigs by The Coral, The Bandits, The Zutons, and The Stands. But I was also lucky enough to be there when The Libertines did an early gig on a Bandwagon night and at that stage of their 'career' they were chaotically compelling.  I saw them there again when as a much more established band they did a secret guerrilla gig and the place was heaving.   There were so many great nights there– The Coral and Shack doing a 'secret' gig, The Bandits and The Stands doing a free gig the night before they both headed off to play Glastonbury. There was a secret gig by The Kooks, and Noel Gallagher turning up to play with The Stands. There was a memorable Pete Wylie residency that stretched across a year and gave full reign to the excesses and genius of that particular Liverpool maverick. I recall at one of the early Sound City festivals when the 1975 played to a ridiculously packed club while a huge queue snaked outside desperate to get in.
Tony helped loads of bands over the years but always had a soft spot for The Tea Street Band (and their earlier incarnation) The Maybes. So it seemed only fitting to ask Nicko from Tea Street to pull together a line up that would provide a tribute to Tony.  He has done a great job and the Music City stage will close the Saturday with the The Zanzibar Collective; featuring performances by the likes of Tea Street, Sundowners and others.  Anyone who has ever played the Zanzi or been to a gig there should make the way over to the Music City stage for 8:50pm on Saturday to pay tribute to a good man and significant figure in the Liverpool music community. I, for one, will definitely be there.