LightNight Open Call 2022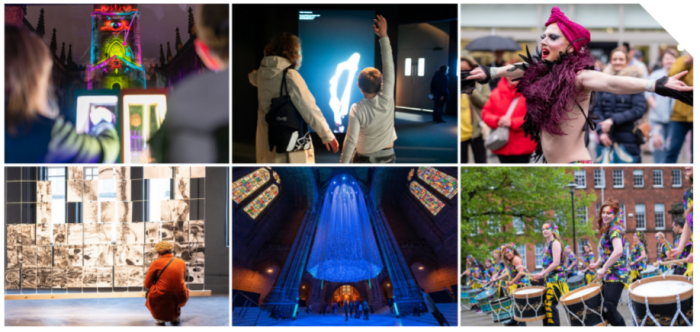 Open Culture invites artistic proposals for LightNight 2022. Exploring the theme of Energy, the event will take place on Friday 20 May 2022.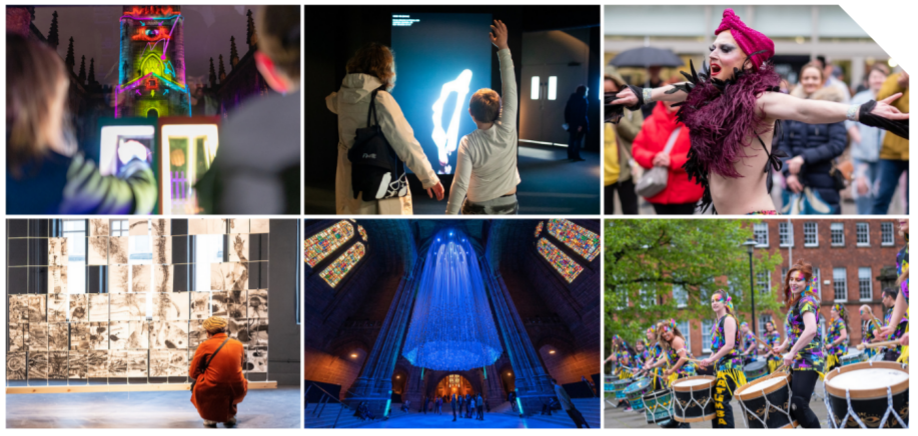 OPEN CALL
This open call has two strands:
1. In-kind Programming & Late Openings — Closing date: 10 Jan 2022
This is for artists, community groups, arts/heritage organisations and venues to apply to be part of LightNight. There is no funding available for this strand, however you can apply if you require a venue or other support to stage your activity.
2. Paid Artist Commissions — Closing date: 18 Nov 2021
The commissions are for artists or collectives to apply for funds to create new works or activities to be presented on LightNight.
WHAT IS LIGHTNIGHT?
LightNight is Liverpool's annual one-night arts festival offering audiences an unforgettable trail of live and virtual events for all ages including light projections, street performance, exhibitions, open studios, theatre, dance, walks and tours, live music and many more special activities. Over 40 city centre organisations keep their galleries, museums and venues open until late, staging over 100 special cultural events for visitors of all ages. LightNight is produced by Open Culture and aims to promote the city's arts and cultural offer to those who may not usually engage with the arts.
You can see a highlights film from 2021 here and 2019 here.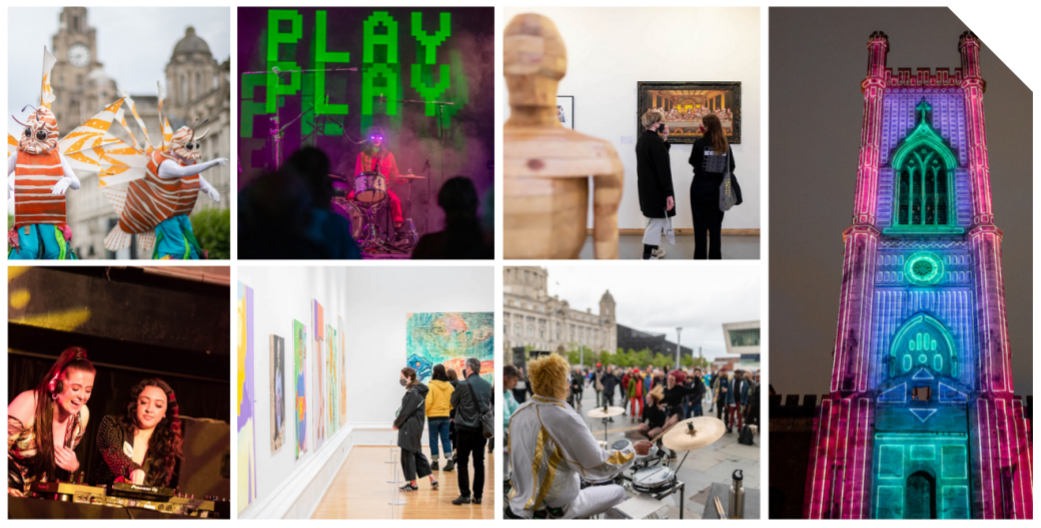 2022 THEME: ENERGY
For LightNight 2022 we ask what is energy? Where does it come from and how is it best used? Energy is an invisible force which surges through us, surrounds us and weaves through the universe, one great machine of energy conversion with many parts. The sun is the source of almost all the energies of Earth.
When we consider energy, we see the depths that lay beneath the surface. Energy lies behind everything. Whether it is the waves effect in smoothing a stone or the motion of the artist behind every brushstroke. Is energy finite or infinite? Science tells us through the Law of Conservation of Energy that energy cannot be destroyed or created, it can only be transformed. As humans we use energy to power our lives, food and sleep sustain us and help our body and mind to function. And it's plausible to argue that the sunlight, water, and nutrients in the earth that has helped to grow an apple, when consumed, can be converted into an act of kindness. Random acts of kindness create a ripple effect, with each recipient passing kindness onto others, creating an energy all of its own.
With the effects of the pandemic still being felt both physically and psychologically, our energy levels may feel completely different to what we were once used to pre-pandemic. Coming out of lockdowns has left many of us feeling exhausted from social interactions. Can acts of kindness help to regenerate our energy levels?
Each of us has a certain amount of energy, whether it's physical, mental, and emotional, and we have a capacity that fluctuates. By the same principal so too, does Earth. Our planet has finite resources that we constantly convert to help the day-to-day actions of humans and the churn of life upon the planet.
In this current Anthropocene age, scientists say we have significantly altered the Earth's climate and ecosystems through human activity. These changes can be seen in global warming, habitat loss, changes in the chemical composition of the atmosphere, oceans and soil, and animal extinctions. Can we continue to act as though we have limitless energy and infinite resources? Can art help us consider and stop us in our tracks, making us question our current trajectory? How can we work collectively to maximise our energy outputs to re-shape the world around us for the better?
1. IN-KIND PROGRAMMING / LATE OPENINGS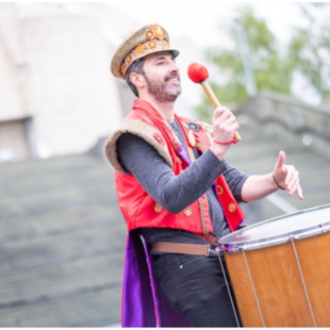 Due to the scale of LightNight and the number of organisations and artists that want to take part, we use an application process to build the programme. If you represent an organisation or venue that has not participated before, please e-mail us to outline your offer by email before submitting using the contact details below.
Otherwise, we ask that everyone complete the online application form here:
https://openculture.wufoo.com/forms/be-part-of-lightnight-2022-energy
Closing date for in-kind applications: 10 January 2022
What you'll need: your contact details, venue details (if you have one), and a description of your proposed activity and the people involved. Each submission will be reviewed, and we will be in touch in late January / early February 2022 with the outcome. If your proposal is accepted, we will request your marketing information, including your listings for inclusion in the Festival Guide, to be submitted to us by 22 February 2022.
TERMS OF PARTICIPATION
All activities proposed for LightNight need to:
Take place on Friday 20 May 2022 in Liverpool city centre or online
Be a high-quality artistic offer
Propose something different to your usual offer
Respond to the theme
Be free to the public
Venues must be open from 5pm, closing no earlier than 10pm
It is essential you apply by the closing date 10 January 2022. The team coordinating LightNight is small with a finite capacity, and the programming of the festival is strictly time limited. Applications are assessed against the criteria and strategic aims of LightNight and agreed by the  LightNight Steering Group which is made up of arts professionals, artists and representatives from arts organisations in the Liverpool City Region.
If your proposal is accepted, you agree to:
Take responsibility for your activities including any relevant licensing, insurances, covid restrictions, and health & safety requirements as necessary.
Have the appropriate licencing, consent, releases and permissions in place including the rights to present artwork, music and other copyrighted materials.
Be committed to Equality, Diversity and Inclusion in the planning, production and delivery of your activity and consider the needs of a broad and diverse audience.
Contribute to the press and marketing campaign, keeping in line with due dates and the guidance and marketing assets provided.
Recycle or reuse materials where possible and avoid single-use plastics and other unnecessary waste.
Complete an evaluation form after the festival, providing details of number of artists, staff and volunteers (paid and unpaid), audience figures, participation figures, number of workshops, expenditure and income figures relating to the activity, and general feedback and suggestions for developing LightNight.
ADVICE
We've learnt a lot about what audiences prefer on LightNight and these tips should help you get the most out of participating in the festival:
Audiences enjoy activities that have some interactive element.
Audiences don't often spend long periods of time in one venue so activities that run all night or at regular intervals throughout the night work best.
Audiences get frustrated when events aren't as described or running to a different time than  published in the festival guide. Please make sure the marketing information you give us is accurate and that you stick to it.
If you're presenting an activity online only, think about the simplest way audiences can find it and enjoy it.
Use signage to help new visitors find their way to your venue and signpost inside too – it helps people feel welcome.
LightNight is friendly, accessible and aims to introduce people of all ages and backgrounds to the arts. Think about how you might attract hard-to-reach audiences with your event by making it more fun, easy to take part and inclusive.
If you have any questions or would like to discuss your proposed activity, please contact Charlotte Corrie via

[email protected]

/ 07530 003600
KEY DATES: IN-KIND PROGRAMMING / LATE OPENINGS
10 Jan 2022 Closing date for proposals
Early Feb 2022 Applicants notified of outcome
22 Feb 2022 Marketing info due date (copy & imagery)
22 April 2022 Full Programme Announcement
20 May 2022 LightNight Liverpool Festival
May/June 2022 Feedback & Debriefing
PAID ARTIST COMMISSIONS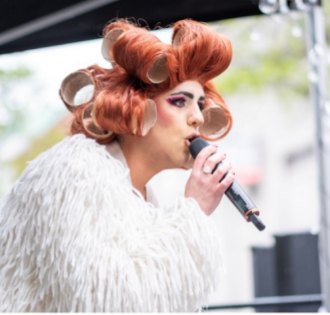 Open Culture is seeking artistic proposals for the LightNight Liverpool 2022 commissions programme, working to the theme Energy.
Closing date for proposals: 18 Nov 2021
WHAT WE'RE LOOKING FOR
We are looking to present work by emerging or established artists living or working in the UK, especially artists with diverse backgrounds or with voices less often heard. Proposals in any artform are welcome including visual arts, sculpture, technology, moving image, spoken word, gaming, performance, installation, light art or any combination of these. If your activity will take place physically, or be presented effectively online as well as in person. We are looking for high-quality projects that explore the theme of Energy and would be interesting for audiences who are less engaged with the arts. These commissions will present opportunities for artists to create work that:
is presented as part of a major festival
could be made in collaboration with communities
could be hosted by an established cultural organisation or venue
is challenging but accessible and relevant
is interesting and spark curiosity
REQUIREMENTS
Your proposal must be artist-led (although you can talk about any partner organisations)
Your proposal must respond to the theme
Your activity needs to take place on LightNight Friday 20 May 2022 in Liverpool city centre. Ideally your piece would be presented for a minimum of 5 hours throughout the evening, take place online, or repeated at intervals so that as many people as possible can experience your work
Your activity must be an original piece of work, which is either brand-new or a development of an existing project
Your activity must be delivered on time and within budget
If selected, you must provide public liability insurance to cover your activity at a minimum of £2 million indemnity
If selected, you must undertake a risk assessment and provide method statements for installation where relevant
BUDGET
All commissions are subject to funding. The value of the commissions will be between £2k — £5k each, depending on the scale and complexity of your proposed work. We expect to commission 2-4 works.
SUPPORT
In addition to the budget Open Culture will provide practical advice, curatorial support and mentoring where needed during each stage in the planning and delivery of your work.
We will also work with you to develop your proposal and facilitate any collaborations with other organisations if relevant – providing contacts and networks to help realise your activity. If necessary, we will also work with you to secure a suitable city centre venue / outdoor location.
Open Culture deliver the marketing and PR for your activity as part of the overall LightNight promotional campaign.
SUBMIT A PROPOSAL
If you want to talk about your proposal prior to submitting, please get in touch with us on the details below.
Your proposal should be no more than 2-4 sides of A4 and should include:
Briefly tell us about you and your artistic practice
Give us an outline of your proposed activity, the ideas behind it and how it explores the theme of Energy. What would the audience experience be? What makes it interesting
Images or weblinks to help illustrate or explain your proposal
Where will your activity take place? How long will it last and would it be repeated? If it is a physical event or online?
If your proposal requires a physical space, please include details of your ideal space e.g., space type, ability to black out, size, seating, atmosphere, architectural style, AV specs etc.
Details about any existing or potential project partners you would be working with
Budget breakdown to include all costs for artist fees, planning and delivery, travel, materials and equipment. You do not need to include venue hire costs.
How you can make your work more accessible e.g. captioning/subtitling, sign-language
interpretation, audio description, multi-sensory, large print, image description etc. You do not need to include costs for this.
You can include any in-kind support in your budget (e.g. free use of equipment, etc.)
Confirmation that you currently hold or will purchase public liability if selected
Details of one or two relevant past projects, which show your experience of producing highquality artistic work with relevant weblinks to images/videos/recordings of past work
Your full name, address and contact email and telephone number
Contact details of a referee
Please complete the anonymous Equal Opportunities Monitoring Form here in addition to your proposal. This will not be used to assess your proposal, is only used for anonymous statistical analysis, and reporting within our organisation and to stakeholders and funders.
Commissions selection is supported by a selection panel and will be based on the quality of your idea, connection to the theme, your ability to deliver the work to a high artistic standard and within the timescales and budget.
We can accept proposals in any format you wish. If you would like to submit a proposal in another format other than as a word document or pdf, please be in touch via [email protected] / 07891 258 251 prior to submitting.
Please send your completed proposal, confirming you have completed the Equal Opportunities Monitoring Form, to [email protected] by the closing date Midnight Thursday 18 November 2021.
KEY DATES: PAID ARTISTS COMMISSIONS
18 Nov 2021 Closing date for proposals
Jan 2022 Applicants notified of outcome (subject to funding)
Jan/Feb 2022 Meetings with Open Culture
22 Feb 2022 Marketing info due date (copy & imagery)
Mid-March 2022 Commissions Announcement
22 April 2022 Full Programme Announcement
20 May 2022 LightNight Liverpool Festival
May/June 2022 Feedback & Debriefing
GET IN TOUCH
LightNight is an Open Culture CIC project. www.lightnightliverpool.co.uk
Open Culture is a creative social enterprise, which aims to increase the profile of and engagement with arts and culture on Liverpool city region. We believe that art and culture improve quality of life and wellbeing for individuals and communities.