It's My Pleasure to Participate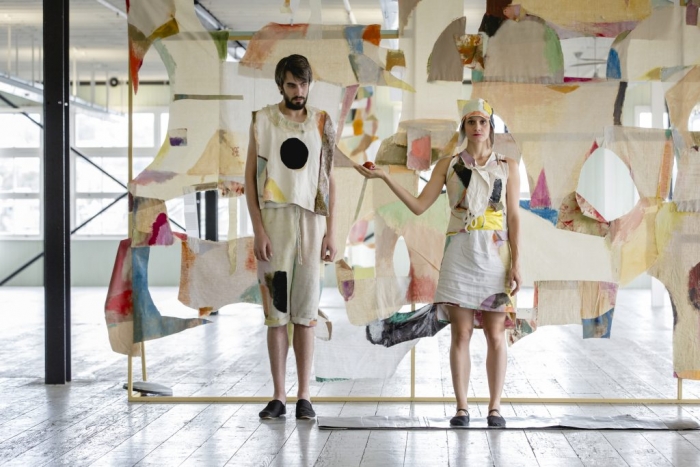 Teplin, known for her large abstract canvases of fragmented colour and poetic performance works, will exhibit newly commissioned painting, performance and videos.
Teplin's new work is rooted in the discipline of painting. Blocks of colour dance across her canvases, oscillating between ground and foreground. The artist often hints at figuration and familiarity in her paintings, overridden by Teplin's adherence to the rhythms of playful abstraction. Many of Teplin's paintings move beyond traditional canvas and are instead painted on a patchwork of different material, including linen and decorative antique fabrics. At Bluecoat, visitors will weave their way through Teplin's dramatic, freestanding paintings which will transform the gallery to create a new, encompassing architecture.
The exhibition will feature three performances devised by the artist, which will see the performers interact with the artworks on display. The seductive quality of Teplin's painting flows into her performance works. The sense of patchwork also follows into Teplin's performances through a fragmented script. Gestures, movements and dialogue from avant-garde European film are woven in with poetic phrases borrowed from modernist literature and everyday dialogue between people. Conversational phrases are mixed together with the glamour and exquisite phrasing of the silver-screen. Like her paintings, Teplin's performances hint towards the familiar and recognisable whilst consistently pushing into abstraction and alluring rhythms.
Teplin will also premiere three new video works in the exhibition, situated within an installation of her paintings and objects. These video works tie her performances to the history of cinema from which she borrows dialogue and movements, as well as including references to other artworks within the exhibition. As with painting, cinema carries the weight and baggage of its own history, conventions and tropes.
Through Teplin's exhibition, the medium of film and painting are brought into dialogue, reflecting the inherent qualities of each other; the composition of the films following the composition of paintings, discrete gestures, acts, brush strokes and phrases combined to form an atmosphere that compels the viewer to reflect on the nature of painting, film and performance.
Alexis Teplin: It's My Pleasure to Participate will open with a special launch event on Friday 25th October, from 6-9pm at Bluecoat.
Performances take place within the exhibition at 2pm on Sat 16 Nov, Sat 7 Dec and Sat 22 Feb, and will be approximately ten minutes in duration.