Floating football pitch coming to Royal Albert Dock Liverpool for school summer holidays
Coaches from Everton in the Community and the LFC Foundation to share free skills and drills.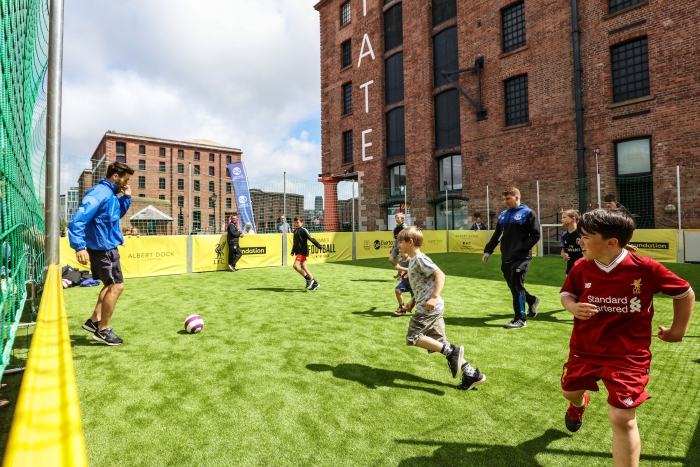 Royal Albert Dock Liverpool's action-packed summer continues with the return of free football coaching sessions, led by Everton in the Community and the LFC Foundation. This year, Summer Football on the Dock has an exciting new element as the pop-up football pitch will be on a floating pontoon on the water at the heart of the iconic Dock.
Fresh off the back of the World Cup and The Art of Football: Common Ground exhibition on The Colonnades, the fun and free Summer Football on the Dock programme runs daily from August 1 to 22, 11am to 4pm. With the pitch's incredible new setting this year, surrounded by the Dock's Grade I listed pavilions on the water, this is the beautiful game as you've never experienced it before!
People of all ages and all abilities are invited to drop by and join in the action-packed, inclusive programme – with no pre-booking required.
Clare Rawlinson, marketing manager, Royal Albert Dock Liverpool, said:
"Summer is in full swing so bring the whole family along to Royal Albert Dock Liverpool and take part in some great outdoor pursuits on Liverpool's world-famous waterfront.
"The floating football pitch is certainly a first in the Dock's 172-year history – who wouldn't want to play some football in such a unique and stunning location? We know visitors of all ages and ability are going to have a blast and it doesn't matter if they are a boy or a girl, football fan or not, experienced or a novice, a red or a blue! Summer Football is for everyone to take part in. And what's more – the skills and drills are completely free!
"Participants are also in very good hands with the brilliant coaches from Everton in the Community and the LFC Foundation bringing their inspiring work in the community to the centre of the Dock – encouraging health, well-being and sport development!
"Last year's activity really connected with our local audience and we want to build on this by providing even more inclusive activities to promote health and well-being."
Coaches from Everton in the Community and the LFC Foundation will be sharing their vast knowledge with the young footballers to develop their skills, ball control and teamwork. Budding Mo Salahs, Jordan Pickfords and Jodie Taylors will be able to take part in open sessions and mini tournaments. Alongside this are courses that aim to inspire the next generation of female footballers as well as sessions for all abilities, making the game accessible for all.
Royal Albert Dock Liverpool, the North West's most visited free visitor attraction, is offering an adrenalin-fuelled summer in 2018 as the floating football pitch joins the exhilarating new experience, Adventure Dock, which has been drawing huge crowds since its opening back in May.
Phil Duffy, executive director for Everton in the Community, said:
"We are thrilled to be bringing Everton in the Community down to Royal Albert Dock Liverpool for the second consecutive summer. Our trained coaches will be delivering football sessions throughout August for boys and girls of all abilities and I would encourage as many people as possible to bring their child down to the Dock for a free football taster session with EitC and the chance to hear more about the life-changing work of the charity as we celebrate our 30th year. I'm sure it will be a great day out for all the family!"
Katie Ellis, LFC Foundation project lead, said:
"The LFC Foundation is excited to be providing free sports and activity sessions on this unique floating pitch, at Royal Albert Dock Liverpool. Our activities are open and inclusive to all abilities and skill levels, so we expect to see plenty of people getting involved.
"These fun activities are the perfect opportunity for families, children and young people to keep active during the summer. It's going to be a brilliant summer at the Dock!"
For details about the full programme, and all other upcoming events at Royal Albert Dock Liverpool, please visit the Royal Albert Dock Liverpool website.