Step into '22 at Royal Albert Dock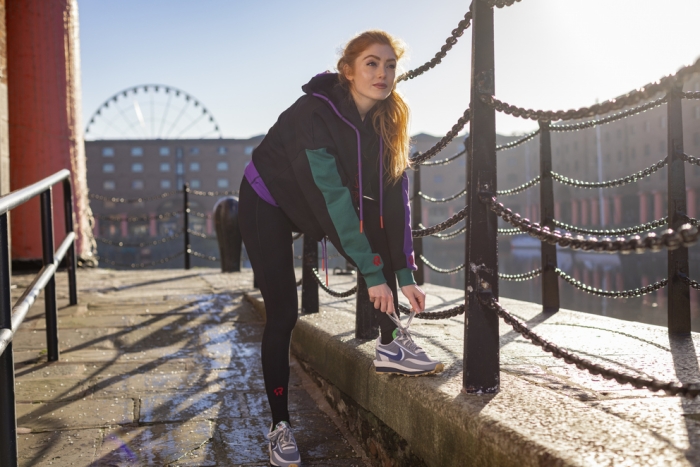 Royal Albert Dock Liverpool has launched its new campaign, Step into '22, inviting visitors to embark on a variety of feel-good things to do at the dock. From fitness trails around the waterfront with free dog treats for four-legged friends, to healthy menus from the bars and restaurants, and even an unmissable Valentine's competition, the dock has everything needed to start the new year on a high.
Visitors looking to increase their step count can head to www.albertdock.com/step-into-22 to follow a bespoke fitness trail around Liverpool's iconic waterfront, a route that Jessica Ashley, AKA 'Fancy Dress Jess' often jogs in her eye-catching costumes for charity. Plus, for a gym wear glow up, both Red Run Activewear and Lost Soles offer luxury sportswear for those wanting to look the part. The three fitness trails, including Canal & River Trust's walk along the promenade, have varying distances ranging from 1,756 steps along the inner quay to 3,563 steps on the longer route*; the equivalent to burning off 152 calories**, or a takeout white hot chocolate from Costa Coffee!***
Dog owners enjoying the fitness trail can stop by a number of the shops and restaurants who will be giving out complimentary dog treats throughout February, including Red Run Activewear, Nature's Treasure, Peaberry Coffee House & Kitchen, Maray, Revolution, One O'Clock Gun and The Long Shot, all highlighted on the fitness trail map.
Post walk, visitors can head to one of the many dock restaurants for a healthy meal or mocktail. Tuck into a vitamin-packed Smoothie Bowl at Peaberry Coffee House & Kitchen, enjoy Maray's flavoursome veggie dishes such as their Confit Carrots with hazlenut butter, or give your tastebuds a kick with Rosa's Thai Cafe's fragrant Green Curry.
For a cultural day out at the dock, the world-class attractions are perfect for soaking up the culture and enjoying a digital detox. Tate Liverpool offers a collection of ever-evolving, inspiring exhibitions such as the 'Whose Tradition' display which explores different cultures from around the world, whilst the Life on Board exhibition at the Maritime Museum delves into the captivating sorties of Liverpool's seafaring community.
Throughout February, the dock is the place to go for all things Valentine's, whether it's to pick up a unique gift for a loved one, enjoy a candle-lit dinner, or take a selfie in-front of the soon to be unveiled illuminated Love Tree. The Nest offers a selection of bespoke Valentine-themed gifts, from beautiful bouquets of dried flowers to a welded Liver Bird heart sculpture by Tony Shannon, whilst a few doors down at Roly's Fudge their luxury heart shaped Strawberries and Cream fudge is an ideal gift for a loved one with a sweet tooth.
For the ultimate Valentine's Day celebrations, a huge competition will give one lucky winner an unforgettable prize to 'Win Valentine's', including an overnight stay at Holiday Inn Express with bubbles on arrival, a tasting Menu at Lerpwl at the Chef's Table, an exclusive cocktail making class for two at Revolucion de Cuba, a bottle of Turncoat Quisling Pink Gin, and a hamper bursting with dock goodies, which can be entered at https://albertdock.com/news/win-the-ultimate-dockside-date-night
Image: Deana Kay Model_Jessica Ashley