Evolution
Winner of prestigious Architectural award, and designers of 'The Eden Project North' open exhibition on Liverpool Waterfront - 'Evolution' By Sir Nicholas Grimshaw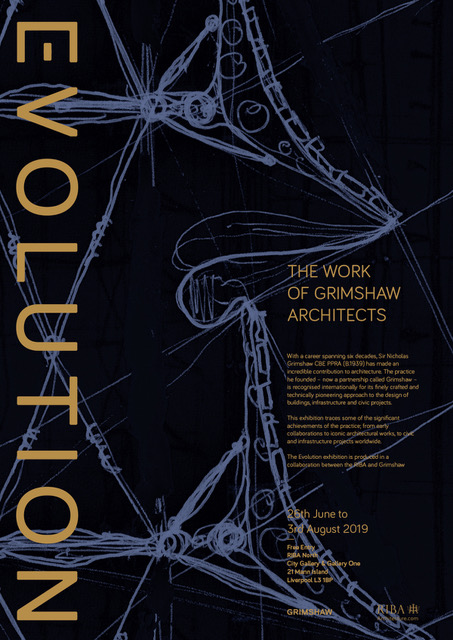 Earlier this year the Royal Institute of British Architects (RIBA) presented the UK's most prestigious award for Architecture, the Royal Gold Medal, to Sir Nicholas Grimshaw. This award is presented annually by the RIBA on behalf of the British Monarch.
To celebrate the work Sir Nicholas Grimshaw, the RIBA in partnership with Grimshaw Architects is hosting an exhibition of models, films and drawings at RIBA North on the Liverpool Waterfront.
The exhibition celebrates works ranging in scale and geography: from the renowned Eden Project in Cornwall with its vast clear-span biomes, to Australia's first significant contemporary rail terminus Southern Cross Station, to New York's EMPAC facility, a cutting-edge performance space. With exclusive drawings, models and film, we celebrate the evolution of Sir Nicholas Grimshaw's career and practice over five decades and look at the future of the practice – including the development of Eden North on the shores of Morecambe bay.
Grimshaw was founded by Sir Nicholas Grimshaw in 1980, became a Partnership in 2007 and now operates worldwide with offices in Los Angeles, New York, London, Paris, Doha, Dubai, Kuala Lumpur, Melbourne and Sydney. What emerges is Grimshaw's consistent pursuit of excellence and innovation, distinguishing the practice since its inception.
"We are delighted to show the Evolution exhibition at RIBA North to celebrate the architectural feats of our Founder, Sir Nicholas Grimshaw. The exhibition begins with Grimshaw's early projects and takes viewers on a journey to where the practice is at today, and where we are aiming to be in the future. The north of England is an important location for us as we develop our concepts for a new Eden Project and welcome in the next generation of environmental enthusiasts."
said Andrew Whalley, Chairman of Grimshaw.
Suzy Jones, director of RIBA North said,
"We're delighted to see the Royal Gold Medal 2019 Exhibition: 'Evolution' brought to RIBA North. The presentation of Sir Nicholas's inimitable work – which has always been driven by the principles of humane, enduring and sustainable design – underscores RIBA North's growing focus on the importance of innovative and progressive architecture in a climate challenged future."

"We are excited to welcome Grimshaw Architects to RIBA North. As their Eden North project develops, it's a great opportunity for us to understand how Grimshaw Architects has developed and refined their work to be more focused on sustainability and good design."
This exhibition has been organised by Grimshaw Architects in collaboration with RIBA North, on the occasion of the presentation of the Royal Gold Medal 2019 for architecture and will run from the 26th June until 3rd August at RIBA North based in Mann Island, Liverpool.