Culture back with a bang as NINE new festivals announced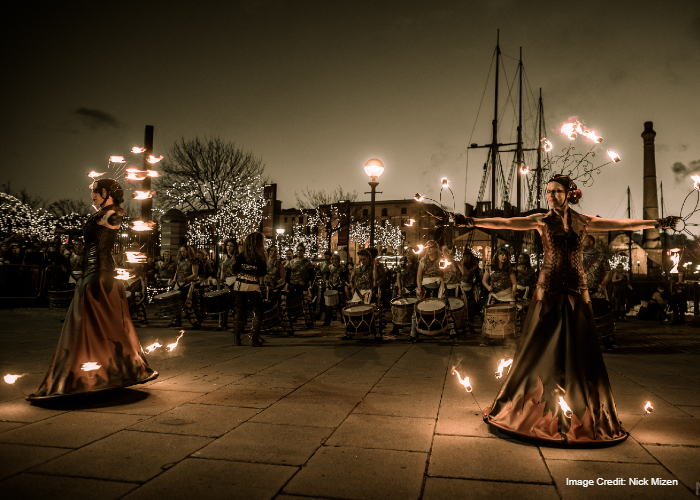 A Halloween carnival, a celebration of black culture, a giant advent calendar and fiery street theatre are just some of the brand new events coming to Liverpool.
Nine new festivals are taking place in the city over the next year thanks to the latest round of Liverpool Without Walls funding.
In June, a call out was made to the city's arts and cultural sector, encouraging organisations to bid for up to £20,000 funding each, to help them deliver brand new outdoor festivals.
---
The funding has now been awarded to:
---
Liverpool Theatre Festival – Little LTF, a new sister event to the original festival with a diverse and inclusive programme will take over the Bombed Out Church (St Luke's) in late July and again in September and will feature comedy, cabaret, drama, arts and musical theatre.
Rebel Soul Enterprises – A family-friendly outdoor festival in September will showcase and celebrate reggae music with live music, performances and workshops in the Baltic Triangle area.
Paperwork Theatre – A larger-than-life advent calendar will animate Williamson Square each night in December.
Jamaica Street Carnival – In August, the Baltic Triangle will play host to a carnival party which celebrates black music and culture.
One Latin Culture – To mark their 10th anniversary, city centre activities will pay homage to the Latin American community with high-quality music, dance and street performances in late September. An evening celebration called La FERIA will see UK based artists from Colombia, Bolivia, Mexico and Chile celebrate Latin American arts and culture.
Naissance Spark CIC – In October, Liverpool city centre will be taken over by a three-day public art festival with street theatre at its heart.
The Kazimier & Make CIC – A free Halloween Carnival will take over Liverpool's creative neighbourhood Ten Streets.
Cinema Nation CIC – Projected footage on heritage locations will combine an outdoor cinema experience and a guided tour, taking in the city centre and L8.
Zest Event Management – To celebrate Bonfire Night 2021, there will be a series of street fire theatre performances based on various characters from Alice in Wonderland taking place in locations across the city centre.
---
More details on each event will be announced by each event organiser in the near future.
For the latest information, visit the official site or follow @CultureLPool (Twitter), @culture_liverpool (Instagram) and Culture Liverpool (Facebook).
This latest strand of Liverpool Without Walls forms part of The Comeback pledge made by the city council in March when it set out Liverpool's very own roadmap to recovery. The Comeback vowed to reintroduce the scheme as well as introduce and support a cultural programme across the city. Head to the pledge website to find out more.
The first phase of Liverpool Without Walls launched in June 2020, and saw £450,000 invested in the hospitality sector to enable them to continue to trade outside during the pandemic. It proved to be a lifeline for the hospitality industry during the pandemic last year – generating £8.9m for the local economy.
A follow up strand of the programme was announced in July 2020 and resulted in £200,000 being invested in 50 creative freelancers and businesses who used the funding to bring the city's streets to life with their cultural projects.
---
Cabinet Member for Culture and Visitor Economy, Councillor Harry Doyle, said:
---
"The response to the call-out was incredibly strong and these brand new events are a very welcome addition to this year's cultural calendar.

"The pandemic has put our much-loved cultural sector effectively on hold for 18 months, so to know that we have such an exciting programme of activity taking place across the rest of the year feels like we're taking another important step towards normality.

"I'd like to thank all the cultural organisations for stepping up and devising these events, and I'm massively proud that thanks to the city council funding, we can help make these amazing ideas a reality."
---
Creative Director and CEO of LUMA Creations (aka One Latin Culture), Francisco Carrasco, said:
---
"We are truly excited to be part of the Liverpool Without Walls programme and are really pleased with the support from Culture Liverpool. It is so important that support is being made available for events like La FERIA after such a long period when it has been difficult to do anything for a real live audience. People need to be able to be outside and enjoy outdoor performances."
---
Organisers of the Jamaica Street Carnival, Aaron Fontenot and Saad Shaffi said:
---
"We were delighted to hear that our application to the Without Walls Festival Fund had been successful.

"Putting on a new event at any time is difficult, and the pandemic has made planning even more difficult, so this financial support from Culture Liverpool is vital.

"We're honoured to be presenting the Jamaica Street Carnival Party, a modern day carnival celebration of Liverpool's cultural heritage. The event will blend international stars like Kranium, David "Ram Jam" Rodigan, Alicai Harley and with the best of the blooming local music scene showing the world once again that Liverpool's black culture has global reach. Events like this bring communities together in a positive way and are essential for continuing Liverpool's legacy as a cultural powerhouse."
---