Creative environmental project in Liverpool marks loss and bereavement during pandemic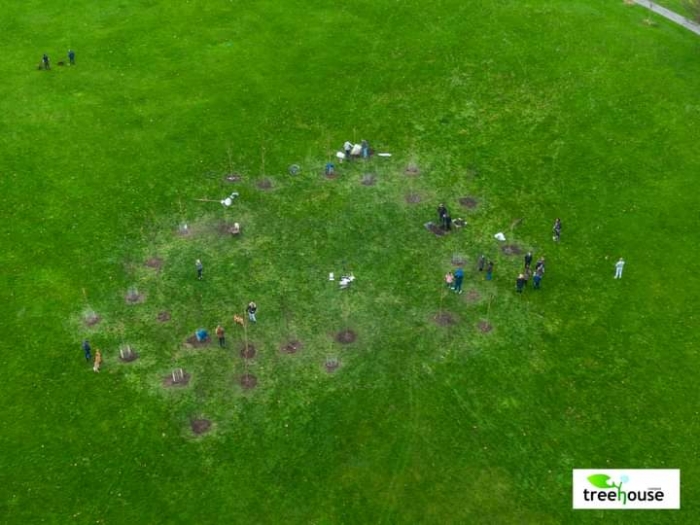 'Phoenix Glade' tree planting and fire sculpture.
A project in Liverpool is carrying out a unique creative environmental initiative dedicated to those who have died during the corona virus pandemic. Planned for Newsham Park, a glade of trees will be planted in the shape of a broken heart, with a fire sculpture and then permanent sculpted phoenix planned at its centre. The aim is to create a living tribute which will grow over time. Through the process of its creation people will be able to engage in a ritual of commemoration when other ways in which we honour the dead have been so restricted.
The initiative came from discussions at a local community organisation Tree House Liverpool. One local woman Sarah Robinson, whose mother died in April, felt that planting a tree might help her and her family with the process of grieving.  It became clear that many other people had similar needs and the idea grew to create a way in which the community as a whole might find a way to observe and acknowledge loss, and support those burdened by grief during and after the pandemic.
Christina Ashworth from Tree House Liverpool said
"Reconciling ourselves to the death of a loved one is a process made less painful by the time we might spend with those close to death as well as afterwards through the ceremonies and traditions we share with others. One of the cruel impacts of the pandemic is that it has deprived us of these opportunities and this can make the loss more painful."
A fire sculpture artwork followed by a permanent phoenix sculpture in the centre of the glade will provide a point of release and a permanent symbol of loss and renewal.
Artist Joe Robinson explained the design
"Recurrent images of public health and the economy have largely overshadowed the recognition of loss we are all in some way experiencing. Our project goes a small way to re-balancing that with the heart shape of trees reflecting our love and the ritual of a fire sculpture providing a point of letting go. The permanent phoenix will offer the same symbol for future visitors to see."
Local people who have lost loved ones from or during the pandemic are being invited to contact the organisation to take part.
The project has raised £3500 funding toward the project, from West Derby Waste Lands Trust and the Tree Council UK, but is looking for further support to realise the full vision. The project has also sparked interest from others who are interested in replicating the initiative elsewhere. The public can contact the project via www.treehouseliverpool.co.uk