Getting to Know: Collective Encounters
Using theatre to engage those on the margins of society, telling untold stories and tackling the local, national and international concerns of our time.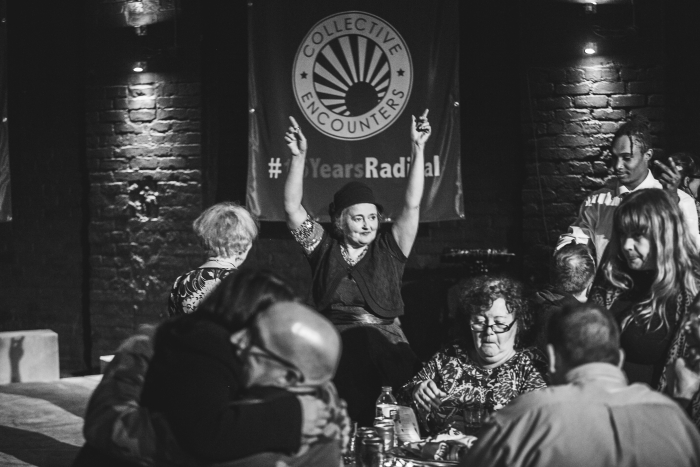 A version of this interview first appeared in the New Socialist Magazine, May 2019
How it all began…
Collective Encounters started life as a 'practice-as-research' project, led by Sarah Thornton, then a lecturer in Applied Theatre at Liverpool Hope University. At the time Sarah was looking at whether, if and how the arts could contribute to radical personal, social and political change. The university campus was based in north Liverpool, an area entirely underserved in terms of arts provision at the time, so the initial research project was conducted there.
This first project engaged approximately 500 local people and diverse community organisations in exploring the most pressing issue within the community – the impact of regeneration on local people. In 2004 north Liverpool was undergoing a series of initiatives that looked to regenerate the area after decades of economic and population decline. Researchers, artists and community facilitators met with residents to find out what was being gained and what was going to be lost through regeneration, what role (if any) local people had been given by policy and decision makers and how their communities were changing on a day to day basis. Creatively the project involved artist residencies, theatre training courses, and community performances on the streets, in community venues and in council buildings. The project's swan song was a full-length play that articulated the stories and views of generations of families living and working in north Liverpool The Harmony Suite. The Harmony Suite was produced as a large-scale outdoor community show that animated a derelict street in Anfield, Liverpool. It involved 40 local people in the cast and crew and over 800 local community, policy makers, civil servants, politicians and activists came to watch the performances. The impact of the project was measured throughout and this showed there was a clear 'yes' to the question posed – theatre could play a role in bringing about personal, social and political change.
Fast-forward 15 years and Collective Encounters continues to make new work that tackles the country's most pressing social and political concerns. Over the years we have worked with many marginalised communities, often being the first arts organisations to do so, using theatre as a tool to identify issues, gather stories, build confidence and give a voice to those who are seldom heard in the mainstream media and politics. Each of our productions grow out of an extensive research process. Since we started we have worked with over 20,000 people from across the Merseyside region.
What are your connections to the city? Why Liverpool?
Collective Encounters' theatre is heavily influenced by the workers theatre movement of the 1930's, and is often agit-prop or cabaret in its form. The approach to community engagement and radical participation we use has grown directly out of the community theatres of the 1970's. Liverpool has a rich cultural heritage and radical tradition. It was home to the first community arts centre in England, The Black-E and the Merseyside Left Theatre was formed here in the 1930's.
The city of Liverpool has a proud reputation for standing up for challenging social injustice, and inequality. As the saying goes, "in Liverpool kids are taught to read between the lines, before they are taught to read". Values such as community, social responsibility and fairness are important to people here and these values are articulated in the theatre we produce.
We're based in Liverpool, and most of our work takes place across Merseyside however one important feature of Collective Encounters' identity is the way we connect our work to the global fight against poverty and inequality.
What are you working on at the moment?
Last week we finished our second Rediscovering the Radical Summer School at Toxteth Library, which was a resounding success!
We've a very busy rest of summer planned. As well as our free weekly youth theatre we're also co-delivering a Summer Arts College with 20 Stories High and the brilliant teams and young people with children's services in Liverpool and Knowsley. We're starting a new project Where You're At with young people with experience of migration (which has been financially supported by the Our Liverpool grant programme).
In August we're also doing a spot of film making, and creating interactive digital resources for a new online Centre for Excellence in Participatory Theatre which we're planning to launch in the Autumn.
Finally we're firming up plans for a new programme of work with women across the Liverpool City Region – watch this space!
How does the cultural offering in Liverpool set us apart from anywhere else?
With fifteen theatres, a myriad of galleries and museums and thousands of diverse smaller organisations and producing artists Liverpool has a unique arts and cultural infrastructure that is rare to find outside of a capital city.
What's the importance of arts and cultural organisations to the regeneration of the city?
There's no doubting the fact arts and cultural organisations have played a significant role in the regeneration of Liverpool. There are some really interesting and brilliant projects, people and organisations working directly with communities across the Liverpool City Region using the arts as a means to invigorate communities, improve mental health and wellbeing and develop skills.
Collective Encounters mostly works with audiences and participants who have experience of the care system, long-term physical and mental health conditions, the criminal justice system, migration, exclusion from mainstream education, the armed forces, social isolation, poverty or some other marginalisation. We use the theatre making process to ensure these individuals and communities have the means to control the narrative about their lives, and ensure their voices are heard amongst those that make decisions for them.
How important is it for arts and culture to exist in places other than traditional, cultural settings?
From the very beginning our policy has been not to charge for participation and events and we reimburse people's travel expenses if they need it. It is rare to find Collective Encounters in a theatre building. 90% of our shows happen in other public spaces such as libraries, parks, health care settings and community settings. This is our way of ensuring barriers experienced by those who do not normally take part or experience arts and culture are removed.
What are your plans for the future?
We're currently in the research and development phase for long-term artistic residencies in Bootle and Birkenhead. These artistic residencies will enable us to create a new show that will go on tour in 2020, and also train groups of local people on how to set up, fund and manage community arts projects after the residencies have come to an end.
Looking back over the past 10 years, Liverpool undeniably succeeded from the 2008 ECoC accolade. But where do you see Liverpool in the next 10 years? What is the future for local arts and culture in the city and beyond?
The legacy of 2008 European Capital of Culture continues, and Liverpool has changed beyond recognition in the last ten years. What's really exciting at the moment is the potential for collaboration among arts and cultural organisations in the city. There is a real shared desire from these organisations to work meaningfully together to grow the cultural offer in the city beyond the traditional arts audiences. If we continue to work collaboratively in this way there is almost no limit to the exciting work we can produce and the number people who will benefit over the next 10 years!