Celebrating Chinese New Year at home
The Year of the Ox will be celebrated online as Liverpool's Chinese New Year activities go virtual for 2021!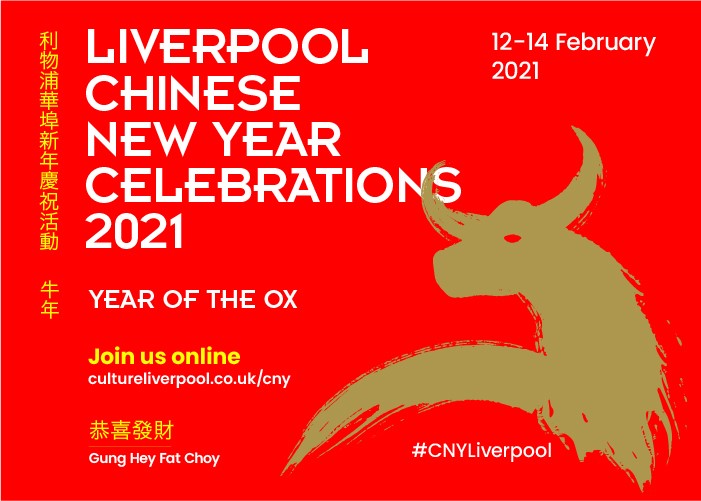 From Friday 12 February a whole host of activities will be promoted online so that everyone can celebrate from the safety and comfort of their own homes.
For three days (until Sunday 14 February), people will be able to enjoy creative workshops, photo galleries, music and dance performances as well as marital arts demonstrations. There will also be archive footage of previous celebrations which have all been curated by the city's Chinese community in partnership with the city council's Culture Liverpool team. All this can be found online at www.cultureliverpool.co.uk/cny.
---
Some of the highlights include:
---
Footage of the Chinese Lion and Dragon dance – an integral and popular part of the city's usual celebrations.
A variety of fun workshops hosted on Saturday 13 February by the Everyman & Playhouse Theatres (booking required). These include decoration making, calligraphy, Chinese dancing, discovering Chinese rap and street dance.
The stunning Chinatown illuminations which wowed crowds during the 2017-2019 events.
A traditional Tibetan dance performed by the Friendship Dance Group.
A puppet show re-telling the story of the Chinese zodiac calendar by VIP Puppets.
Tai Chi demonstrations by Merseyside Tai Chi in association with See Yep.
---
There will also be a special welcome message from the Chinese Consul General Zheng Xiyuan.
All the content will be available across the three days for people to enjoy whenever they want.
As well as the virtual celebrations, hundreds of Chinese lanterns will decorate Nelson Street in the heart of Chinatown and across the three nights buildings will be lit up red to mark the new year. These include Liverpool Town Hall, St George's Hall, Cunard Building, George's Dock building and Sefton Park Palm House.
During the New Year period local cultural organisations Writing on the Wall and Pagoda Arts will also be working with the local community and artists from the CreArt network to develop a new Year of Ox inspired mural in the Chinatown area. More information on the new artistic addition will be revealed in the coming weeks.
You can follow the conversation on socials with #CNYLiverpool.
---
Acting Mayor of Liverpool, Councillor Wendy Simon, said:
---
"Liverpool's Chinese New celebrations are always hugely popular, attracting tens of thousands of people each year.

"Staging events isn't an option at the moment, so working in collaboration with the Chinese community we have produced the next best thing which allows people to celebrate safely.

"It's a fantastic mix of brand new content alongside film footage and photos of past events which really show the city at its best – coming together to share the new year with our much-loved Chinese community.

"We are all hoping that in 2022 we can see the return of our more traditional celebrations, but for this year please stay at home and enjoy everything on offer from the comfort of your own sofa!"
---
Secretary of Liverpool Chinese Business Association, Ming Wong, said:
---
"Chinese New Year is a very important time for our community and it's a time for families to come together to celebrate.

"Although we are disappointed that we can't be together as is tradition in Chinatown, we are very pleased to work on producing this website which will allow us all to virtually share this experience and mark the Year of the Ox."
---