Calling all new novelists. Writing on the Wall's Pulp Idol Competition has now launched.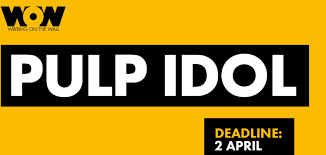 Writing on the Wall, the Liverpool City Region's Arts Organisation of the Year, announces the launch of their acclaimed Pulp Idol novel-writing competition celebrating the works of new original voices.
The prize is a chance to be published at a Grand Final in May 2021 during our annual festival – WOWFEST 21.
We have a stellar line up of judges for the 2021 Pulp Idol Competition, who between them have vast experience of seeking out and publishing new voices:
• Kevin Duffy, Co-Founder of the award-winning Blue Moose Books
• Yvonne Battle-Felton, Award winning author
• Laura Jones, Interim Publisher of Dead Ink Books
• Genevieve Pegg, Publishing Director of Harper North
Pulp Idol was launched to bridge the gap and gain exposure for local writers to the London publishing industry and has continued to successfully do this over the last 13 years. With real world success stories the competition genuinely opens new doors for writers. Indeed, Pulp Idol 2017 finalist Ariel Kahn was published in 2018 by Bluemoose Books. His debut novel Raising Sparks going on to be runner up in The Guardian newspaper's Not The Booker prize competition.
"I thought I had no chance. Finding an organisation like this that really cares about writing, with the competition and the fact they publish people's work is amazing, they match people up with editors. Just participating in the heats, or submitting a video, made me take my writing more seriously. Here's an opportunity to be part of a community, it's a competition but it's also a place where writers are supporting and rooting for one another."
Ariel Kahn, Raising Sparks (Bluemoose Books)
Another success story is 2010 Pulp Idol winner James Rice, who signed a two-book deal with Hodder and Stoughton for his debut novel Alice and the Fly.
"Pulp Idol's fantastic. I am truly indebted to this competition. The publishing industry can too often seem like this faraway, impenetrable place, but the truth is it's always searching for new writers. Pulp Idol's a great way to make this connection in person. If you're serious about writing, enter."
James Rice, Alice in the Fly (Hodder and Stoughton)
Pulp Idol is hugely respected within the publishing community too.
"As a publisher we are always looking to find great new talent and Pulp Idol is a fantastic event that shines a light on new writing and new writers."
Kevin Duffy, Bluemoose Books and Judge
Mike Morris, Co-Director of Writing on the Wall and Pulp Idol founder, says:
'Pulp Idol has opened doors for many talented, unpublished writers across the region – we're looking forward to giving a voice to people writing their way through these difficult Lockdown times.'
To be in with a chance of getting their work published and read in front of a major publisher or agent, writers need to enter Pulp Idol now at
https://www.writingonthewall.org.uk/wowevents/710-pulp-idol-2021.html.
• The closing date for applications is Midnight, Tuesday 2nd April 2021.
• Heats will be held the weekend commencing Monday 19th April 2021.
• The Grand final will be held on 24th May at 6pm
• The Pulp Idol winner will have their work read by an agent/publisher.
• All finalists will have their first chapter published in our book of 'Firsts', which will also be available as an eBook on all major online outlets.
• A copy will be sent out to agents and publishers across the country.
For Further details contact [email protected]
Entry is through our website writingonthewall.org.uk
For press information contact Lauren Buxton at Writing on the Wall:
Email: [email protected]