Bluecoat receives Capital Kickstart grant from Government's £1.57 billion Culture Recovery Fund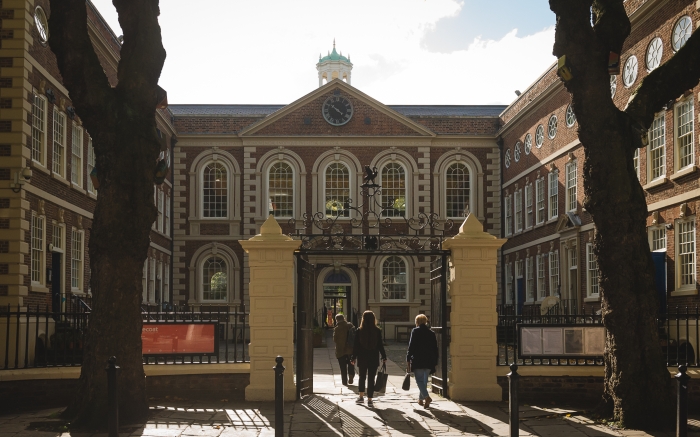 Bluecoat has been awarded a £123,732 Capital Kickstart grant as part of the
Government's £1.57 billion Culture Recovery Fund enabling the organisation to push forward in developing Bluecoat's entrance space, despite the financial challenge caused by the Covid-19 crisis.
Bluecoat is one of 74 organisations receiving grants totalling £58.9 million
today. The Capital Kickstart grants programme helps organisations cover costs added to capital projects such as building works, refurbishments, and large-scale equipment purchases by pandemic-related delays or fundraising shortfalls.
Bluecoat's entrance space is about to undergo a makeover to provide a better experience for visitors. Plans include making the space more safe and
comfortable, incorporating artists commissions and showing more of what happens in and around the building.
On Friday, DCMS announced that £165 million from the Culture Recovery Fund has been offered in repayable loans to help 11 major cultural organisations survive the loss of income caused by the crisis. This follows previous rounds of the Culture Recovery Fund, including the Grants programme which distributed £428 million to over 2,000 cultural organisations across the country, and the £3.36 million Emergency Grassroots Music Venues Fund.
Mary Cloake, CEO of Bluecoat said:
"We're delighted to have received funding from the Government's Culture
Recovery Fund: Capital Kickstart programme, for the redevelopment of Bluecoat's main entrance space. This funding will support us in creating a better experience for our diverse audience, which includes artists, families, tourists and local communities, so that they feel safe, comfortable and engaged with Bluecoat's activities. Our plans have been impacted by the Covid-19 pandemic and this grant will mean we can respond to the changing needs of our audience."
Culture Secretary, Oliver Dowden, said:
"This government promised it would be here for culture and today's announcement is proof we've kept our word.

"The £1 billion invested so far through the Culture Recovery Fund has protected tens of thousands of jobs at cultural organisations across the UK, with more support still to come through a second round of applications.

"Today we're extending a huge helping hand to the crown jewels of UK culture – so that they can continue to inspire future generations all around the world."
Sir Nicholas Serota, Chair of Arts Council England said
"Today's announcement is another vital step in securing the future of England's cultural sector. Supporting capital projects will help to ensure that we maintain an innovative, sustainable cultural infrastructure that supports world class creative work, while the loans announced today will enable some of our largest and most prestigious cultural organisations to weather the effects of Covid-19 and reopen when it is safe to do so. The Arts Council is grateful to the Government for their support through the Culture Recovery Fund, and we are proud to support all the organisations receiving funding today."
Image by Brian Roberts