Bluecoat Platform Summer Programme Announced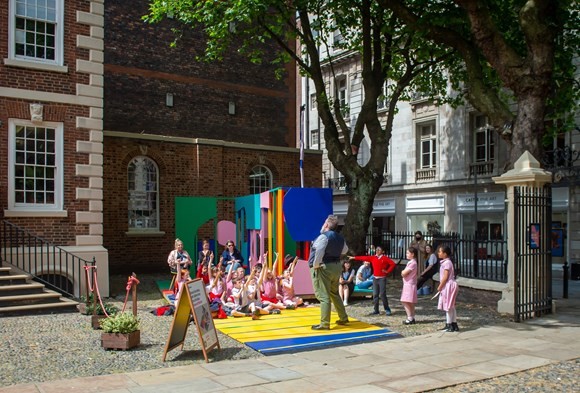 The Bluecoat launches a new programme of free events to keep families busy over the Summer holidays.
Performers and artists have been chosen by children from Holy Cross School to stage activities on the Bluecoat Platform, a sculpture by Simon & Tom Bloor with children from Out of the Blue. The summer programme, starting from 21 July and lasting for four weeks, will consist of storytelling, music, comedy for kids, designed to engage children of all ages.
Visitors will be able to join storyteller Robin Simpson, the hilariously funny Gav Cross and friendly Og the Giant for a series of interactive performances. Kids will be able to get silly with the Ugly Bucket crew and Alice Rowbottom will be leading a puppet making workshop. Amazelab will host a bubbles workshop and Luan Barber Norton will be encouraging you to draw funny characters in her illustration workshop. Families are invited to explore their imaginations with Alex Macupova's fun abstract painting workshop and become a DJ creating their own sounds with Mali Draper.
One of the selected artists, abstract artist Alex Macupova, said:
"Creativity is a powerful tool. I`m looking forward to seeing everyone's imagination taken to a whole new level."
Bluecoat Platform is a new outdoor family friendly sculpture, and is part of the UK wide Here and Now programme, celebrating the legacy of arts centres and the 40th anniversary of the National Lottery. It is inspired by the shapes and structures that the children from Out of the Blue, Bluecoat's after school art club, made in a workshop with the artists Simon & Tom Bloor. Resembling a scaled up model of their designs, this playful sculpture creates a physical platform to bring some of Bluecoat's artistic activities out of the building for audiences to enjoy this summer.
The Bluecoat will be serving Cheshire Farm ice cream over the summer holidays.
Listings www.thebluecoat.org.uk/family