Award-winning playwright Luke Barnes joins LCR Arts Organisation of the Year's digital writer's residency.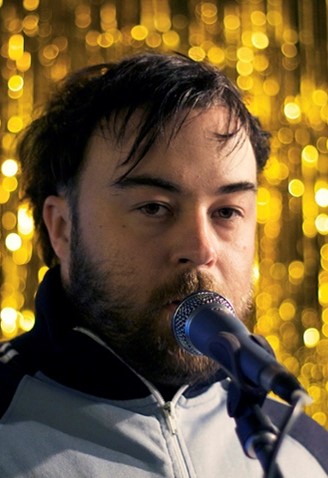 Writing on the Wall, LCR's Arts Organisation of the Year 2020, is excited to announce that their next writer-in-residence is the award-winning playwright Luke Barnes.
Luke has written for both stage and screen to critical acclaim. Most renowned for his poignant play Bottleneck, a piece depicting the collective trauma of the Hillsborough disaster, Luke's writing has earned him several awards, including the Scotsman Emerging Talent Award and Bobby Award at the Edinburgh Festival. WoW can't wait to see the insight he will bring to their acclaimed digital writing centre, The Writer's Bloc.
With a residency focusing on playwriting, Luke will be leading workshops from Story Structure to Taking Your Ideas Further, as well as a fascinating discussion on Masculinity: Unpicking Gender Roles in Contemporary Theatre. The events are open to everyone and free to book.
In response to his residency Luke Barnes says he can't wait to
"get the opportunity to talk about turning ideas into pictures and the pictures into scripts… and read and share some work".
Luke Barnes – Next Writer on the Bloc
This is a unique opportunity to see where your writing can take you, working alongside WoW's creative community and led by an award-winning writer.
Combining social engagement, activism, community and literature since June 2020, The Writer's Bloc: Community & Creativity is a unique online writing centre that champions creativity and supports writers at all stages of their journey.
Our new writer on the bloc Luke Barnes will begin a three-week residency all about poetry and self-discovery from Monday 1st November until Friday 19th November.
Previous writers in residence have included Yvonne Battle-Felton, Anthony Anaxagorou, Cash Carraway, Ailsa Cox, Lowkey, Ytasha L. Womack Winnie M Li, Joelle Taylor, Patrice Lawrence, Kevin Dyer, Bidisha and, more recently, Manon Steffan Ros, Dominic Berry, Toria Garbutt and Ashleigh Nugent who during their residencies have led free workshops and discussions for local communities to interact with.
Don't miss this opportunity to explore your writing with Luke through FREE workshops and one-to-one mentoring slots, Write Here Write Now writing sessions, and a chance to share participant's work publicly. Luke Barnes will be live on Monday 1st November to introduce himself to the Writer's Bloc and give us all a taste of what we can expect with an In Conversation event.
The Writer's Bloc will also host a series of Bloc Socials that will act as a place to expand on creative ideas, share experiences and perspectives, explore different ways of overcoming writer's block, and discuss a piece of work shared by the writer.
Dates for the Writer's Bloc:
Monday 1st November 6pm-7pm– The Writer's Bloc presents: In Conversation with Luke Barnes
Tuesday 2nd November, 6pm-7pm– The Writer's Bloc presents Workshop: Taking Your Ideas Further
Wednesday 3rd November, 6pm-7pm – The Writer's Bloc presents: Bloc Social: Writing Masculinity
Tuesday 9th November, 6pm-7pm – The Writer's Bloc presents: Enterprise Hub with Luke Barnes
Wednesday 13th October, 6pm-7pm – The Writer's Bloc presents Workshop: Story Structure
Tuesday 16th November, 6pm-7pm – The Writer's Bloc presents Bloc Social: Burning Questions
Wednesday 17th October, 6pm-7pm – The Writer's Bloc presents: Open House with Luke Barnes
Friday 19th November, 4pm-5pm – The Writer's Bloc presents: Bloc Party with Ashleigh Nugent