Artist uses 'forgotten' form of photography to capture portraits of women at the forefront of Liverpool's culture in new exhibition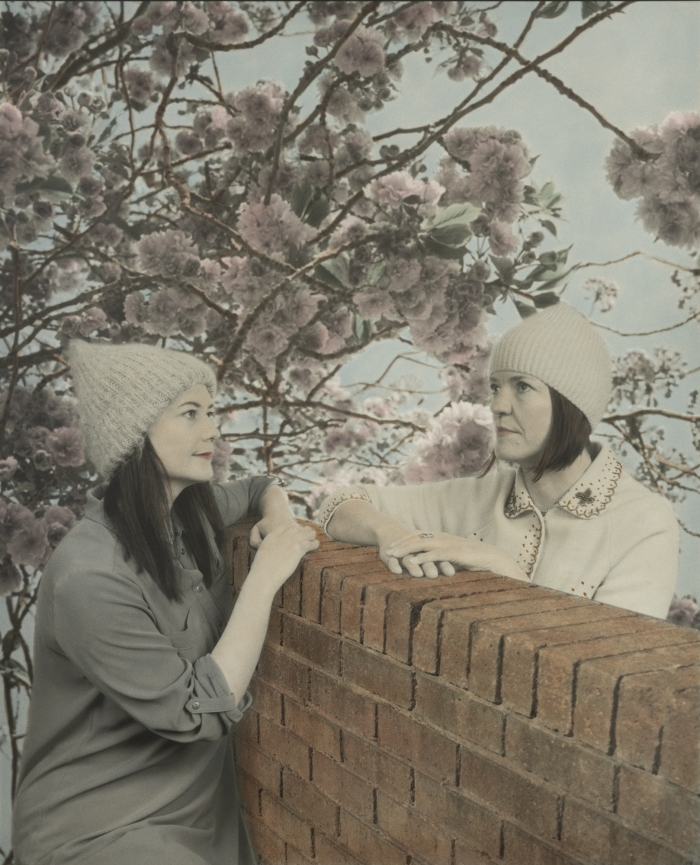 Agency of Women is a collection of black and white and hand coloured photographic portraits inspired by E. Chambré and Margaret Hardman. Their 1950s home and photographic studio on Liverpool's Georgian Quarter, now preserved and cared for by the National Trust, is hosting the artist exhibition until 6 November.
As the first artist in residence of the Hardmans' House, former Liverpool Art Prize-winner Jussa was given special access to the vast archive of the Hardmans' photographs housed at Liverpool Central Library.
"As our first ever artist in residence, it was really exciting to see what Tabitha would make of the huge and varied E. Chambré Hardman Photographic Collection,"
says Michelle Yunqué Alvarado, collections and house manager at the National Trust.
"There are so many different aspects to it, from countryside landscapes and photographs of Liverpool's mid-20th century transformation to portraits of some of the celebrities of the age."
After delving into the archive, Jussa became particularly drawn to the many glamorous portraits of women, and the style and techniques used by the Hardmans' studio to reflect the golden age of Hollywood.
"Changes in camera technology make replication of the Hardmans' distinctive signature portraits virtually impossible,"
says Tabitha Jussa.
"My access to the archive inspired me to produce works that explored the portrait genre the Hardmans' used."
One aspect of this genre Jussa has explored is the way many of the Hardmans' portraits were painstakingly hand coloured by freelance artists, who were mostly women working at home. Packages of photographic prints were sent out to them, as well as snippets of dress material, lipstick, and hair samples, to accurately match colours.
"I was inspired by these forgotten hand colouring techniques and the highly skilled women who used them, as well as the way the female sitters who were having their portraits taken wanted to be represented,"
Jussa says.
"There's also Margaret Hardman, who was a shrewd businesswoman and vital to the success of their studio. This led me to think about the makers and managers in Liverpool's cultural scene today who also share these qualities."
In early 2020, Jussa invited a number of women at the heart of Liverpool's cultural scene to take part and have their portrait taken in the photographic studio at the Hardmans' House.
Using a Mamiya RB67 camera and a selection of lenses to create a range of specific effects, Jussa photographed a total of 17 women, including: Claire McColgan (director of Culture Liverpool); Stealing Sheep (musicians); The Singh Twins MBE (artists) and Angela Samata (arts professional and ambassador of Survivors of the Bereaved by Suicide).
Jussa then used a range of the 'forgotten' techniques used by the Hardmans' to bring their portraits to life. Now, the public are being invited to explore these portraits at the Hardmans' House.
Sarah Fisher, Director of Liverpool's Open Eye Gallery, says:
"The Hardman's House, as a unique visitor experience, allows us to understand how central photographic studios were to civic life. This intelligent exhibition by an exceptional contemporary talent, Tabitha Jussa, explores portraits of key women who are driving our cultural renaissance – a key factor in Liverpool's civic and economic model.

"Jussa reflects on the aesthetics and practical processes employed by Hardman to inspiring effect, situating these portraits within the traditions of studio photography."
The exhibition can be viewed as part of a guided tour of the Hardmans' House on Fridays and Saturdays between 17 September and 6 November. Spaces are limited so booking is recommended to guarantee a spot on a tour.
Tickets can be booked online at www.nationaltrust.org.uk/hardmans-house or by telephone on 0344 249 1895. Entry is free for National Trust members, but booking is essential.
Agency of Women is supported by Arts Council England and presented in partnership with the National Trust, Open Eye Gallery and University of Chester.
Full list of sitters:
Angela Samata – Arts Professional and Ambassador of the Survivors of the Bereaved by Suicide.
Bisakha Sarker MBE – Artistic director of Chaturangan, Artist
Mary Cloake – Director of Bluecoat, Liverpool
Charlotte Corrie & Christina Grogan – Founders and Directors of Open Culture
Claire McColgan – Director of Culture Liverpool
Doreen Allan – Founder of Planet X Liverpool
Elaine Clarke – Founder and owner of Baa Bar Ltd
Emily Speed – Artist
Stealing Sheep – Musicians
Madeline Heneghan – Co-director of Writing on the Wall
Helen Legg – Director of Tate Liverpool
Michelle Charters – Director of Kuumba Imani Millenium Centre, National Museums Trustee, Community Activist
Nicola Triscott – Director of FACT, curator, writer and researcher
The Singh Twins MBE – Artists
Zilan Liao – Musician and director of Pagoda Arts
Niki Kand – Musician, singer and songwriter
Fatoş Üstek – Independent curator, writer and former director of Liverpool Biennial