48-Hour trophies tour arrives in St Helens on 200 Days to go milestone until Rugby League World Cup kicks off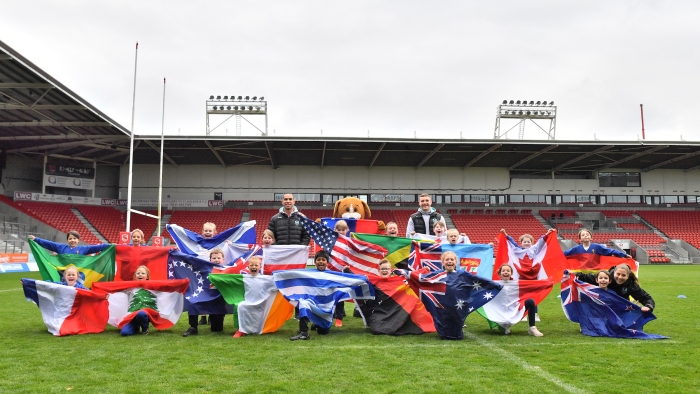 Tuesday 29th March marked 200 days to go until the Rugby League World Cup 2021 (RLWC2021) makes a real impact across the nation when England take on Samoa in the tournaments' opening fixture at St James' Park, Newcastle on 15th October 2022.
To commemorate the milestone, the tournament has been undertaking a 48-hour trophies tour of the 18 host towns and cities in celebration of a 48-hour ticket upgrade offer, whereby fans can benefit from a ticket upgrade that is too good to miss. This means any fans that buy a Category C ticket for the fixture between Tonga vs Papua New Guinea at The Totally Wicked Stadium will have their tickets automatically upgraded to Category B, with prices starting from just £15.
The trophies tour, whereby the silverware from the men's, women's and wheelchair tournaments will be paraded around the towns and cities getting ready to host the 61 matches of the upcoming World Cup, commenced yesterday (Tuesday 29th March) at 07:00 in Newcastle with RLWC2021 Ambassador Jason Robinson. The tour passed through Tees Valley, York, Hull, Doncaster, Sheffield, Leeds and Kirklees.
This morning (Wednesday 30th March), the tour started again in Manchester at 07:00 before moving on through Bolton, Preston, and Wigan, before arriving in St. Helens. The activation saw a RLWC2021 themed training session on the pitch at St Helens for local school children, supported by Saints players Matty Lees, and Will Hopoate. Additionally, to further mark the occasion local legend comedian, Johnny Vegas was in attendance to give his thoughts over the Rugby League World Cup being hosted in his home town.
The promotional tour features the tournament's new campaign 'This is Real Impact', to support ticket promotion and provide a platform to tell the many stories of the contribution the tournament is making in communities through its social impact programme and in respect to inclusivity in hosting the men's, women's and wheelchair tournaments under one World Cup for the first time in the sport's history.
Jon Dutton, Chief Executive of RLWC2021, said:
"After an incredibly challenging couple of years for everyone, it is hugely exciting to be able to take our three unique trophies to each host partner as they put on their own celebration and make a 'Real Impact' in their local communities.

"We'd like to thank our partners in St. Helens and Liverpool for their brilliant event to mark the milestone. The road to RLWC2021 starts now and with this limited ticket offer and exciting new campaign being released, we hope to encourage fans up and down the country to obtain the best seats in the house at the best possible price."
Mayor of St Helens Borough, Councillor Sue Murphy, said:
"Given the borough's proud history and heritage, St Helens is synonymous with the sport of rugby league, from Saints, right through to grassroots community clubs – so it would be hard to imagine a World Cup going ahead in this country without us.
"With three big clashes being held here involving some of the game's biggest stars – as well as hosting the Tongan and Italian men's national teams – St Helens is more than ready to play its part in what promises to be the biggest, best and most inclusive Rugby League World Cup ever."
Ticket prices for the tournament start as low as £2.21 for concessions, as the unique tournament will be one of the most accessible and affordable for fans with more than 80% of tickets priced below £50. Fans can purchase tickets via www.rlwc2021.com/tickets.
Follow the Trophies Tour live on RLWC2021's  official social media channels Twitter, Instagram, TikTok and Facebook, with exclusive content including interviews, event snaps and behind-the-scenes footage of the 48-hour tour.