20 Stories High celebrates Poet's Gift – A public poetry project of healing and activism on the streets of Liverpool 8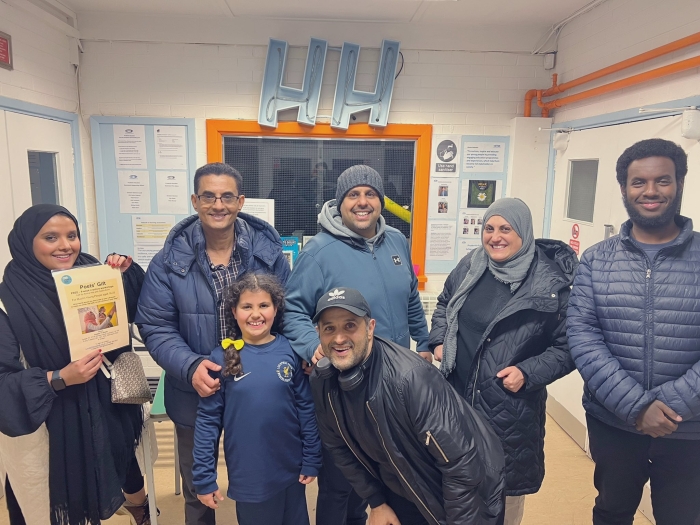 20 Stories High theatre company has joined forces with Yemeni poet Amina Atiq to create POET'S GIFT. Exploring new writing and poetry with Muslim young people, Poet's Gift culminates in a unique public work of art, designed by Nadina Ali, exhibited on a prominent bus stop in Liverpool's Toxteth community. This installation will be launched on 24 May with a celebration with music, performance, and food.
Poet's Gift engaged with young people in Liverpool with diverse Muslim backgrounds through a series of workshops. These provided a safe space for the group to express themselves; to explore conversations about family, care, belonging, and community; and to create work that shows their lives beyond stereotypes. The project culminated in two poems that will be shared – one by Amina Atiq and one incorporating the words and languages of the Poet's Gift group.
The project was initiated after Amina Atiq and 20 Stories High Artistic Director Keith Saha reflected on the rise of racial-religious attacks following the terrorist attack on the Liverpool Women's Hospital in November 2021. They identified a lack of spaces available for Muslim young people to discuss their feelings, experiences, and identity.
Amina Atiq:
"It has been incredible to conceive and deliver Poet's Gift with 20 Stories High. It's been a privilege to work with this group of young people and support them in articulating their experiences and feelings. I think it's so impactful that we're able to share their words at a bus stop. Bus stops hold significant meaning to working class communities, migrants, and school children – a place of coming together but also a place of real potential risk. Through poetry, I have expressed feelings around my early experiences of Islamophobia and racism experienced at bus stops. It is brilliant that these young people's poems and voices will be shared so prominently, and hope they will ignite some vibrant conversations."
Keith Saha, Artistic Director of 20 Stories High:
"Amina is such an important artist in our city. She has an amazing way of collaborating with young people and young artists. A passionate, political voice that nurtures new talent and gives confidence to young people to express themselves. The group of young people were amazing and truly reflected the diversity in Liverpool's Muslim Community including participants from Bangladesh, Pakistan, Malaysia, Somalia, Sudan, and Yemen."
Muhammad Elmi, freelance Community Engagement Associate and Pastoral Support Worker:
"As a young lad from the area, I never had the opportunity to be involved in projects like this. Growing up, the support for young people was abysmal – for a number of reasons. To now be given the opportunity to get involved in supporting the future generation is an honour. I very much hope that this project is the beginning of a new era for young Muslim Scousers."