MC Jin
This page is from 2017 and has been archived.
Please be aware that the information may be out of date.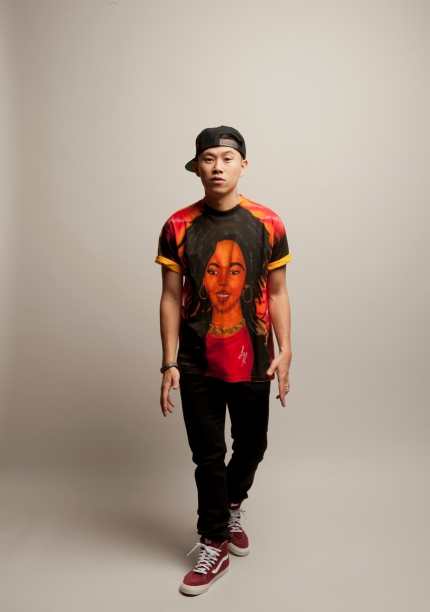 Jin Au-Yeung was 19 years old when the "big break" came. Known as MC Jin, the Miami-born rapper is most widely recognized as the first Asian-American rapper to be signed by a major record label. During that first wave, Jin looked unstoppable. Even early Urban Dictionary entries defined "Jin" as "the future of hip hop" and "the best freestyle [sic] MC out there right now."
However, after his first studio album tanked in the U.S., Jin stepped out of the spotlight and eventually out of the country, ending up in Hong Kong where he was heralded as "the changing face of Cantopop"–a man whose face seemed to be "emblazoned across our entire city."
Around 2007, MC Jin released a rap album in Cantonese, the Chinese dialect he grew up speaking with his parents. Jin named the album ABC — not after the alphabet, but short hand for "American-born Chinese" like himself. The album's lyrics often touch on what it means to be an "ABC," an outsider both in mainstream American society and in the Chinese community. Many foreign born Chinese throughout the world would resonant with this album due to the similarities and stories he rapped in his songs.
He originally planned to release this album as a small independent project in the U.S. Nevertheless, few months after ABC's U.S. release, record executives at Universal Music Hong Kong came calling. They saw an opportunity for Jin to tap into Hong Kong's growing Cantonese hip-hop scene, so they re-released ABC locally in 2008.
Jin moved to Hong Kong in 2008; his 'ABC' album through Universal had led him to acting gigs in Chinese film and television. MC Jin has become a household name in Hong Kong — and not just for his rapping skills, according to Ben Sin, a journalist who covers music there.
"I see him on TV shows and movies a lot, so he's completely branched out, like most Hong Kong celebrities, into just a full-on entertainer," Sin says. "He's not just a rapper anymore." In addition to receiving accolades for his music, Jin even won an award in 2011 for "Most Improved Actor" from Hong Kong's top television station, TVB, for his roles in TV dramas and hosting gigs.
Jin moved back to U.S. in 2012, a decision fuelled by the birth of his son Chance and a desire to raise him with his wife in New York.