Display is elemental
LIVERPOOL'S fireworks spectacular River of Light returns and will see four specially commissioned artworks light up the city's waterfront.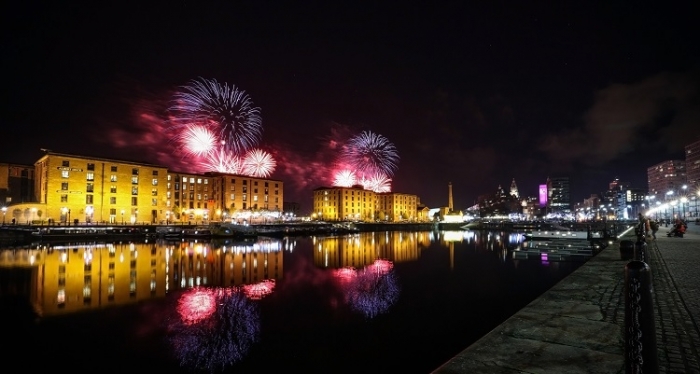 The installations will represent the elements which underpin Chinese philosophy: wood, water, earth and metal, with the fireworks themselves covering the fire element.
Each evening, from around 4.30pm Friday 2 to Sunday 4 November, visitors will be able to see:
The Wave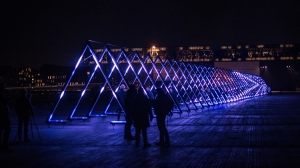 Representing water, 40 triangular interactive gates will be found along a 100metre stretch of the Strand (on the pavement near Salthouse Dock). Designed by Copenhagen-based artists Vertigo, the gates will respond to people's movement creating a unique light and sound reaction.
Anahad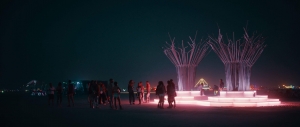 This European premiere was first showcased at this year's legendary Burning Man festival and falls into the 'wood' category. Located in Mann Island basin, 6m tall steel pipes will create the effect of a giant oak tree, transforming the area into a mysterious woodland. It has been created by Italian architect, Stefano Casati.
Pool of Mirrors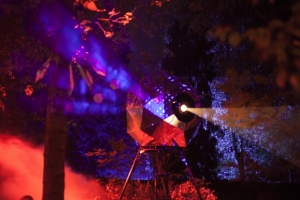 In a nod to metal and taking inspiration from Chinese 'magic mirrors' which were cast in solid bronze and shrouded in mystery, Liverpool based arts collective The Kazimier will bring these ancient artefacts bang up to date with cutting edge materials, creating a metallic mirage of light on the canal.
Terra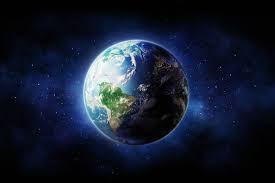 Fulfilling the earth section, the Royal Liver Building will become a canvas for light projections which will explore the traditional view of earth from space. The light has been designed by local lighting, audio and staging specialists Adlib.
As well as the five Chinese elements being represented, from 5pm Sunday there will be a wide variety of streets performances on the waterfront including fire artists and performers. Visitors should also be on the lookout for a fire-breathing dragon patrolling the waters of the Royal Albert Dock Liverpool, courtesy of artistic company Walk the Plank.
The artworks are the finale of this year's China Dream season which has seen a ten month celebration of Chinese culture as part of the programme of events marking ten years since Liverpool held the transformative European Capital of Culture title.
Deputy Mayor and Cabinet Member for culture, tourism and events Councillor Wendy Simon, said: "There is always an exciting build-up to the fireworks themselves, and the pre-show activities have proved hugely popular over the past couple of years.
"We're delighted to be able to pay homage to China Dream and each of the newly commissioned artworks will look fantastic on our World Heritage Waterfront and add an unmissable creative edge to the event.
"Right of Light was hugely successful last year, and we hope families come along to the waterfront once again to enjoy the five Chinese elements in all their glory."
River of Light: The Elements in association with Royal Liver Building 360 starts from 5pm on Sunday 4 November, with the fireworks starting at 6.30pm.
Both sides of the Mersey will be lit up by fireworks, with tens of thousands of people expected to line the waterfronts in Liverpool and New Brighton for the free spectacle. As well as the China Dream finale, it is the final major event for the Imagine Wirral year of culture, creativity and ideas.
Clare Rawlinson, marketing manager, Royal Albert Dock Liverpool, said: "Following last year's phenomenal success, River of Light returns, once again throwing the spotlight on our iconic UNESCO World Heritage waterfront, and Royal Albert Dock Liverpool playing a massive part in the celebrations. A magical, sensory weekend is in store for our visitors from across the city region and beyond, as we enter into the winter months with a spectacular bang."
Gavin Sherratt, co-founder and MD of software development consultancy, Mashbo, said: "It's been an incredible year for the city and the Liverpool 2018 programme has been truly world class. We're honoured and excited to be presenting partners for River of Light, especially as it falls just ahead of our seventh birthday on 5th November and the start of a brand new chapter for Mashbo as a software development consultancy.
For more information on the event in Liverpool and Wirral, go to www.riveroflightfireworks.co.uk or join in the conversation on Culture Liverpool's Facebook and Twitter social, and Imagine Wirral on Twitter.
River of Light is sponsored by Royal Liver Building 360, a new tourist attraction being delivered by Heritage Great Britain planned for the Royal Liver Building, set to open next year.
Capital Liverpool, will be providing the soundtrack ahead of the display, with other partners including software development company Mashbo and talent agency Bold Management.