Culture: The Catalyst of Liverpool's Re-introduction to the World
An international conference takes place in Liverpool this October to present unique, ground-breaking cultural research and discuss the role culture plays within cities around the world.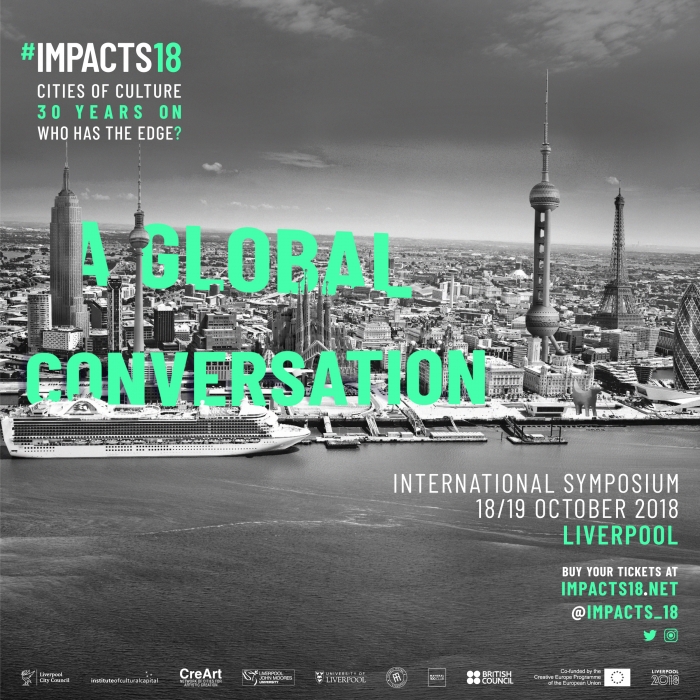 In 2018, Liverpool looks back into the 10 year legacy of becoming European Capital of Culture. It does so as the first city to have fully documented its journey from inception, amassing over two decades of evidence on the impact and value of cultural interventions as catalysts for urban change.
On 18 and 19 October 2018, Culture Liverpool is partnering with the Institute of Cultural Capital, British Council and CreArt European Network to present the results of 15 years interrogating the long term impact of cultural interventions in cities around the world: from Impacts 08 to Impacts 18.
Save the date and join us at this two-day international symposium. We will place Liverpool in conversation with other cities worldwide to answer these questions:
When being a city of culture is everyone's aspiration… Who has the edge? What are the legacies? Where is the evidence?
The importance of culture to a city's economy, wellbeing and regeneration is something Liverpool is intimately aware of. Whether through its people, places, spaces, new districts, music strategies, international commissions, designing cruise terminals, staging world-class outdoor events or showcasing home-grown talent on a global stage – Liverpool has culture running through its veins.
In the midst of the city's ten year celebrations since becoming European Capital of Culture in 2008, Liverpool is once again thriving from this game-changing year. This year brings together international artists, performers and home-grown talent who have emerged over the last decade, to produce over 40 events and festivals with local arts organisations taking place across the city region.
Mayor of Liverpool, Joe Anderson OBE said: "The last ten years have been an amazing success story for this city. Capital of Culture marked the start of something special, and 2018 feels like another watershed year in the history of Liverpool."
"Liverpool 2018 showcases the extraordinary cultural scene which takes place in this city day in day out. There has been some incredibly special moments to look back on already, with more on the way as we look forward to Liverpool once again being in the spotlight as a national and international cultural exemplar."
Claire McColgan MBE, Director of Culture Liverpool said: "Liverpool committed to deliver a strong and sustainable legacy from its year as European Capital of Culture. We saw the event as a scholarship not a prize, the stepping off point to a more considered consolidated view of culture as a core public service. The city has over the last ten years delivered on this. The results can be seen in hard economic data especially around the visitor economy but more importantly in the feeling you get as you walk around the streets and speak to the people. Liverpool has got its swagger back and I'm really interested to see how the academics interpret that as the next milestone in the renaissance of place."
Culture has been the backbone of Liverpool's renaissance over the past decade, and 2018 is the chance for the city to recognise its growth in confidence, ambition, creativity and cultural engagement. October's conference will see Liverpool play host to cultural heavyweights from across the world, engaging them in a global conversation around cultural interventions at #Impacts18.
World renowned speakers, cultural creators, delegates and arts organisations will explore experiences in cities big and small, from Barcelona to Shanghai, Marseille to London, and Porto to Los Angeles via keynotes, roundtables, debates and breakout sessions from 17-19 October 2018. Key topics involve those such as; what counts as a cultural renaissance in the 21st Century? What are the risks to success? What are the impacts of local and international partnerships? What will this look like post-Brexit? Are mega-events sustainable?
Key speakers include; Jude Kelly CBE, Martin Green CBE, Maria Balshaw, Jon Snow, Lord Heseltine, Darren Henley OBE, Claire McColgan MBE, Professor Ann Markusen and more.
The international symposium will also present the city's unique and ground-breaking findings from longitudinal research produced by the Institute of Cultural Capital, which will reveal the extent of the impact from European Capital of Culture 2008. A debate will take place around whether the cultural accolade has changed media representations and perceptions of the city, improved cultural engagement and wellbeing across neighbourhoods and how it has shaped residents' sense of place; to visitor engagement and enhancement levels in governance and cultural leadership.
Director of the Institute of Cultural Capital, Dr. Beatriz Garcia said: "No other city has documented the journey surrounding major cultural intervention and its multiple impacts as extensively as Liverpool, and, #Impacts18 is the first time these questions are revisited a decade onwards."
"This is why, this coming October, cities around the world will benefit from engaging in the conversation and identifying areas worth replicating. City leaders, practitioners and researcher have accumulated over 30 years of debate about the merits of culture-led regeneration across the globe, calling it the 'Barcelona model' or the 'Bilbao effect'."
"In parallel, we also have over three decades of criticism and warnings: from the risks of gentrification to the fear of empty, unused grand spaces or 'white elephants'. This symposium will engage and explore what leads to a renaissance, whilst assessing what makes stakeholders act collectively alongside the value of culture for city development."
Join the Global Conversation happening in Liverpool this October, to explore and interrogate:
Image | Reputation | Participation | Identity | Cultural Vibrancy | Economy | Tourism | Governance | Leadership | Social Capital | Wellbeing | Environment | Heritage | Impact
Find out more: #Impacts18: A Global Conversation
Follow @Impacts_18 on Twitter and Instagram for all the latest event updates.