Jah Wobble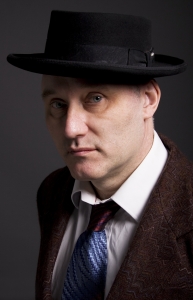 Jah Wobble has worked in the fields of music, broadcasting, poetry, writing, and most recently has had visual art exhibited in the renowned Hok Gallery in Holland.
Jah Wobble has a passion for producing fusion music. His critically acclaimed projects – Solaris, 'Ode To Joy', 'Molam Dub', Chinese Dub projects were supported by the Arts Council England and the CMN (Contemporary Music Network). These projects saw Jah Wobble working with musicians from the USA, Europe, Laos (Molam), and China. The legacy project Chinese Dub (commissioned by Liverpool Capital of Culture) won the Cross-Cultural Collaboration category, for their album Chinese Dub, in the inaugural Songlines Music Awards, 2009, which were the new world music awards organised by the UK based magazine, Songlines in conjunction with the BBC Radio 3.
Jah Wobble as a founder member of PIL (Public Image Limited) has worked with Brian Eno, Bill Laswell, Sinead O'Connor, Julie Campbell (Lone Lady), Baaba Maal, Dolores O'Riordan, Chaka Demus, The Mahmoud Guinia, Holger Czukay, Jaki Liebezeit, Evan Parker, The Orb and Primal Scream and many others.
Jah Wobble has been commissioned to produce the sound tracks for the Chinese New Year Lumiere Projection by Liverpool City Council in 2017, 2018 and for 2019.