Hallows Eve of the Orishas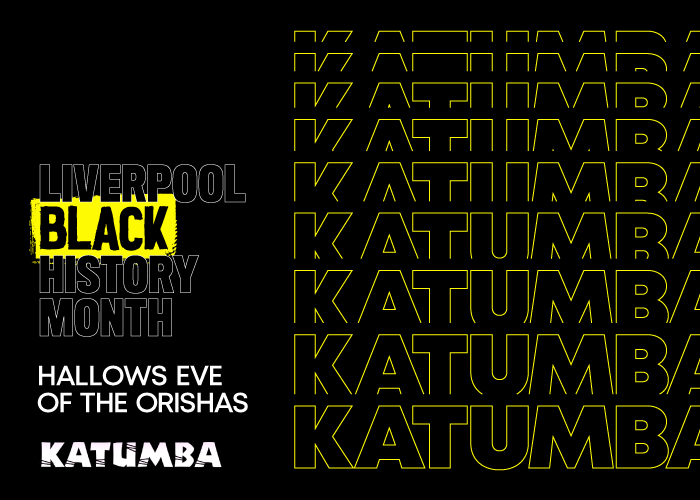 ---
Brought to you by Katumba
St Luke's Bombed Out Church, Leece Street, Liverpool, L1 2TR
Saturday 31 October, 4.30pm-8.30pm
Free to attend. Pre-booking is essential.
---
Katumba Drumming & Movement sets streets and stages ablaze with Brazilian drums, spectacular choreography and a colossal sound whilst creating an explosion of rhythmic revelry described by onlookers as 'hypnotic', 'transfixing' and 'empowering'.
Toxteth based, with international reach, Katumba fosters mental and physical wellbeing through high quality drumming, movement – and cultural activities in general – for ALL.
Every October for Halloween, Katumba transforms Liverpool City Centre into a playground of imagination, inspiring and engaging audiences by creating big, bold, visual shows and performances through an unexpected spectacle of drums, fire, lights, dance, theatre and more!
This year, Katumba will tease the audience with surprise pop up performances throughout the day in the City Centre, leading to the main spectacle at the Iconic St Luke's Bombed Out Church: 'Katumba Hallows Eve of the Orishas'*
Katumba will immerse the audience in the myth and magic of Orishas (or Orixás). Traditionally from West Africa, known worldwide in the African Diaspora, Orishas are forces of nature who mediate and unite the other world and humanity, sometimes known as 'Afrocentric Superheroes' –  each with powers, downfalls and legendary stories the audience will explore on a journey of drums, dance, puppetry, magical beings, fire and light spectacle and more!
A main goal of Katumba is to bring people together and with this event will be no different. Katumba will facilitate a number of performing arts organisations & community participants of all ages to take part in workshops leading up to the event on the 31 October where they'll showcase all they have learnt, developed and discovered to enchant Liverpool audiences.
All activities comply with Covid Safety Regulations.
If you would like to take part, or just immerse yourself in the spectacle check out their website. More details will be revealed soon.
*The theme this year aligns with Black History Month and Katumba's active participation in the Black Lives Matter movement.
---
Join the conversation:
---
Web: katumba.co.uk
Facebook: @katumbadrumming
Twitter: @katumbabloco
Instagram: @katumbadrumming
---