WAVE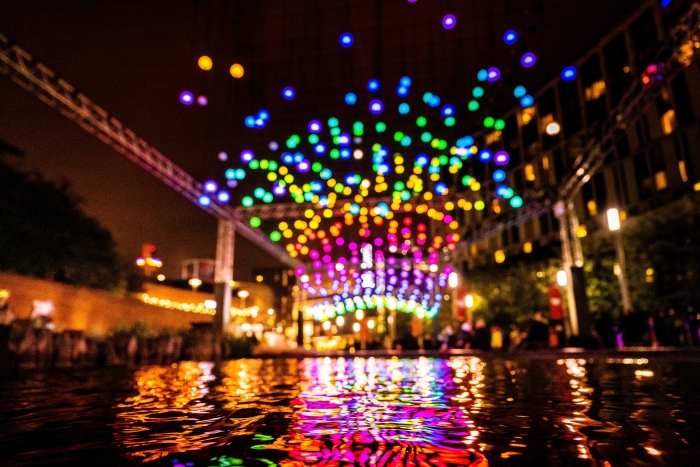 Wave consists of some five hundred individual suspended orbs, points of presence brought to life through light and sound, that collectively create a dynamic audiovisual experience – a sustaining space within which each orb resonates in changing harmonies to create an enveloping and entrancing physical presence. The orbs are suspended in the form of a breaking wave. 'Wave' continues Squidsoup's ongoing exploration of elemental themes, particularly water. Each orb in the wave is an autonomous unit consisting of LED lights, speaker and microcomputer, with movement sensor and wireless connectivity. Each individual orb can therefore be both seen and heard as you move through the space. Together they create a walkthrough immersive experience; 500 points of light, 500 sound sources, all interconnected using Internet of Things technology and acting in choreographed harmony to create a series of emotive and enticing, spatialised immersive environments – a sanctuary in this crazy world.
About the Artist behind Singularity
Further information about SquidSoup will be available shortly.
---
Accessible Information about Singularity
Description of Wave installation for visually impaired visitors
Wave consists of 500 suspended orbs. Each orb is 10cm diameter and emits light as well as sound. The lights can be any colour, and are designed to complement the sound emerging from the orb Each light is also choreographed to contribute to the overall light experience, like pixels collectively creating the illusion of a moving image. The overall feeling is one of seeing energy moving through the suspended wave.
Description of the soundscape for hearing impaired visitors
Wave consists of 500 suspended orbs. Each orb is 10cm diameter and emits sound from an embedded speaker as well as light. The sounds contain voices, white noise, rhythmic elements and tones – the overall effect is ambient but ranges from the very quiet to busy crescendos. The five hundred speakers work together to create moving soundscapes, so that the sounds appear to move in waves.
---
Event Date: Friday 22nd October – Sunday 7th November 2021
---