Wakeboarding
Industry Pro Wakeboard Tour is back!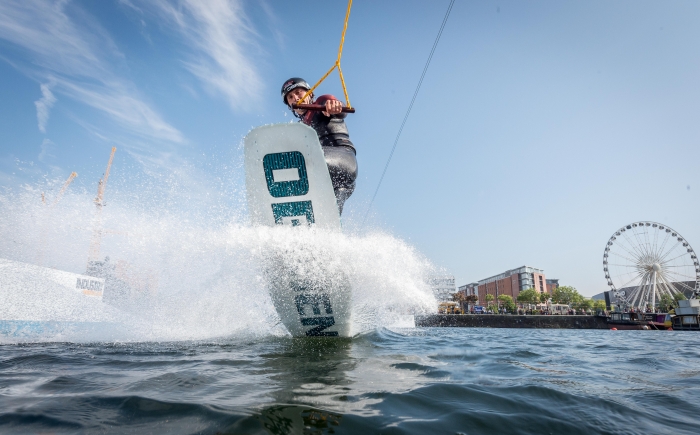 In 2016 the International Mersey River Festival was blown away by the death defying aerial exploits of some of the best wakeboarders in Europe, battling it out across Liverpool's Salthouse Dock as part of the first ever Industry Pro Wakeboard Tour. Well, the Industry crew are back and are all set to install their System 2.0 cable towing device and bespoke 'floating skate park' in the heart of the festival with yet more of Europe's best riders ready to fight for the cash and the glory at the final stop of the 2017 Tour.
The UK's only professional wakeboard tour will have gone through three weekends of non stop action before arriving in Liverpool for the climax of the tour.  While there will of course be the bragging rights and cash up for grabs for those taking top spots at this final stop, there is also career changing honours and yet more cash waiting for the rider who has held their own consistently over the course of the tour putting them out in front of the rest to take the overall title of 2017Industry Pro Wakeboard Tour Champion.
To find out more about the Pro Tour, catch all the photographic and video action so far and see who's leading the race to the title, visit www.industrywake.co.uk/protour. Here you'll also find all the info about every stop so you can follow the tour as part of the ever growing cheering section for the wakeboarding superstars taking part. You can also stay up to speed with all the tour goings on, watch all the videos, see every amazing photo and even get involved in the chat through the Industry Wake Parks Facebook page – www.facebook.com/industrywakeparks
For more general information about the sport of wakeboarding, the System 2.0 cable towing devices, what Industry Wake Parks do and where you can get on the water check out thewebsite www.industrywake.co.uk or www.liverpoolwakepark.co.uk – Liverpool's own wake park and home of Industry Wake Parks and join the team on Facebook www.facebook.com/industrywakeparks .
Performance Times
Saturday 24 June: 11.30am – 1.00pm /  3.00pm – 4.30pm
Sunday 25 June: 11.30am – 1.00pm / 3.00pm – 4.30pm
---
Event Date: Saturday 24th June – Sunday 25th June 2017
---