Trumpet Flowers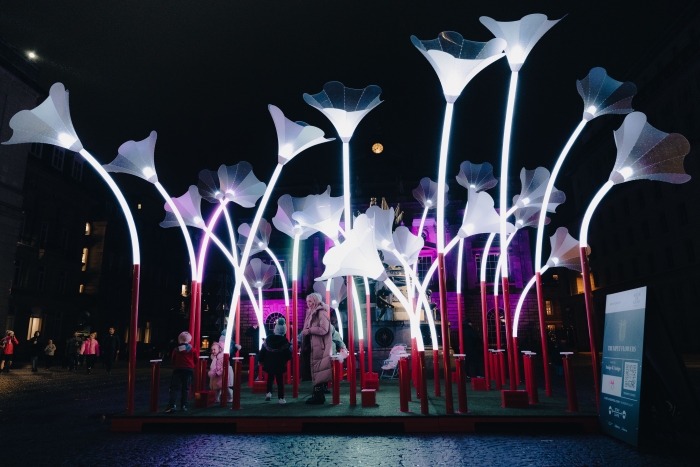 Inside Exchange Flags square, you'll find Amigo & Amigo's super-sized Trumpet Flowers. The square is transformed into a musical, immersive garden of light and sound.
You can't help but feel you are shrinking as you approach our super-sized Trumpet Flowers. Tentatively stepping inside some unseen Giant's musical garden, you become surrounded by an explosive and immersive jungle of light, colour and sound. Moving in and around the flower forest uncovers a deeper connection to their individual trumpet key controllers. Interactive keys that allow you to play each flower as a 2-6m towering musical & light instrument.
Make your own spectacular floral symphony of sound and light, or catch one of the scheduled animated musicals scores throughout the evening. Inspired by vintage gramophones Trumpet Flowers will shock and surprise as the entire world periodically bursts to life and plays its own commissioned musical score. A piece composed and played by Otis studio and some of Sydney's finest Jazz musicians. Every Tuba, Trumpet, Trombone, and Drum sound in Trumpet Flowers repertoire, an individual live recorded and energetic moment at your fingertips to experiment with.
---
Accessible Information about the Trumpet Flowers installation
Description of Trumpet Flowers installation for visually impaired visitors
Trumpet Flowers is 5m tall and 6m x 12m wide. There are 27 flowers and 27 push buttons. The flowers are on a long stem and the petals are shaped to look like a traditional gramophone head. The flowers are made from translucent plastic that illuminates in red, purple, green and blue. The buttons are red in colour and shaped like a traditional trumpet button. When the button is pushed the corresponding flower will illuminate and play a trumpet sound. The Artwork looks like a giant musical forest inviting people to move throughout and explore.
Description of Trumpet Flowers installation for hearing impaired visitors
A musical soundscape featuring Tubas, Trumpets, Trombone, and drums. The sound is playful and happy inspired by New Orleans Jazz music.
---
Event Date: Friday 22nd October – Sunday 7th November 2021
LOCATION: Exchange Flags, Liverpool
---