The Ship's Cat and Super Rat by Faith Bebbington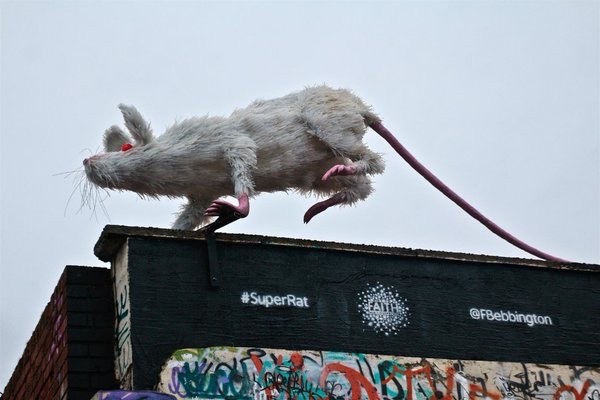 She's the maritime moggie with a tail to tell and is weighing anchor at the Albert Dock for the duration of the Tall Ships Regatta.
Inspired by legendary feline seafarers like Ms Chibley, who circumnavigated the globe as chief rodent control officer on the tall ship Picton Castle, this Ship's Cat will temporarily swap her bobbing berth for dry land to join the festival weekend.
But what will happen when she spots Super Rat and her mischievous babies sunning themselves on the Liverpool quayside?
Liverpool artist Faith Bebbington creates hand-built, dynamic figurative sculptures of animals, using recycled waste materials.
Her Bruce the Great White Shark, which lives in Veolia's East London plastic recycling facility, was made from 800 milk bottles.
The tabby Cat has been created from around 1,000 reclaimed milk containers, collected by staff in the city's Cunard Building, cut up by hand by the artist, then stitched on to chicken wire – and at 15ft long, it's Bebbington's biggest creation yet.
So come and meet the giant kitty, and then enjoy a family trail and children's workshops based around the travels of the Ship's Cat.
When: Friday, Saturday, Sunday and Monday
Where: Albert Dock
Time: 10am – 10pm
---
Event Date: Friday 25th May – Monday 28th May 2018
---