Royal Navy aircraft carrier HMS Prince of Wales
Visit the Royal Navy aircraft carrier HMS Prince of Wales as she docks in Liverpool in a demonstration of the Naval Service's close ties with the city.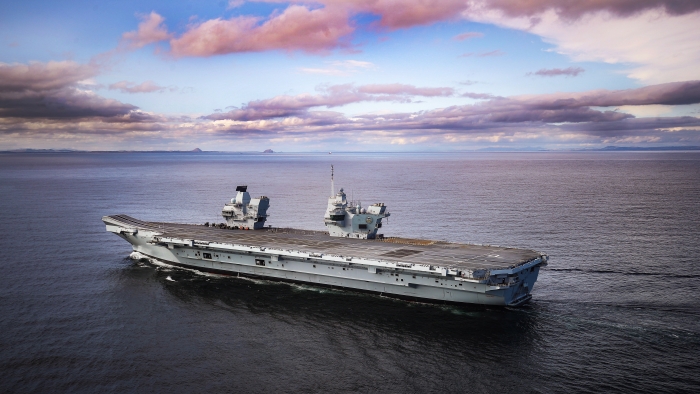 The second of the Royal Navy's giant new aircraft carriers will arrive in the city on 28 February for a week-long visit packed with celebrations and engagement with the local community.
You will be able to see her in the River Mersey from 12.30pm on Friday 28 February and she will be quay-side from 2.00pm – please remember, these times are approximate and are subject to change!
The Prince of Wales aircraft carrier is expected to leave at around 4.00pm on Friday 6 March – please remember, this is an approximate time and is subject to change.
People who have successfully gained tickets will be able to step on board over the weekend of 29 February – the first time one of the new aircraft carriers has officially been open to visitors.
HMS Prince of Wales is affiliated with the cities of Liverpool and Bristol. Affiliations in the Royal Navy mean a close bond between a ship and the communities she is tied with.
HMS Prince of Wales is one of the most powerful surface warships ever constructed in the UK. Along with her sister ship HMS Queen Elizabeth, they are the largest ships ever built for the Royal Navy.
Her punch is provided by F-35 Lightning fighter jets as she deploys around the world in a naval task group.
With an expected service life of up to 50 years, the floating cities of the Queen Elizabeth-class are highly versatile and able to meet the widest range of tasks around the world.
The Royal Navy is transforming into a force centred around carrier strike – supporting the ships as they conduct carrier strike missions, enforce no-fly zones, deploy Royal Marine Commandos, deliver humanitarian aid, and build international partnerships with our allies.
The ability to move 500 miles per day – combined with the speed and range of the F35 jets – means these carriers can react at very short notice and make a difference around the globe.
HMS Prince of Wales was formally commissioned in to the Royal Navy fleet in December, at a ceremony attended by the Prince of Wales and the ship's sponsor, the Duchess of Cornwall.
The ship's flight deck is 70 metres wide and 280 metres long – enough space for three football pitches. Her ship's company make their way through 170 metres of sausages a day, which is roughly twice the height of the Liver Building.
She has a ship's company of 700 sailors, which will increase to around 1,600 with aircraft on board.
Exact timings for the ship's arrival in Liverpool will be announced in due course, dependent on weather conditions and operational commitments.
Please be aware, all tickets to go on board the vessel have now been allocated – there are NO remaining tickets to gain access.
---
Important Information
Activities around the Vessel
Whether you're boarding (or not) there are a range of activities on the quay-side to enjoy and get the full experience of HMS Royal Navy when she is docked with us at Liverpool Cruise Terminal.
Royal Navy Village: If you've not quite got your sea legs and prefer to stay on dry land we have Tri-Service representation supporting HMS Prince of Wales forming a Naval Village on the waterfront. This will feature the Royal Navy Dive Tank, RN Static historic aircraft (Lynx/Gazelle), RN, RAF & Army Mobile Outreach Vehicles, Inflatable RM/RN challenge bungy run, Royal Marines Commando Recruiting Team (unarmed combat/weapons displays), RM Offshore raiding craft (ORC), RAF static facsimile aircraft (Typhoon), Army Fitness challenge, Light gun, Army masterchef challenge and the HM Royal Marines Band (Scotland). NB: A number of these displays are weather dependent.
RLB 360: Got a head for heights? Why not view the ship from the top of the Liver Building? Quite literally, a birds eye view, this is the perfect viewing spot for the ship and you can experience the RLB360 visitor experience with a tour and immersive video experience.
Western Approaches: Our links with the Royal Navy and armed services in Liverpool are well known around the world but did you know we have our very own war time bunker located here in the city! Celebrating with a war-time weekend, head to Western Approaches for a fun, family friendly weekend of activities perfect to celebrate our Naval links!
MerseyFerries: Get the best views of the HMS Prince of Wales Aircraft Carrier from the deck of the world famous Mersey Ferry. The 50 minute River Explorer Cruise will sail past Liverpool's UNESCO World Heritage Waterfront, HMS Prince of Wales and also features live commentary from a Blue Badge Guide on Saturday 29 February and Sunday 1 March. Daily cruises depart from the Pier Head Ferry Terminal every hour from 10am-4pm.
---
Viewing from Wirral
For those wishing to wave in and out HMS Prince of Wales, Wirral Waterfront offers fantastic views across the Mersey with Liverpool's iconic Three Graces in the background of this marvellous ship.
Wirral promenade from New Brighton's Fort Perch Rock, along to Woodside Ferry Terminal is the prime spot for viewing. If you need information or advice from members of the event team, you can find this at: Floral Pavilion, Vale Park Café, Wallasey Town Hall, Seacombe Ferry Terminal and Woodside Ferry Village. This will be available on the day that the ship is due in (28 February) and the day it departs (6 March).
Attendees are requested to be mindful of residents and businesses along the waterfront when heading to see this magnificent moment and to respect other people's property and access routes.
Due to parking restrictions, visitors are strongly encouraged to get there by train. New Brighton station is a 10 minute walk from Floral Pavilion whilst Hamilton Sq is a 5 minute walk from Woodside Ferry Terminal.
---
Event Date: Friday 28th February – Friday 6th March 2020
---