Poetry in the City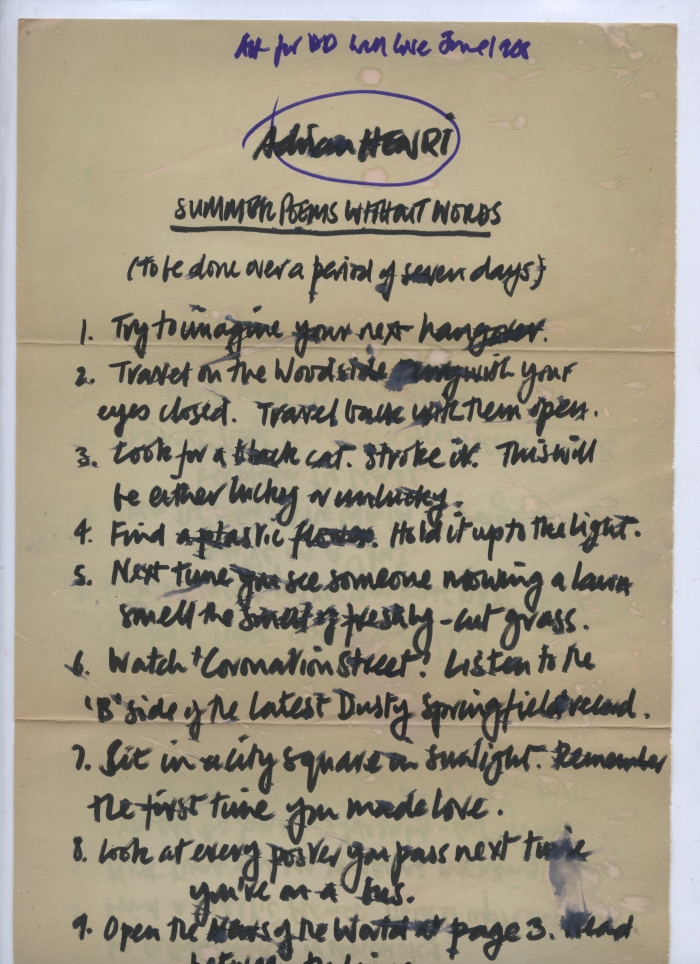 Thursday 25 May is 50 years to the day since The Mersey Sound was first published, propelling the Liverpool Poets – Adrian Henri, Brian Patten and Roger McGough – into the sixties limelight.
To mark the special anniversary, original recordings of the three writers reading poems from the book will be played in locations across Liverpool – including during peak commuter times on the Mersey Ferries (7.20-9.40am and 5-6.40pm).
Also spreading the word will be independent award-winning book shop News from Nowhere which will play the recordings throughout the day, visitors to Tate Liverpool will be able to hear the poems in the foyer, as will students and lecturers in Edge Hill University's The Arts Centre.
Liverpool John Moores University's School of Art and Design will celebrate the anniversary by playing the recordings during the private view of the Degree Show, which takes place on 25 May, and members of the public will also be able to hear the poems throughout the exhibition, which runs from Friday 26 May to Friday 9 June. The Degree Show showcases the artistic talents of the University's final year Art and Design students.
Albert Dock Liverpool is also on board – The Danny (which is moored in Canning Dock) and the Double Decker Diner on Hartley Quay will play the recordings throughout the day.
Creative writing students from Edge Hill are also staging a reading from The Mersey Sound at the Everyman Theatre at 7.30pm. The students will be joined by poets Robert Sheppard and Patricia Farrell.
BBC Radio Merseyside will also be marking the anniversary by playing a selection of the original poem recordings throughout the day, as well as an interview with Roger McGough and a live morning broadcast from the Mersey Ferry terminal.
There will be pop up readings on some buses and trains.
The anniversary celebrations form part of the Tonight At Noon festival (named after one of Adrian Henri's poems from the collection) which began in April and aims to shine a spotlight on the incredible piece of work. The programme of events has been curated by Adrian's partner Catherine Marcangeli.
More Information
This event is FREE and takes place in various places across the city.
---
Event Date: Thursday 25th May – Thursday 25th May 2017
---