Open House – University of Liverpool
Open House is a collection of events where special guest speakers join with the University of Liverpool's leading researchers and other guest contributors. They will be delivering an illuminating and entertaining programme that offers something for everyone.
Taking place from 13 – 22 May across the University of Liverpool campus, a number of events cover a broad range of topics – from arts and culture to science and energy. You can find the full listing on the Open House website but we've picked out some key events below.
Interface Soundscapes

13-17 May, Gordon Stephenson Building, 9am – 5pm
Art and sound installation Interface Soundscapes is a ceramic surface that allows visitors to connect and be transported to different locations in the city through listening to characteristic soundscapes of Liverpool. Recently exhibited at Tate Liverpool, these journeys stimulate discovery and provoke reflection on the qualities of the acoustic environment that surrounds us in everyday life, often drowned out and dominated by visual stimulation. Interface Soundscapes is a collaboration between ECAlab (Rosa Urbano Gutierrez and Amanda Wanner , sound artists and researchers Eduardo Coutinho and Ian Costabile (ICCaT), and ceramics artist Edit Szabó.
"…return unlikely" remembering the genocide of Europe's Roma

13 May 2019, Victoria Gallery & Museum, 6pm
Romani Resistance Day is commemorated internationally on 16 May. It marks the first attempt of the SS to close the section of the Auschwitz death camp in which 'Gypsies' were interned and the successful fight of the inmates to prevent it. Three months later, in August 1944, the 'Auschwitz Gypsy Camp' was finally closed and the last surviving inmates sent to the gas chambers. 75 years later, this lecture by Eve Rosenhaft, Professor of German Historical Studies at the University, reflects on the events all over Europe that led to the deaths of hundreds of thousands of Roma and others labelled 'gypsies' between 1935 and 1945, on forms of commemoration, and on the legacies of the genocide today. The lecture marks the conclusion of the exhibition "…don't forget the photos, it's very important" the Nazi Persecution of Central German Sinti and Roma which will be on display in the Liverpool Cathedral from Saturday 4 May to Monday 13 May.
Book your free tickets here.
Miasma, Plants and Export Paintings" – A showing of the prize-winning film…

14 May 2019, Victoria Gallery & Museum, 12 midday
Miasma, Plants, Export Paintings
Two Channel Video | 28min | 2017
A Film by Bo Wang & Lu Pan
The harsh tropical climate created strong fear and anxiety in the British troops stationed at Hong Kong after the Opium Wars (1839-42, 1856-60). The nineteenth century myth of Miasma, 'bad air', related epidemic diseases to air, environment and race, which later helped to consolidate the vertical spatial segregation on Hong Kong island. Acclimatization efforts were made in pace with expansion of the British Botanic Empire, a global network of scientific research projects on plants, which circulated not only botanic specimens but also images created for the purpose of study. In the particular case of Canton in South China, local commercial artists were commissioned to make paintings of plants. This work examines the specific dynamics between imperialism, scientific research, race and the right to look in nineteenth century Canton.
Book your free tickets here.
LightNight Liverpool 2019 at Garstang Museum of Archaeology
Brews and Brows

17 May 2019, Garstang Museum of Archaeology, 5-10pm
Discover how eyebrows relate to identity, and how eyes have been used in imagery from the ancient world to the modern day. Eyebrows are a constant in the press and online, with many different opinions about whose work and whose don't. It's time want to get away from eyebrow shaming and give you an opportunity to get your eyebrow scanned, talk about what your brow means to you, and shake off the negativity around the brow. Talk about the choices you make when you pluck, sculpt, and position your eyebrows and challenge the current negative press around the (Scouse)brow. brewsnbrows.wordpress.com
Ritual and Identity: Ancient and Modern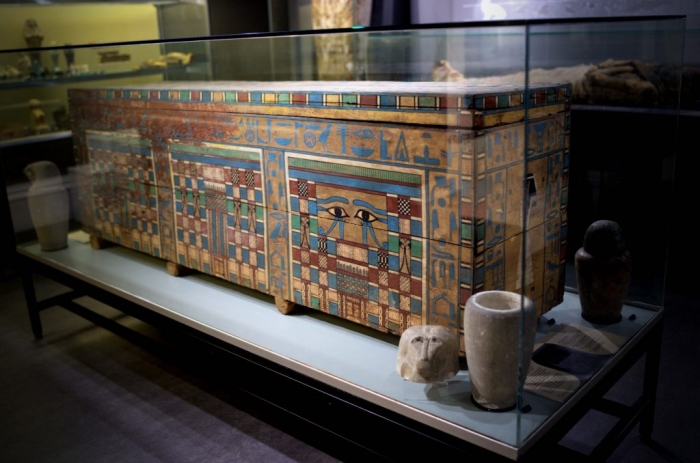 17 May 2019, Garstang Museum of Archaeology, 5-10pm
Join the Garstang Museum to explore identity and ritual in the ancient and modern world. Enjoy the collection of archaeological material from ancient Egypt, Turkey, Greece and elsewhere, learn about ancient Egyptian rituals from expert Egyptologist Dr Roland Enmarch and participate in an authentic ancient Egyptian offering ritual to provide eternal sustenance for the Garstang Mummy.
---
Event Date: Monday 13th May – Wednesday 22nd May 2019
53.405936,-2.965572199999997
Location: University of Liverpool, Liverpool, UK
---