On Demand: Elena Schwarz conducts Stravinsky, Tchaikovsky and Saint-Saëns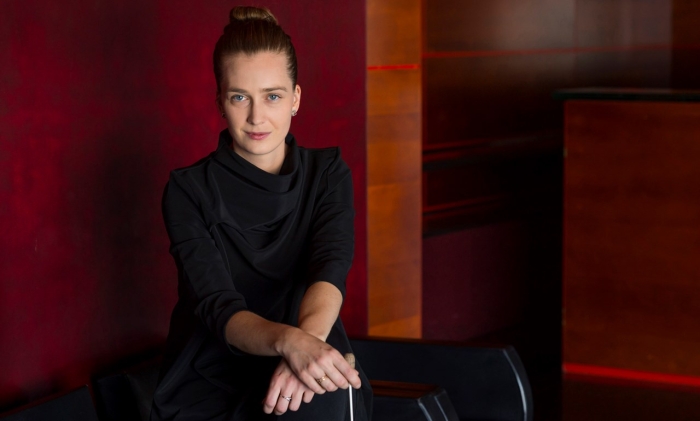 Stravinsky Jeu de cartes
Tchaikovsky Violin Concerto
Saint-Saëns Organ Symphony
Elena Schwarz conductor
Noa Wildschut violin
Ian Tracey organ
We are sorry to announce that due to the impact of the pandemic on the Royal Liverpool Philharmonic Orchestra's concert on 13 January, the programme for the On Demand: Nicholas Collon conducts Shostakovich, Lili Boulanger, Poulenc and Lutoslawski broadcast has been changed.
The orchestra thunders, roars and pauses for breath – then with one knockout chord, the organ blasts the roof off. Saint-Saëns' Organ Symphony is one of everyone's favourite classics, but it never gets any less exciting: and with the freshly-refurbished Liverpool Philharmonic Hall organ, it'll sound even more brilliant than ever. What could match that? How about the extraordinary virtuoso Noa Wildschut in Tchaikovsky's flamboyant Violin Concerto – and Igor Stravinsky turning a game of poker into a kaleidoscope of sound?
This performance features the newly refurbished Rushworth and Dreaper Organ.
---
Event Date: Tuesday 22nd February – Tuesday 22nd March 2022
LOCATION: Digital - Online Event
Please note:
This event has been submitted by the event organiser and is not endorsed by Culture Liverpool or Liverpool City Council. If you have any questions, please direct them to the event organiser.
---