National Libraries Week
Libraries Week is an annual showcase and celebration of the best that libraries have to offer.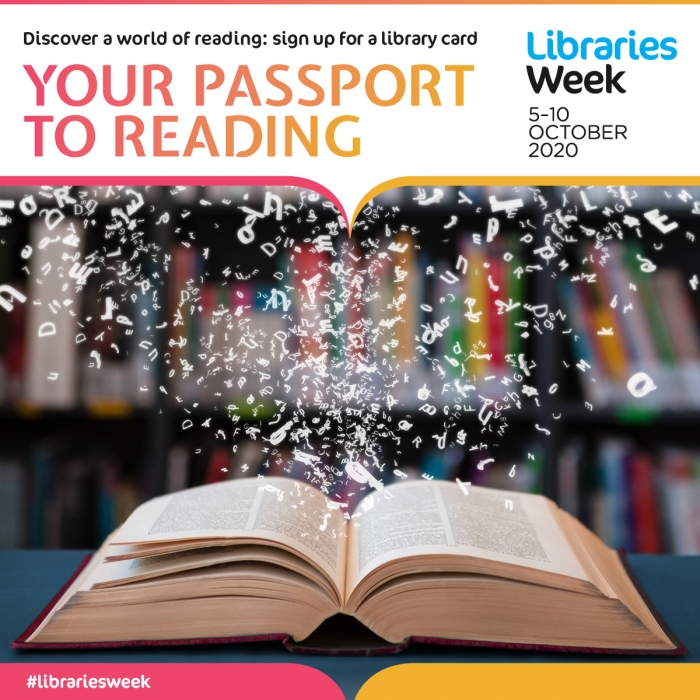 In 2020, Libraries Week takes place between the 5th – 10th October and celebrates the nation's much-loved libraries and their vital role in the UK's book culture.
Liverpool Libraries are celebrating all things books and reading, showcasing their reading offer, and the contribution they make towards building a Nation of Readers and the Liverpool Year of Reading project!
Monday: Monday Motivation – Keep your eyes peeled on the Liverpool Libraries social media channels as you can find out about all the things you can do with a library card!
Tuesday: Transformation Tuesday – Reminding us of Maker Difference and Liverpool Makefest –we'll be signposting you to links for all things 'Makery 'with a library or book theme.
Wednesday Workout: Children's storyteller Sal Tongue presents 'Full of Beans!' a fitness storytelling session that will be available on YouTube and Facebook from 10am.
Thursday: Throwback Thursday – Take a look through pictures available at the library service in times past, available on YouTube and Facebook from 10am
Friday: Flashback Friday – Let us take you back to Liverpool Central Library in May 2020-what actually went on inside during lockdown? The answer may surprise you! Available on YouTube and Facebook from 10am
Saturday: 7pm-8pm Klopp Actually – A bedtime story for adults with author Laura Lexx in Conversation with Liverpool Libraries. (On Sale 2 Oct 2020 at 5:30pm) Tickets available here.
Event Information
Author, comedian and Twitter sensation Laura Lexx reads from her hilarious debut book, Klopp Actually, with Liverpool Libraries.
About this Event
To celebrate Libraries Week, Liverpool Libraries and Information Services are pleased to invite a critically-acclaimed comedian and Twitter sensation Laura Lexx to perform a special 'bedtime story for adults', where she will read from her debut book, Klopp Actually, and answer audience questions.
So tuck the kids into bed, pour a glass of wine, and get ready to enter to 'stomach-achingly funny' world of Laura Lexx.
About Klopp Actually:
Klopp Actually is a hilarious diary of married life with the sensible, no-nonsense man of all our dreams: Jürgen Klopp, born from Lexx's viral tweet:
'If I ever met Jürgen Klopp I'd say "omg if we have a baby we should call it Klipp" just so he'd raise an eyebrow at me and tell me I'm a moron and I'd be so naked by the time he'd finished doing that…' .
In these uncertain times, we all need a coping mechanism. And Laura Lexx has found the obvious one – imagining life married to Jürgen Klopp. She thinks maybe he has something to do with football? More importantly, he definitely knows how to efficiently stack a dishwasher and would tell you honestly if you were being unreasonable about a colleague. From job interviews to furniture shopping in IKEA to making a birthday cake for their daughter, Klipp, Klopp Actually is a hilarious, warm and deeply silly diary of life with everyone's favourite baseball-cap-wearing, bespectacled German football manager.
About Laura Lexx:​
Laura Lexx is an award-winning comedian, actor, and writer who lives in Brighton. She has a real husband who is real, brilliant, handsome, and typing this. Laura has had four critically acclaimed solo stand-up shows at the Edinburgh Fringe Festival. Her most recent two, Trying and Knee Jerk, both received multiple 5* reviews and won her Best Performer in the Comedian's Choice Awards two years in a row. She has also appeared widely on TV and radio, from Live at the Apollo and Hypothetical to Roast Battle and The Comedy Club.
"One of the most delightful performers you're ever likely to see" – GQ 
About the event:
Running time: 60 mins
Laura will perform a reading from Klopp Actually before speaking to Denise Jones of Liverpool Libraries and answering questions from the audience.
This event will take place on Zoom. Shortly after registering, you will receive a separate email containing a link to join the event.
If you have any questions please contact [email protected].
---
Event Date: Monday 5th October – Saturday 10th October 2020
---